LOOK: LaDainian Tomlinson's house features rope bridge, secret room
If you want to buy LaDainian Tomlinson's house, you'd better be ready to bring $3.5 million to the table.
• 1 min read
If you want to buy the home of former running back LaDainian Tomlinson just outside San Diego, you'll need a couple of things. About $3.5 million to start, enough furniture to fill a home that's 10,000 square feet with five bedrooms and six bathrooms, and the ability to enjoy the following:
A wall aquarium, a basketball court, a wine cellar ... and well, that's all seemingly pretty standard if you're going to plunk down that much cash for a house.
But ... you'll also get, a private putting green that includes a sand trap and a pool that has waterfalls AND a freakin' rope bridge.
See?!?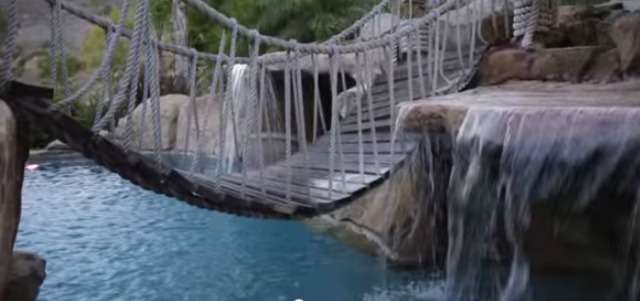 But best of all, there's a secret room that only can be accessed through a bookcase. Perhaps that secret room isn't as cool as the one in the video below, but it's not bad.
Show Comments
Hide Comments
Jones tore his Achilles tendon during Washington's pro day in March

Plus, actors, players, service members, and more will announce picks from other locations

Watson and Trubisky are considered two of the draft's top QB prospects
The former Patriots running back has been sitting on the open market all offseason

Maccagnan's family friends were killed in a domestic violence murder-suicide several years...

Foreman's son died less than two months after he was born