LOOK: NFL Films unveils new statue of Steve Sabol
Steve Sabol, who died in 2012, has been memorialized at NFL Films headquarters.
• 1 min read
More NFL: Photos |  Videos & GIFs |  Training Camp updates | Manziel
Along with his father, Steve Sabol helped turn NFL Films into a cultural giant, and it's hard to imagine how much different watching and remembering football would be today if Ed Sabol and his boy hadn't come along and shown true innovation in how they filmed the game.
Steve died in 2012 at the age of 69, about a year after Ed was inducted into the Pro Football Hall of Fame, but his legacy that produced 35 individual Emmy awards lives on at NFL Films headquarters.
On Monday, this statue of Steve as a young man and a cinematographer with the company was unveiled. Via the NFL Films Instagram page: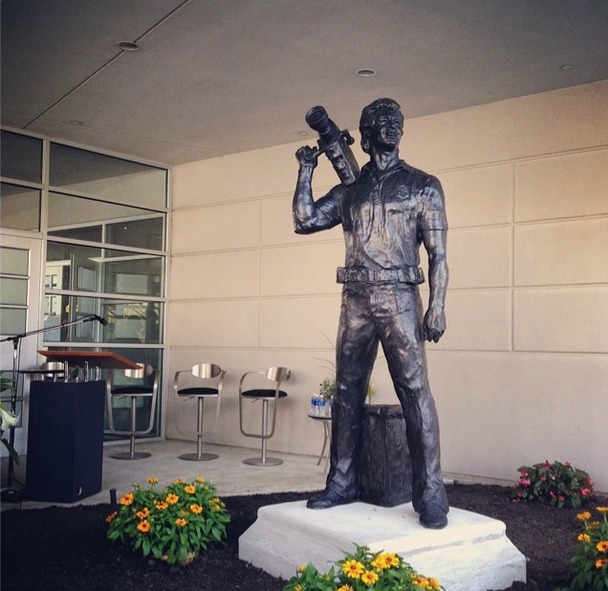 As the caption on Instagram reads: "A closer view of the new Steve Sabol statue just unveiled at NFL Films. It was created from photos of him when he was younger. And, like Steve, it is larger than life. The sculptor's young daughters nicknamed it appropriately: 'Big Steve.'"
A nice statue and a tribute to a man who left the game a far better place than how he found it. 
Sherman thinks that all quarterbacks on all NFL teams get treated better than anybody else

The Patriots coach looks pretty cool on the 15th anniversary cover of Nantucket magazine

Taco Bueno has been angling for a deal with Charlton ever since he was drafted
Jeff Garcia, Jimmy Clausen and Justin Forsett explain their involvement in American Flag Football...

The Panthers added more playmakers to take some of the pressure off Newton this season

Young has been out of the NFL a while but still feels slighted when other quarterbacks get...