LOOK: The evolution of Evan Mathis' hair with help from Evan Mathis
We present Evan Mathis' hair as detailed by eight years worth of photos.
As mentioned earlier today, July is headshots season for the NFL production team here at CBSSports.com HQ.
We already brought you a candidate for Headshot of the Year and now we present the Evolucion de Evan Mathis' Cheveux.
Via our esteemed colleague and collector of headshots, Denny Burkholder, we present this tweet.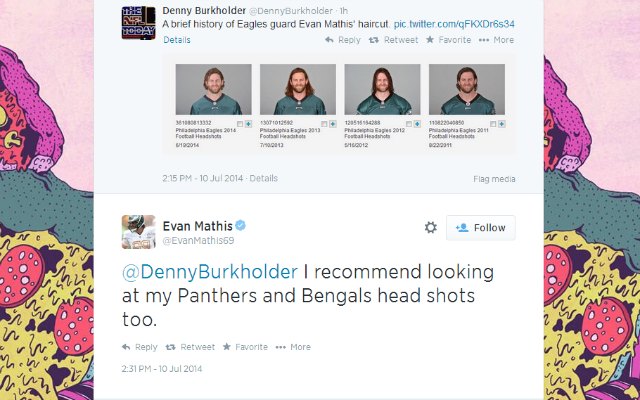 Evan Mathis, Twitter savant. We. Shall. Oblige. Evan Mathis, the complete timeline. 
Woah. Game-changer! RT @EvanMathis69 @DennyBurkholder I recommend looking at my Panthers and Bengals head shots too. pic.twitter.com/5W1ijzPefb

— Denny Burkholder (@DennyBurkholder) July 10, 2014
Throwback Thursday, we met your challenge hair on, and we have won. Or have we?!
@DennyBurkholder Evolution. The rookie spiked hair isn't in there but that was like 50 years ago.

— Evan Mathis (@EvanMathis69) July 10, 2014
UPDATE: We have. 
@EvanMathis69 BOOM. pic.twitter.com/dnKi73XlfV

— Denny Burkholder (@DennyBurkholder) July 10, 2014
Show Comments
Hide Comments
Our Latest Stories
We're pretty sure Jerry Jones is glad he didn't overpay for Paxton Lynch

The Cowboys rookie has been even better than could have been expected filling in for Tony...

Here are all the biggest stories from a wild Week 3, including the Eagles' pasting of the...
Elliott showed off his track-and-field skills on a sweet run

The injury looked much worse when it occured

Elway dusts off his Twitter fingers to respond to someone that had questioned the draft pi...