Looking at ramifications of Jaguars WR Justin Blackmon's suspension
Jaguars wideout Justin Blackmon is suspended until the start of the 2014 season, and Jason La Canfora examines what that means financially for the player and the team.
• 1 min read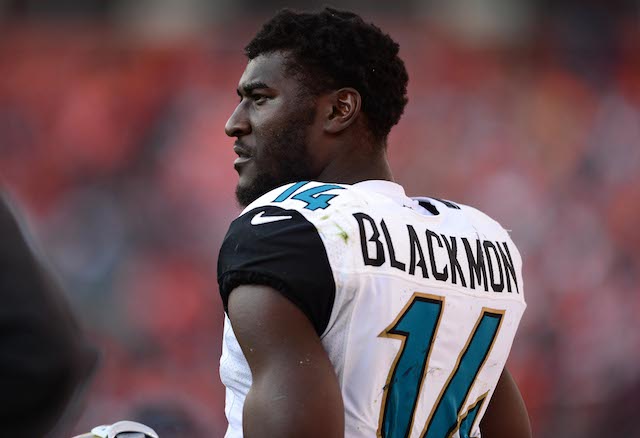 For more news and notes from Jason La Canfora, tune into The NFL Today Sunday at noon ET on CBS.
The latest substance-abuse suspension to Jacksonville Jaguars receiver Justin Blackmon will cost him millions, per his contract, and certainly casts the future of the former first-round pick in doubt. Blackmon, the fifth-overall pick in 2012, is not eligible to apply for reinstatement to the league until prior to the start of the 2014 season.
In the meantime, by not being a part of Jacksonville's 90-man offseason roster (he will be on the suspended list instead), Blackmon forfeits having his 2014 base salary of $2.072 million guaranteed, as it would have been otherwise, and he also loses out on his March roster bonus of $1.7 million (he would have had to have been on the 90-man roster as of the fifth day of the 2014 league year, which is March 16). Furthermore, the Jags could argue that the 2015 guarantees originally due Blackmon per his rookie contract ($2.93 million in salary and a $1.4 million roster bonus) are no longer guaranteed, per the rules of this collective bargaining agreement and the terms of Blackmon's contact, while the team could also make a case that they should be able to recoup a sizeable portion of his $7.1 million signing bonus that was already paid out as well.
At the very least, his transgressions have jeopardized some of the money he has already earned as well as his future earning potential. Blackmon entered into a rehab facility following his latest suspension, and there is no doubt that he has immense talent should he be able to right his off-field issues.
Show Comments
Hide Comments
Our Latest Stories
The Patriots clinched a trip to the 2017 Super Bowl to face the Falcons -- and the NFL com...

Jonathan Kraft threw some Deflategate shade in the direction of Indianapolis

Arthur Blank broke it down in a big way following the win over the Packers
Jim Irsay should have his listeners while the 49ers are in desperation mode

The Patriots coach had no clue who won the Green Bay-Atlanta game

Brady vs. Ryan should give us a thriller to cap a postseason which has been full of clunke...