Lovie Smith bashes Bucs' impatience: 'Things don't happen overnight'
Lovie Smith addressed the Buccaneers' surprising decision to fire him after two seasons.
• 3 min read
Twice now, you could argue, Love Smith has been screwed by upper management. He lost his job in Chicago after a 10-win season. Then, he was shown the door in Tampa Bay after just two years, even though he inherited a four-win team.
But this is Lovie Smith. The emotionless coach that stood on the sidelines for the Bears and Buccaneers has also stayed emotionless about his most-recent dismissal. But last week, when Smith appeared on Colin Cowherd's Fox Sports Radio show, he commented on the Buccaneers' surprising decision to fire him in January.
Though Smith, who landed on his feet as the head coach of Illinois, answered the questions without a hint of anger in his voice, he did take a shot at the Buccaneers for their impatience.
"I definitely think there should be more patience. It takes time," Smith told Cowherd. "If you make a change, there's something that's wrong, and you can't just flip a switch. Things don't happen overnight. You have to have a plan going in and stick with that plan. When I took the Tampa Bay Buccaneers job, I thought there was a plan we had in place. I thought that plan was being put into action. When you're the boss, though, you can be impatient. But normally the franchises that do take their time and give you a chance maintain that level of success."
The key part there is the last sentence, when Smith says that successful teams often "take their time." Clearly, Smith feels like he didn't have enough time to build a winning team in Tampa Bay.
He has a point. Smith did improve the team by four wins in his second season and the Buccaneers were trending in the right direction with players like Jameis Winston and Mike Evans. A year after getting outscored by 133 points, the Buccaneers trimmed their point differential to -75.
And that's what made the Buccaneers' decision to fire Smith so surprising. Was he really allowed enough time to build a winning team?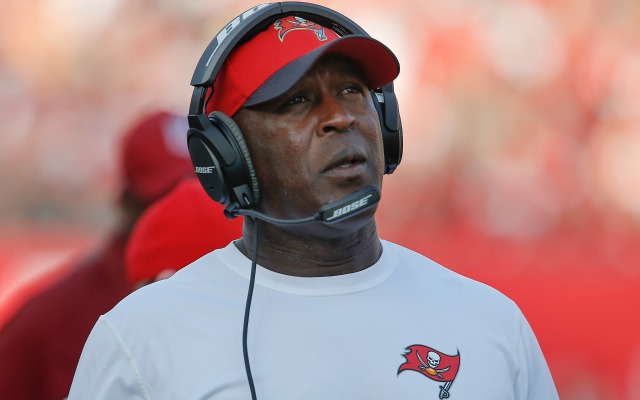 "Disappointed is what I would say," Smith said to describe how he felt when he was fired. "I was surprised -- didn't see it coming. But again, as I said, I thought we had a plan and I thought I was a part of that plan. I felt like I put a lot of things in place for the Buccaneers to be successful in years to come."
He wasn't the only surprised member of the organization. Here's what defensive tackle Gerald McCoy told ESPN's Josina Anderson almost immediately after the news broke:
"I don't know what to think right now. I am at a lost for words. I was just out driving, out getting some gas, and my phone started blowing up. It's 10 o'clock at night. I don't know what is going on. I've always loved Lovie. He's always been great to me and my family. I've never had a bad thing to say about him. I'm just at a loss for words. I honestly feel bad for my coach. This is unexpected. I never expected this."

"I honestly have no idea what's going on, or why it's happening. Next year will be my seventh year and now my fourth coach. I was liking what was going on. Coach has always been great to me even before he was my coach. He was the coach of one of my mentors, Tommie Harris. I had an opportunity to meet him and he has always been a great guy. As a coach, I don't see a better guy to play for."
And here's what a coach told NFL Network's Albert Breer:
This caught the Buccaneers coaches completely off-guard. One Tampa assistant: "I have no idea. I'm in shock."

— Albert Breer (@AlbertBreer) January 7, 2016
Now, with all that being said, let's not make it seem like the Buccaneers fired the greatest coach in the history of the NFL. Smith went 8-24 in two seasons. Going back to his days in Chicago, Smith hadn't earned a spot in the playoffs since the 2010 season. Given the franchise invested a No. 1 overall pick in Winston, it made sense for Tampa Bay to go with an offensive-minded coach like Dirk Koetter.
And Smith does seem to be happy at his new job. Heck, he's even on Twitter!
#Illini #WeWillWin pic.twitter.com/yYl8578WgO

— Lovie Smith (@LovieSmith) March 8, 2016
Exciting stuff.
Show Comments
Hide Comments
Our Latest Stories
Cutler has been trying to convince coaches he can go against the Cowboys

The Vikings aren't bringing Peterson back on his current $18 million salary

Even if Mark Davis gets a stadium deal, a move to Las Vegas is far from guaranteed
The Seahawks quarterback is expected to be much more mobile against the 49ers

Everything you need to know for the Broncos vs. Bengals on Sunday

Everything you need to know for the Steelers vs. Eagles on Sunday