'Madden 15' features Colin Kaepernick's tattoos
In 'Madden 15' Colin Kaepernick will be incredibly lifelike and sport his real-life tattoos.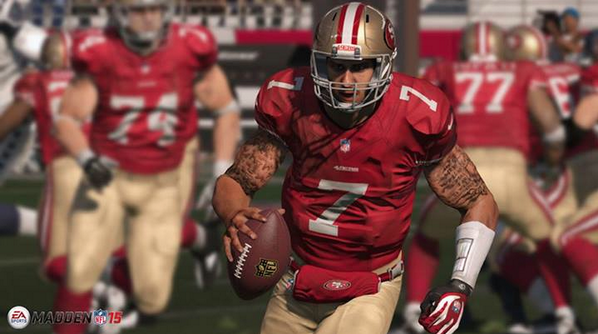 More NFL offseason: League minicamp dates | Latest news, notes
49ers quarterback Colin Kaepernick's all in the news these days. First he signed a shiny, new contract worth up to $126 million (depending on some interesting incentive clauses). And now he'll be the first-ever player in a Madden game with his own tattoos.
"Madden 15," the latest iteration of the popular football video game, will hit stores on August 26th, and it will feature Kaepernick's tattoos, which you can see above in the ridiculously lifelike screencap from this year's game. 
The quarterback previously joked about his tattoos on the game with Jim Rome on Showtime last year.
The developers listened, apparently, and with the help of Kaepernick, got a tattoo artist to sign off on including the ink in the game.
"We want to be as authentic as possible, so we were pleased that Colin was able to secure the rights to the tattoos," Seann Graddy, senior producer of Madden 15, told ESPN. "There's a ton of buzz around this. In this game, we only have Colin's tattoos, but we'd love to secure the rights to the tattoos of other players in the future."
Of course, Kaep's tats can't be on the Madden cover. He already lost in the semi-finals to the Seahawks Richard Sherman, who's currently facing off in the cover-vote finals against Panthers quarterback Cam Newton.
Show Comments
Hide Comments
Conley, a first-round talent, has denied rape allegations that came to light this week

Lamps Plus and Charmin' are to the rescue for some smart endorsement money

Here's everything you need to know about the 2017 NFL Draft
Will Garoppolo be Tom Brady's backup in 2017 or will he be dealt Thursday?

Ben Roethlisberger, Alex Smith and Carson Palmer get youngsters to mentor in Prisco's final...

Plus Jonathan Allen falls further than expected and the Saints double dip in the secondary