Marcus Lattimore could be cleared to practice in next few weeks
A year after suffering a gruesome injury in college, 49ers running back Marcus Lattimore could begin practicing soon.
• 1 min read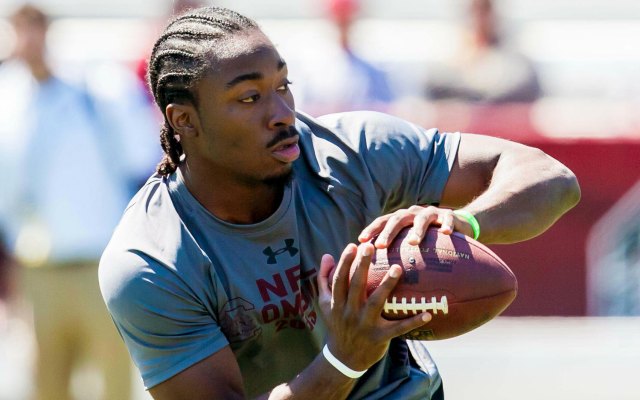 A year after running back Marcus Lattimore suffered a gruesome knee injury that dropped his NFL draft stock and has kept him off the field ever since, it sounds as if he's getting closer to practicing once again.
That's what he told The State this week, even though he admitted he doesn't know if he'll play this season for the 49ers.
Lattimore had suffered a torn ACL during the 2011 season when he was at the University of South Carolina, and after rehabbing that, he badly injured his other knee in October of 2012. In the aftermath of the 49ers drafting him in the fourth round, he said he was OK if San Francisco used this year as a sort of redshirt season as Lattimore recovers.
But if he can practice, yeah, he'd take that.
"They haven't cleared me yet, but these next two, three weeks, I think they're going to look at it," he said. "They really haven't given me an indication or anything set in stone. I know I'll most likely get a chance to practice."
Lattimore is on the reserve/non-football injury list, meaning he couldn't play the first six weeks of the season anyway. The team has until Week 11 to allow him to begin practicing. Lattimore could then practice for three weeks before the 49ers have to decide to make a place for him on the roster. If not, his season would be over.
"It was frustrating at first, of course," Lattimore told the newspaper. "I wanted to be out there, especially when we first started. But I know it's for the best, and it's all about the future and longevity. I know that's the best thing, so I'm not really stressing it. I'm content."
Follow Josh Katzowitz on Google+
Show Comments
Hide Comments
Our Latest Stories
The Gronkowskis are about to have a mini-family reunion in New England

Kaepernick's protest isn't going over so well in some parts of the country

Bradshaw seems to be a big fan of Dak Prescott
The bye week looks like it's going pretty well for Carson Wentz, but not so well for this...

The Redskins corner is probably going to want to get out his checkbook

The Stanford star could stay in the Bay Area and would add another dimension to the Oakland...