Mario Williams sets Bills sack record, Jets' Antwan Barnes not impressed
Jets linebacker Antwan Barnes says that Mario Williams' 4.5 sack game against Carolina wasn't that impressive because it came against the Panthers.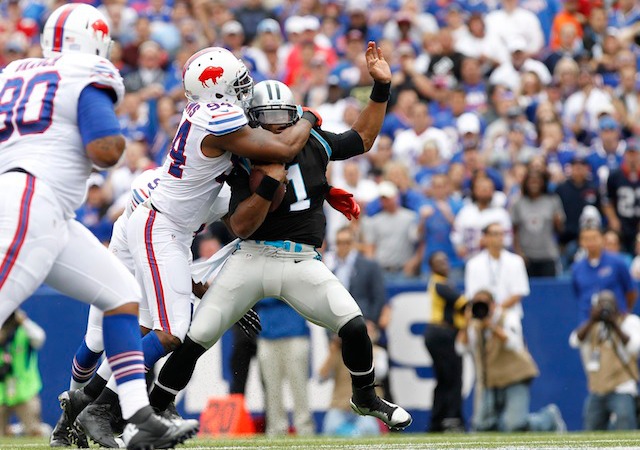 Buffalo Bills defensive end Mario Williams had a pretty good game against the Carolina Panthers on Sunday. Williams tallied a Bills franchise-record 4.5 sacks in Buffalo's 24-23 win over Carolina. Williams 4.5 sacks were also a career single-game high. 
Williams broke the the previous Bills sack record of four, set by Bruce Smith and matched by Cornelius Bennett. 
Jets linebacker Antwan Barnes wasn't that impressed by Williams' performance. And that's mainly because it came against Carolina. 
"It's the Panthers we're talking about," Barnes said with a laugh, via Newsday. "Obviously, he's a first-round pick, they pay him so much money, so he's got to go out there and do something. For our O-linemen, it's the same. They go against us every day. They won't be scared or intimidated by it."
They might not be intimidated by it, but that doesn't mean Williams won't blast Jets quarterback Geno Smith once or twice on Sunday.
In two career games against the Jets, Williams has tallied 18 tackles and two sacks. Not to mention the Jets offensive line hasn't exactly been doing a fantastic job of protecting Smith. Through two games, Smith has been sacked nine times, making him the second-most sacked quarterback in the league behind only Brandon Weeden, who's been sacked 11 times. 
Of course, if the Panthers are offended by what Barnes said, they can take out on him in Week 15 when Carolina hosts the Jets.
Show Comments
Hide Comments
'I want to score a lot of touchdowns. I want to see a lot of celebrations,' Harbaugh said

The 2015 first-round pick has 33 career receptions

Sherman reportedly thought about playing for the Cowboys or Patriots
One of the league's best wideouts had just four catches for 28 yards against Green Bay

The Browns selected Kizer in the second round of the 2017 NFL Draft

Talk about a great Christmas present