Mark Sanchez takes video of two teammates in the tub together
Mark Sanchez took his phone camera to a place players probably shouldn't take their phone cameras.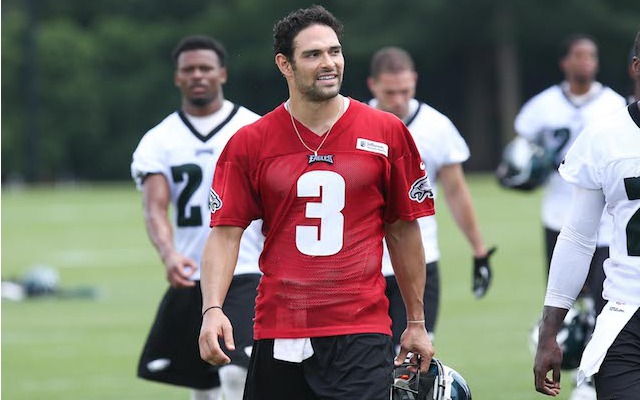 More NFL: Photos |  Videos & GIFs |  Training Camp updates | Manziel watch
Mark Sanchez has been in Philadelphia since March and it doesn't look like he's doing a good job of making friends. 
Not only did the Eagles quarterback interrupt what looked to be a very peaceful Epsom salt bath for Lane Johnson and Zach Ertz, but Sanchez also decided to film it. Then after he filmed it, he decided to put it on the internet. 
During the video, which you can see below, Ertz and Johnson are trying really, really, really hard not to have their faces shown. Ertz and Johnson are also playing with their phones and my guess is that they're erasing Sanchez's number from their contact list. It's also possible that they're texting back and forth saying something like, "I hope we trade Sanchez to the Jets."
At least Sanchez didn't tweet out a naked picture of his quarterback though, right Pat McAfee? 
Anyway, from Sanchez's Instagram:
Had to get these boys on camera snuggling up in the Epsom salt bath... Smh trying to hide their faces too! "2 Guys 1 Tub" starring: LANE JOHNSON and ZACH ERTZ.
Sanchez doesn't just film silly videos, he's also been in one. In June 2013, a video of Sanchez dancing without his shirt went viral. Only click through that link if you want to see Sanchez dancing without his shirt. 
Show Comments
Hide Comments
The Notre Dame coach clarifies his earlier comments about his former quarterback

The Cowboys owner says he's better now than ever

Sometimes it's hard to figure out what the Bills are doing
Peterson would join a formidable backfield that includes Mark Ingram and, of course, Drew...

John Schneider has a simple rule: He doesn't like lying to people

Kizer, the former Notre Dame standout, is one of the top QBs in the draft class