Marshawn Lynch walks out on media for second day in a row
For the second day in a row, Seahawks running back Marshawn Lynch kept his media appearance to less than seven minutes.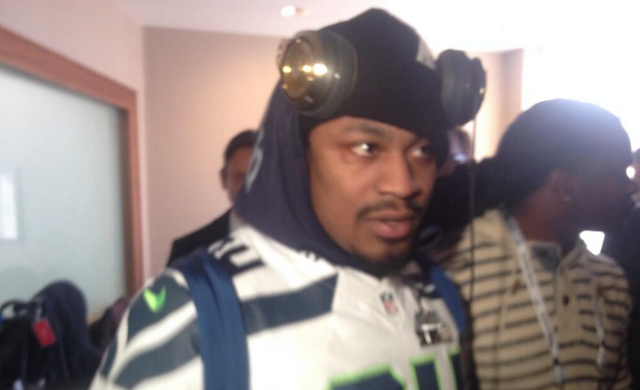 More SB coverage: XLVIII odds | Expert picks | Super Bowl weather | Latest news
JERSEY CITY, N.J. -- For the second day in a row, Marshawn Lynch talked to the media and for the second day in a row, the Seahawks running back lasted less than 10 minutes, but he did answer questions honestly. For instance, Lynch admitted he only showed up so he wouldn't get fined by the NFL. 
"I'm here, man, so I don't have to pay the fine," Lynch said. 
Beast Mode was fined $50,000 by the NFL in early January for not talking to the media, but the league agreed to shelve the fine as long as Lynch participated in media interviews going forward. The Seahawks running back hasn't been an active participant, but he has participated in two interviews this week. Those two interviews have combined to last less than 15 minutes. 
Besides talking about not wanting to pay the fine, Lynch gave a four-word description of his Beast Mode nickname on Wednesday, "It's just a lifestyle."
He then answered a question about playing in his first Super Bowl, "I'm just taking it all in."
Lynch also answered a question about what he thinks of the media attention he's getting for not talking to the media, "I really don't have too much to say, boss. I really don't. I appreciate it, but I don't get it. I'm just here so I won't get fined, boss. That's the only reason I'm here," Lynch said. 
If you're a fan of awkwardness, then you have to be hoping that Lynch wins the Super Bowl MVP award because that could end up creating the most awkward postgame interview of all time. Also, if Lynch were to win the MVP award, he'd have to do this after the game:
Show Comments
Hide Comments
Our Latest Stories
Bob Quinn added that Mixon is still on their draft board despite striking a woman in 2014

Find out exactly who was hit with franchise tags and key players who will instead reach free...

Not exactly a ringing endorsement from the new coach
The pass rusher joined the Patriots for a season and won a Super Bowl

Bill Belichick is a master poker player, but nobody is believing this bluff

Cardinals GM Steve Keim said Palmer would be willing to help bring along a young quarterba...