Matt Leinart: Credit Kurt Warner for Cards offense, not Ken Whisenhunt
Former Cardinals quarterback Matt Leinart says Kurt Warner was the mind behind Arizona's offense in 2008 and 2009, not Ken Whisenhunt.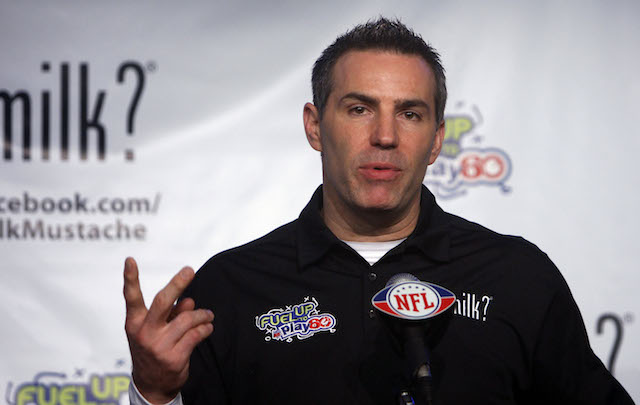 When Tennessee hired Ken Whisenhunt on Jan. 13, Titans president Tommy Smith mentioned that he liked the fact that Whisenhunt had led the Arizona Cardinals to a Super Bowl and had a 'history of building successful offenses.' 
Maybe Whisenhunt should hire Kurt Warner as an offensive coach because that's who actually built the Cardinals offense, at least according to former Arizona backup quarterback Matt Leinart. 
During an interview on Fox Sports Live, Leinart was asked if he thought Whisenhunt would be successful in Tennessee and Leinart didn't just say no, he piled on. 
"I don't think it's a great fit and I don't think it's great timing, and here's why," Leinart said. "You look at his tenure in Arizona -- only two years, he had success, and in those two years, Kurt Warner ran that football team -- I was a part of it."
Leinart and Warner were teammates from 2006-09 and Whisenhunt was their coach for three of those years (2007-09).
"Every single Monday, Kurt Warner would come in and implement 20 to 30 new plays, which he would say, 'I want these in my game plan.' We became a spread offense and we became Kurt Warner's offense. Then Kurt Warner retires, they go 5-11 twice and they go 8-8," Leinart said. 
Whisenhunt was fired in 2012 after one of those 5-11 seasons. Arizona also went 5-11 in 2010, the year after Warner retired. 
Leinart also said Whisenhunt doesn't deserve much credit for helping San Diego as offensive coordinator in 2013. 
"Then you go to the San Diego Chargers this year, Mike McCoy had the offensive influence," Leinart said. It doesn't sound like Leinart expects Whisenhunt to last long in Tennessee.
(Leinart's comments begin around the 1:00 mark)
Show Comments
Hide Comments
Brett Hundley was apparently on the block during Day 2 of the draft

The Bills fired their GM Sunday morning, then cleaned house

Get ready to start hearing a lot about Sam Darnold and Josh Rosen
College players who didn't get drafted are now free to sign with any team in the NFL

Benjamin has had weight issues going back to college

As one exec put it, 'We don't know what the hell they were doing'