Matthew Stafford doesn't care about being NFL's highest-paid QB
While Lions quarterback Matthew Stafford's next contract figures to top the nine-figure mark, he's thinking beyond his own bank account.
• 1 min read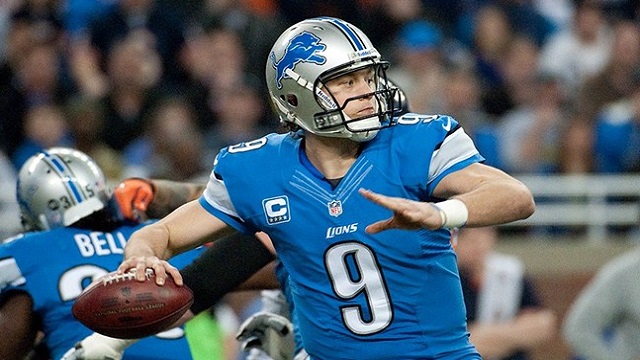 Ravens quarterback Joe Flacco made himself the highest-paid player in the game when he signed his $120.6-million deal last month, and Cowboys quarterback Tony Romo followed that with his $108-million deal.
Packers quarterback Aaron Rodgers likely will get more than either of them, and Lions quarterback Matthew Stafford's next deal also figures to top the nine-figure mark. But Stafford is thinking beyond his own bank account as he and the Lions work on an extension.
He wants to make sure his new huge deal won't screw over the rest of the team and its salary cap.
"I want talent around me, frankly," he told reporters, via the team's website. "You see guys breaking records with how much they're making and all that stuff, and honestly, you want fair market value, but I don't really care about breaking records too much. I want to break records on the field.
"I want to win games and have as many good players around me as I possibly can."
Since Stafford has a couple of years left on his contract -- he's due $12.5 million in 2013, $11 million in 2014 and $15 million for 2015 (which is a club option) -- he's not anxious about signing a new deal.
"Right now, that's football for me," he said. "That's kind of why I'm letting the agents and all that talk to the front office here and figure that stuff out. I would imagine there comes a point when we're getting it done or not.
"[The Lions] would want to do something. I want to do something. We'll figure something out, hopefully, and if not, then we'll move on and table it for a year."
A contract extension also likely would serve Detroit well based on its current salary cap calculations. In 2013, Stafford counts $20.82 million against the cap, and in 2014, he'll cost $19.32 million. Ndamukong Suh, it should be noted, counts more than $21.4 million against the cap in 2014, and overall, the Lions stand at $129.8 million for that year. Obviously, that's not good.  
Which is why it wouldn't be a huge surprise to see a signed Stafford extension sooner rather than later. It probably won't be a record-breaker, but it sounds like Stafford doesn't care about that, anyway.
Show Comments
Hide Comments
Our Latest Stories
Not everyone was happy about the move to Sin City

The Raiders are leaving for Vegas and the team's owner doesn't want any ill will if possib...

Giants receiver Brandon Marshall was the only player invited to speak at the NFL owner's m...
This rule is probably going to have to change now that the Raiders are headed to Sin City

The NFL is rolling the dice on Sin City, despite a last-ditch attempt from Oakland's mayor...

The Chargers are leaving 70,000-seat Qualcomm Stadium for the 27,000-seat StubHub Center