MeUndies.com to sponsor Marshawn Lynch's crotch-grab celebration
Marshawn Lynch has another endorsement, which could lead to him making an obscene gesture in the Super Bowl.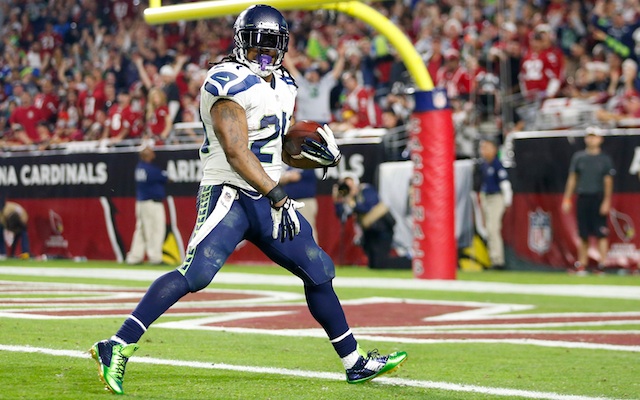 Although NFL vice president of officiating Dean Blandino has issued a warning to Seahawks running back Marshawn Lynch if he decides to make his obscene gesture in the Super Bowl, the bruising back may make grab his crotch for charity.
According to ESPN's Adam Schefter, Lynch will receive a matching grant from MeUndies.com to his charity, Fam 1st Family Foundation, if he does his infamous touchdown celebration. The underwear brand has already agreed to donate $20,000 for his recent crotch-grabbing fine, and are prepared to give an additional $20,000 (up to $100,000) to Lynch's charity for every touchdown against the Patriots. MeUndies also partnered with Dallas running back Joseph Randle after he was caught shoplifting underwear, along with other items in October.
Here's a statement from MeUndies:
"Marshawn is under scrutiny for a pain we've all felt, and we stepped in to help Beast Mode with great fitting, non-riding underwear. MeUndies empowers people to express themselves freely in the midst of any situation and eliminates the need to readjust down there."
The endorsements are crawling out of the woodwork for Lynch, who appeared in YouTube commercials for Skittles, Progressive and VitaCoco prior to Sunday's game. Blandino said earlier in the week that Lynch and the Seahawks would be would assessed a 15-yard penalty for touching his private parts. We can't imagine Lynch would hurt his team's chances to win on Sunday by doing that. But at least we can watch him teach Conan O'Brien how to do his touchdown celebration.
According to a police report, he faces six years in jail and/or a $10,000 fine

Floyd has claimed that he failed the test due to drinking too much kombucha
Fairley will miss the season due to a heart condition, and his career is in jeopardy

The Chiefs went 43-21 under Dorsey's guidance

He definitely doesn't skip leg day