Michael Crabtree not interested in talking about Richard Sherman
Michael Crabtree wants to concentrate on football, not Richard Sherman.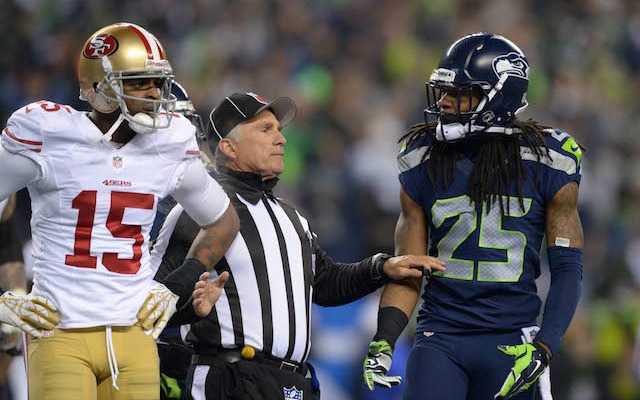 Richard Sherman likes to talk about Michael Crabtree whenever he gets a chance, but the feeling's definitely not mutual. Just one day after Sherman said he wanted to "play [Crabtree] every year" and "choke him out," Crabtree responded with a non-response. 
The 49ers receiver told ESPN's "NFL Live" on Thursday that he's tired of the jibber-jabber. 
"I've been doing this for a while, you know," Crabtree said, via NFL.com. "I've been playing, I've been to the top of the totem pole since high school, you know. So, it's nothing new to me."
Although Crabtree never mentioned Sherman by name, it definitely seemed like he was alluding to the Seahawks corner, "I'm getting (tired) talking about these guys. I concentrate on football," Crabtree said. "I love football. This my life, you know what I'm saying? So, I don't really have too much to prove when it comes to talking on this TV. But like I said, I'm about it."
A few minutes after his interview ended, Crabtree insinuated in a tweet that maybe he wanted to say a little more. 
I want to tweet something gangsta, but I'll keep it PG13..

— Michael Crabtree (@KingCrab15) July 10, 2014
As for Sherman, he loves talking on TV. The Seahawks corner didn't just say he wanted to choke Crabtree out on Wednesday, he also talked about his general disdain for the 49ers wideout.
"It's much more of just I don't like the dude," Sherman said. "You know what I'm saying. And I think he's sorry. So it's really what it comes down to."
"It's not going to be something that goes away," Sherman added. "I hope to play him every year for the rest of my career and choke him out. There's not much else I can say about the subject. Nobody will understand it but him and me. That's all that needs to understand."
CBSSports.com's Gregg Doyel thinks it's gotten to the point where Sherman is the bad guy here. 
From Doyel: 
Richard Sherman keeps talking about Michael Crabtree, keeps running up the score on his beaten nemesis, and here's the thing about that:

We don't like people who run up the score.

Well, we don't. And we shouldn't. There's something to be said for winning with grace and class, or at least with feigned humility. Fake it for us, and we'll be OK. Trying to be humble is humble enough.

Gloating, as Seahawks cornerback Richard Sherman continues to do toward 49ers receiver Michael Crabtree? Pouring it on, hitting the guy when he's down and hitting him again and again and again until people like me -- and, I hope, lots of you -- are starting to think maybe Michael Crabtree isn't the bad guy in this situation?

It's a bad look for Richard Sherman.
Bad look or not, Sherman is adding some spice to Thanksgiving 2014 every time he opens his mouth. That day of course, is the first time the Seahawks and 49ers are scheduled to play each other next season. 
Sherman thinks that all quarterbacks on all NFL teams get treated better than anybody else

The Patriots coach looks pretty cool on the 15th anniversary cover of Nantucket magazine

Taco Bueno has been angling for a deal with Charlton ever since he was drafted
Jeff Garcia, Jimmy Clausen and Justin Forsett explain their involvement in American Flag Football...

The Panthers added more playmakers to take some of the pressure off Newton this season

Young has been out of the NFL a while but still feels slighted when other quarterbacks get...