Michael Sam does 'money fingers' after sacking Johnny Manziel
Michael Sam took down Johnny Manziel in the 'sack heard round the world' -- and then celebrated with some of Johnny Football's money fingers.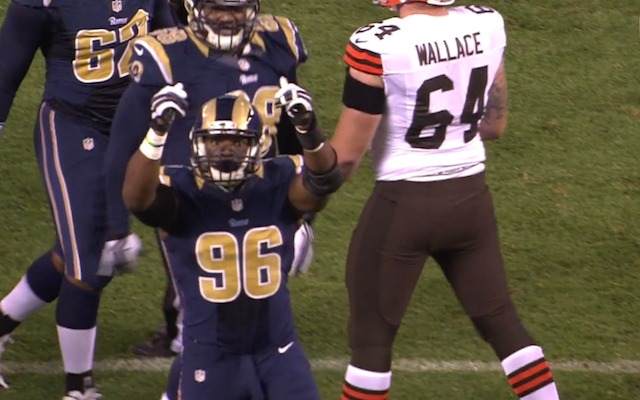 Johnny Manziel, meet Michael Sam. Michael Sam, meet Johnny Manziel.
The two most hyped rookies of 2014 finally met on the field on Saturday and surprisingly, if you're reading this, it means the Internet didn't explode. 
The first NFL meeting between Sam and Johnny Football ended with the Rams rookie sacking Manziel for a six-yard loss. Actually it didn't end there because Sam did a celebration after the sack and that celebration was Johnny's own 'money fingers'. 
Also, it's probably worth noting that the sack -- Sam finished with two, both on Manziel -- on Saturday wasn't the first time Sam has taken Manziel down. Sam recorded a half a sack in 2013 when Missouri beat Texas A&M 28-21. Of course, Sam was just college student Michael Sam then and hadn't gained the publicity that comes along with being the first openly gay player in the NFL.
Here's the sack. You can see Sam's 'money fingers' at the top of the page. 
Here's one more shot of it, including Sam's full celebration (via @cjzero)
Oh, and one more thing, if you see this guy, he owes you a drink.
Rams vs Browns tonight. If Michael Sam sacks Johnny Football & gives the money sign, drinks are on me. For everyone in the world. Forever.

— FISHER KING (@SquareKnight) August 23, 2014
Show Comments
Hide Comments
With mounting injuries and partially filled stadiums, more joint practices and less games could...

240 members of the military will be on the field before Thursday's Chargers-49ers game

The former Nevada quarterback remains a controversial figure after his protest against racial...
The NFL Draft is headed to the city of Brotherly Love

He did not, however, reveal if Rawls will play in Thursday night's preseason game

The quarterback-turned-baseball player admitted something he's never admitted before