Mike Goodson no-shows court; judge issues jail warning
Mike Goodson didn't show up for Jets minicamp. And he didn't show up for his court appearance Thursday.
• 1 min read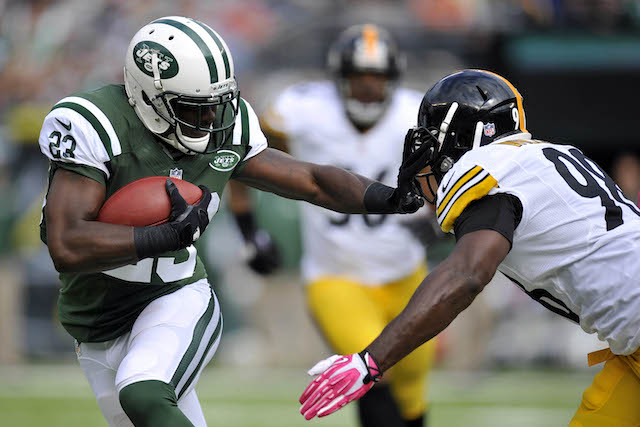 More NFL offseason: League minicamp dates | Latest news, notes
The Jets apparently aren't the only people who don't know the whereabouts of running back Mike Goodson. He also isn't showing up to court.
A week after New York released Goodson after he skipped the team's mandatory minicamp, Goodson was due in Morris County (N.J.) court Thursday to face a status conference for his two weapons charges.
But he didn't make an appearance, and, as the Newark Star Ledger writes, Superior Court judge Mary Gibbons Whipple said that if Goodson doesn't show for his next appearance, he'll be headed to jail.
Goodson's attorney, Alfred Gellene, told the court that financial issues had prevented Goodson from taking a flight from Texas to New Jersey. Whipple set the next court date for July 24.
"We thought (Goodson) would be able to make it, so I guess somewhat surprised (that he no-showed Thursday)," Gellene said. "But we're working with him and we expect him here for court."
More from the newspaper:
[Peter Foy, an assistant Morris County prosecutor] asked Whipple to issue a warrant for Goodson's arrest Thursday, because he no-showed, and because his unemployed status means he no longer has to be in New Jersey for work. Whipple declined, saying she would "give him an opportunity to get here."

But, she added, "If he can't fly here, he can drive."

Said Gellene: "Or walk, judge."

Whipple responded: "Take a bus to get here."

Gellene then jokingly mentioned the Chisholm Trail, which ranchers used in the 19th century to drive cattle from Texas to Kansas.
Unfortunately for Goodson, who signed a three-year, $6.9 million deal with the Jets in March of 2013, his status right now is no laughing matter.
Show Comments
Hide Comments
No teams did bad enough to earn an 'F,' and give credit where it's due to the 49ers(!) and...

The Bills announce that they have parted ways with general manager Doug Whaley after four...

Plus Seahawks eschew needs on the line and Rams seek help for Goff as we hand out NFC West...
Plus Saints and Falcons load up on defense as NFC South gets a massive boost in talent

Lions draft for now, Packers run down their checklist and Vikings find a runner in our NFC...

Plus Giants do a lot with a little and Eagles and Redskins face durability concerns in our...