Mike Tomlin: Possible suspensions 'on the table' for Le'Veon Bell and Blount
Steelers coach Mike Tomlin hasn't ruled out suspended Le'Veon Bell and LeGarrette Blount. Both players received marijuana citations last week.
The Pittsburgh Steelers could soon have a depth problem at running back and that's because coach Mike Tomlin said on Monday that suspending Le'Veon Bell and LeGarrette Blount is something that the team hasn't ruled out. 
"Everything's on the table," Tomlin said, via ESPN.com. 
Bell and Blount were both charged with possession of marijuana after a traffic stop on Aug. 20. Bell was also charged with DUI for driving while allegedly high, even though he was unaware that something like that could happen. 
"I didn't know that you could get a DUI for being high," Bell was quoted as saying in the police report. 
If Bell and Blount were to be suspended at the same time, that would mean Pittsburgh would be forced to start a running back with zero NFL experience. Besides Bell and Blount, none of the backs on the Steelers roster have ever carried the ball in a regular season game. 
Steelers President Art Rooney II also got in on the conversation. Rooney didn't specifically talk about suspending his running backs on Monday though, instead, the Steelers president mentioned letting the legal process play out.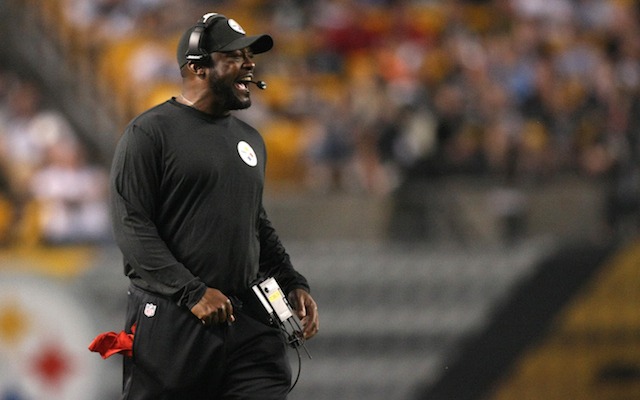 "There are parts of this that are going to have to go through the legal process and the league review process," Rooney told ESPN.com. "We'll just have to deal with it as that process unfolds."
For what it's worth, Ed Bouchette, the long-time Steelers beat writer for the Pittsburgh Post-Gazette, doesn't think the team will end up suspended either player -- although the NFL might. 
Mike Tomlin says If Steelers discipline Bell and Bount they will do so internally, not make it known. Aka, no Steelers imposed suspension

— Ed Bouchette (@EdBouchette) August 25, 2014
Show Comments
Hide Comments
The former Florida football player was expected to be a second-round pick in the NFL Draft

This much is certain: The Browns desperately need a quarterback

The man who signed Romo is happy to see him move on from playing the game
Roger Goodell typically announces all the first-round picks, but he'll make an exception this...

NFL teams find out their schedule on the same day you do

There probably weren't too many complaints in Kansas City after the schedule was released