Mike Zimmer says 'there are some flags that come up' with Manziel
It doens't sounds like Vikings coach Mike Zimmer is a huge fan of Johnny Manziel.
• 2 min read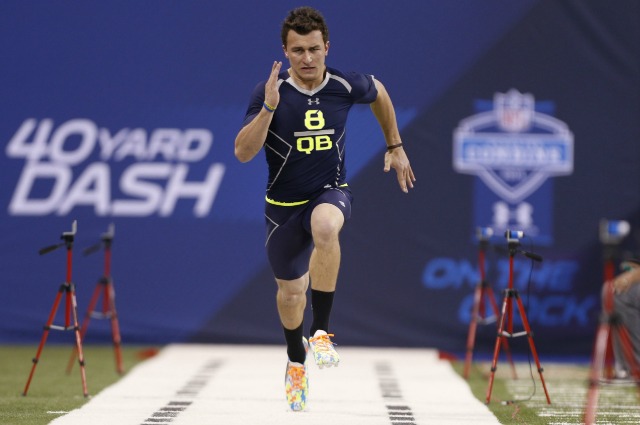 More NFL offseason: Mock Drafts | Prospect Rankings | Pro Days | Top free agents
It seems that either Vikings coach Mike Zimmer is adamant that Johnny Manziel isn't the right quarterback for when his team picks No. 8 overall in May's draft, or he's sending up one helluva smokescreen.
Though Manziel was praised by just about everybody following his pro day performance last week, Zimmer didn't seem nearly as impressed, calling the workout a "sideshow."
On Monday, Zimmer expanded on his thoughts about Manziel, saying there were red flags that arose during conversations between the former Texas A&M star and the organization.
"We asked him all kinds of questions. ...There are some flags that come up," Zimmer told 104.9 The Horn in Austin, via the Minneapolis Star Tribune. "All of the things that happened out in Los Angeles, the commercials and all that stuff; the position of quarterback in the NFL is such an important position and the reason these guys need to be a totally football-minded guy is the pressure of the position and being the face of an NFL team and doing everything right. That's the thing you want to know about him. Will he be into work early every single day? Will be the last to leave? Will he be the guy that is working the hardest to get better?
The Vikings had dinner and a private workout with Manziel the day after his pro day was covered by more than 100 media members and observed by President George H.W. Bush, his First Lady and their dog.
Minnesota certainly could use a franchise quarterback, particularly since nobody on last season's roster (Christian Ponder, Matt Cassel, and Josh Freeman) appears to fit that description.
Either way, Zimmer and the Vikings could have a difficult decision to make if Manziel still is available at No. 8 -- for the record, four of the five CBSSports.com mock drafters predict Manziel will be taken with either No. 4 or No. 5 picks).
"I guess the thing you have to figure out is, is this just another part of the things that happened a couple of years ago after he won the Heisman Trophy or is he just a different person as far as wanting the limelight or just wanting to prove that he can do things the right way," Zimmer said. "I guess it maybe brings a few questions marks in. Is he going to conform to typically what the NFL is or what everyone else has done before him including what the great players in the game have done before him, or is he going to try to be the celebrity man guy that he was maybe a year-and-a-half ago?"
Show Comments
Hide Comments
As one exec put it, 'We don't know what the hell they were doing'

Beast Mode is headed to Oakland, but made sure to thank the people of Seattle on his way o...

The Broncos only drafted Kelly after first talking to his uncle, Jim Kelly
Whaley was on borrowed time, and now Sean McDermott gets his best shot at building a winne...

The Cowboys owner maintains that Gregory has the organization's full support

No teams did bad enough to earn an 'F,' and give credit where it's due to the 49ers(!) and...