Mock Draft No. 1: Bortles over Manziel for Texans with top pick
Pre-combine, pro day and free agency mock drafts are dicey, but Blake Bortles makes sense at No. 1 over Johnny Manziel because Bill O'Brien is a pocket passer guy.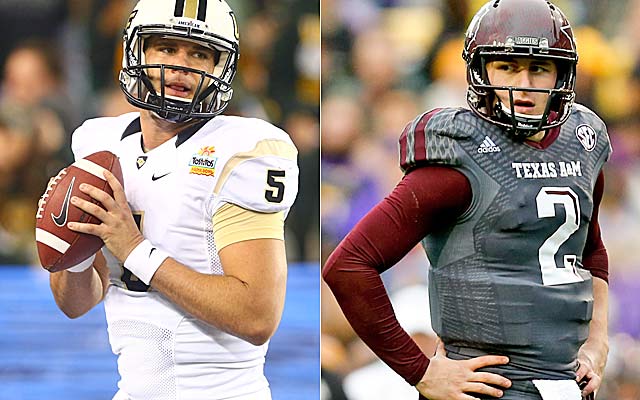 More draft: Manziel sets date for private workout | Mock Draft Central
We love mock drafts. But let's face reality: Any mock draft done before the NFL Scouting Combine, pro day workouts and free agency lacks all the necessary information.
But at least it's a start. And that's what Mock No. 1 is for me. I watch a ton of college football during the season ­­ probably more than most college football writers since I am bunkered in a hotel room every Saturday afternoon with a TV, a remote and a laptop in front of me.
I make a lot of player evaluations based on what I see each week, but until the combine and the interviews and the team gossip, plus the All­-22 tapes are made available it's hard to lock in on guys.
I am not one to put a lot of stock in a combine workout, but if a corner or receiver were to run a 4.8, it would be a red flag.
The tape is what evaluations are all about. Any good general manager will tell you that.
But this is the silly season, a time when proclamations about top picks being decided already are made, which is pure foolishness. Nobody has done that yet ­­ especially without an Andrew Luck ­type player in this draft.
Let the process play out. We have three more months to play the Mock Draft Game. There will be a lot of them. So don't overreact to this one.
It's way too early for that.
1. Houston Texans -- Central Florida QB Blake Bortles : I know there will be a push for Johnny Manziel, but Bill O'Brien seems to be a pocket­ passer guy.
2. St. Louis Rams (From Washington) -- Texas A&M T Jake Matthews : I know some think Greg Robinson has moved ahead of him, but this is the safe, sure choice.
3. Jacksonville Jaguars -- South Carolina DE Jadeveon Clowney: This is a premier pass rusher for a team that needs one in the worst way.
4. Cleveland Browns ­­ Texas A&M QB Johnny Manziel : This would seem to be a natural fit. They need a quarterback in the worst way.
5. Oakland Raiders -- Louisville QB Teddy Bridgewater : They finally get the passer they've been looking to get for years.
6. Atlanta Falcons -- Auburn T Greg Robinson: They have to get help for Matt Ryan up front. He took way too many shots last season.
7. Tampa Bay Buccaneers -- Clemson WR Sammy Watkins : Vincent Jackson isn't a kid, and they lack the big-­time speed outside. Could go for a pass rusher.
8. Minnesota Vikings -- Buffalo OLB Khalil Mack: New coach Mike Zimmer has a big task in trying to rebuild that defense. He needs to get faster.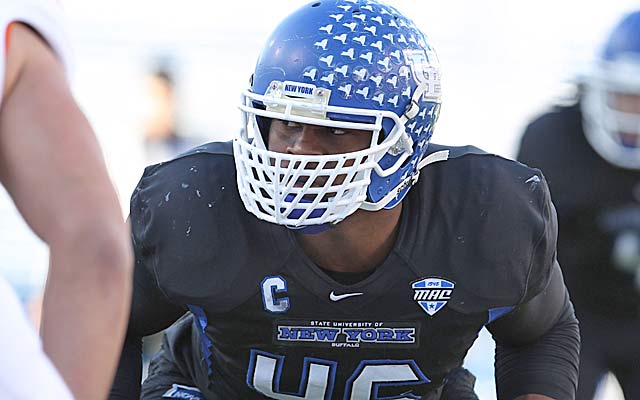 9. Buffalo Bills -- Alabama LB C.J. Mosley : They need speed next to Kiko Alonso . Mosley will be a 10­-year starter.
10. Detroit Lions ­­ Michigan State CB Darqueze Dennard : They go for the in-state product to help upgrade a secondary that needs it in the worst way.
11. Tennessee Titans -- USC WR Marqise Lee : They need a deep threat to go with Kendall Wright . Oh, they also might need a quarterback. But who?
12. New York Giants -- UCLA OLB Anthony Barr: They have little speed at linebacker, and it shows. Yes, they need offensive line help but they can wait on that.
13. St. Louis Rams -- Texas A&M WR Mike Evans : They have fast, smaller guys. They need a bigger receiver like Evans (6-foot-5, 225 pounds) to complement them.
14. Chicago Bears -- Alabama S Ha Ha Clinton­-Dix: Their secondary was bad in 2013. They need help on the back end.
15. Pittsburgh Steelers -- Notre Dame DT Louis Nix : He is a perfect fit in their defense. They have to get better inside.
16. Baltimore Ravens -- Alabama T Cyrus Kouandjio : Both of Baltimore's tackles are unrestricted free agents. They'll lose at least one, maybe both.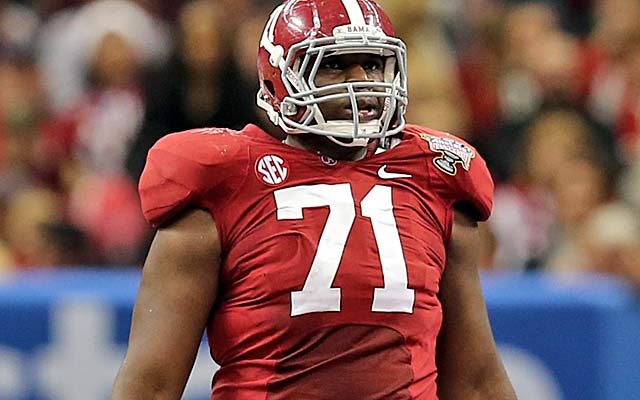 17. Dallas Cowboys -- Florida State DT Timmy Jernigan : They could lose Jason Hatcher and they need help inside anyway. Did you see who they played there with some last season?
18. New York Jets -- North Carolina TE Eric Ebron : They have to get some help for the passing game. This kid has the look of a future star.
19. Miami Dolphins -- Notre Dame G-T Zack Martin: Miami has to improve that offensive line. Martin showed at the Senior Bowl he can play outside and inside.
20. Arizona Cardinals -- Michigan T Taylor Lewan : They have to get better at left tackle. Local kid who could step in and play right away.
21. Green Bay Packers -- Minnesota DT-DE Ra'Shede Hageman: The Packers have three defensive linemen scheduled to become free agents. They need to find a potential replacement.
22. Philadelphia Eagles -- Louisville S Calvin Pryor: They had big problems on the back end last season. Pryor would start right away.
23. Kansas City Chiefs -- LSU WR Odell Beckham Jr. .: They have to get somebody to emerge opposite Dwayne Bowe . Beckham Jr. was a polished player for the Tigers.
24. Cincinnati Bengals -- Oklahoma State CB Justin Gilbert : With Leon Hall coming off an Achilles' tendon injury, Cincinnati must get younger at corner.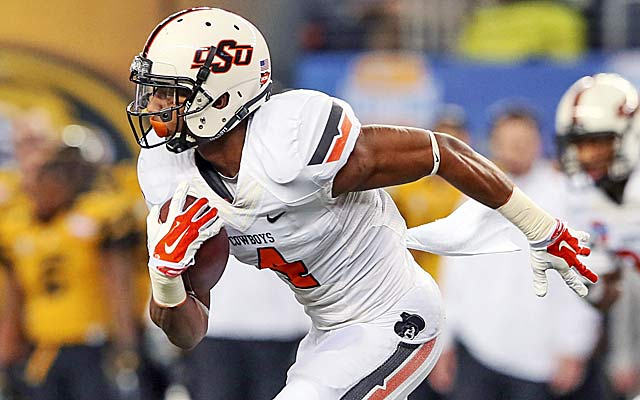 25. San Diego Chargers -- Florida CB Marcus Roberson : They had big problems outside last season, so they have to try and upgrade in a division where you face Peyton Manning twice.
26. Cleveland Browns (From Indianapolis) -- Florida State WR Kelvin Benjamin: Cleveland needs a weapon outside to go with Josh Gordon . Benjamin would give them a huge complementary target.
27. New Orleans Saints -- Virginia OT Morgan Moses : Right tackle Zach Strief is an unrestricted free agent. If the Saints can't get him re­signed, this makes sense. If Strief re-signs, they could draft a receiver or pass rusher.
28. Carolina Panthers -- TCU CB Jason Verrett: They got by with so­-so corner play last season. It's time they upgraded it. The pass rush can't cover it up forever.
29. New England Patriots -- Texas Tech TE Jace Amaro: With Rob Gronkowski coming off another injury and Aaron Hernandez in jail, they need another weapon in the middle of the field. They love double-­tight looks for when Gronk does come back.
30. San Francisco 49ers -- Ohio State CB Bradley Roby : He is a talented corner with good size. Doesn't everybody want that now?
31. Denver Broncos -- Auburn DE Dee Ford: With Von Miller coming off an injury and Shaun Phillips getting up in age, adding another pass rusher makes sense.
32. Seattle Seahawks -- Tennessee G-T Antonio Richardson: They had trouble up front on the line this season and Breno Giacomini is a free agent.
RG3 is finally getting an NFL tryout

It's been an unlucky day for Lucky Whitehead

We're about to find out if a rugby player can actually work in the NFL
Unfortunately for Broncos fans, this deal doesn't mean Elway will be playing quarterback

Derek Carr would like to see the refs actually throw some flags in Khalil Mack's favor

The Seahawks quarterback took a run on the Great Wall that was straight out of Rocky II