Monday Musings: Is Tom Brady now a big-game loser?
Tom Brady is 4-6 in his last 10 playoff games. It's been almost a decade since he won his last Super Bowl. Does he get a pass because he has three rings?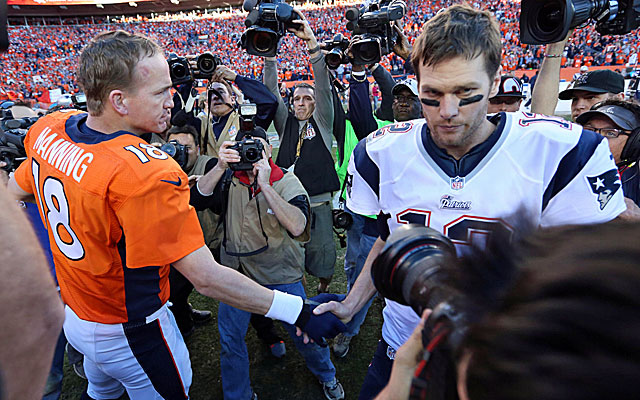 More Super Bowl coverage: XLVIII odds and lines | Expert picks| Latest news
DENVER -- Is it time to say that Tom Brady has become a big-game loser? Or is that too harsh?
Yes, he has three Super Bowl rings, which is cache for sure, but since winning his last Super Bowl after the 2004 season, Brady has lost two Super Bowls and three AFC Championship Games, including two in a row after losing 26-16 to the Denver Broncos on Sunday in Denver.
Brady is 4-6 in his past 10 playoff games and has 10 interceptions in those 10 games to go with 19 touchdown passes. He threw three picks in his first 10 playoff games. The New England Patriots are much more reliant on his right arm now, but that doesn't mean he gets a free pass.
Brady has the skins on the wall, easing his postseason failures of the past nine seasons, but it doesn't mean he gets a pass. He's still one of the all-time greats, but if Peyton Manning were doing the same thing Manning would be taking a beating.
When Brady loses, it's on the team. When Manning loses, it's on him. Big difference.
The Patriots had little in terms of speed outside to help Brady in the passing game against Denver, but he had fought through that all season long. 
Brady struggled early in the loss to the Broncos, missing several open receivers, which had nothing to do with them. 
"I just overthrew them," Brady said.
It has been a long time since Tom Brady won a ring. Just saying.
• Speaking of big-game losing: San Francisco 49ers coach Jim Harbaugh has now lost two championship games and a Super Bowl. Just saying.
• I truly enjoy a cocky player who isn't afraid to say things. So I respect Richard Sherman and have no problem with his postgame tirade. What I didn't like was his little taunt of Michael Crabtree after the Seattle Seahawks picked off Colin Kaepernick to ice the game. There's a time for everything. That wasn't it. Sherman, by the way, is one heck of a corner. But if they man him up with Demaryius Thomas , the Broncos will attack him in the Super Bowl.
• I hated seeing NaVorro Bowman suffer that knee injury. He is a special player. He has taken over as the 49ers' best linebacker, ahead of Patrick Willis . 
• Broncos players were raving about the speech Wes Welker gave to them Saturday night about the importance of seizing the moment. Welker has been close a bunch for the Patriots, but has never won a ring. Is this the year? 
• I won't know until I see the tape, but it sure looked like Champ Bailey had a heck of a day in coverage for the Broncos. The 15-year veteran has battled through injuries this season and missed a lot of time. But he's going to his first Super Bowl now and was a big part of why the defense played so well against Brady. "You might not have known, but I knew I'd be back at some point," Bailey said. "My coaches, teammates, they never gave up on me." With Chris Harris out with a knee injury, Bailey moved into the starting lineup after playing nickel last week against the Chargers.
• I've been touting Broncos defensive tackle Terrance Knighton for a while, and now you know why. He was a force again against the Patriots, getting two stops behind the line and a sack. He abused Logan Mankins on his sack. After the game, Knighton couldn't believe the Patriots chose to single-block him. "Can you believe that?" he said. "They tried to single-block me." With Seattle coming up in the Super Bowl, you can bet they will double him to try and get their running game going. Seattle center Max Unger is a good player inside and does a nice job in the run game. Get ready for Pot Roast Mania. He is already a media darling and he's about to explode in New York. Watch. To think Denver signed him for two years and $4 million. Wow.
• The Broncos have punted once in two playoff games, and that came after they crossed midfield against New England. This is an offense that is tough to stop and Seattle better be ready.
• What the heck was Bill Belichick thinking when he went for it on fourth-and-3 at the Denver 29 with his team trailing 20-3 with 2:30 left in the third quarter? Kick the field goal, cut it to 14, and give yourself a chance. As it turned out, when his team scored late to make it 26-16, he was forced to go for two to make it an 8-point game. But if he had kicked the field goal, the Patriots would have been down six and the pressure would have been on the Broncos. That was a bad decision. 
• Speaking of bad decisions, why didn't Pete Carroll kick a field goal to go up six instead of going for it on fourth down late against the 49ers? That was a tight game. He was trying to put it away, but kicking was the right decision. San Francisco stopped Seattle. 
• It looks like Broncos offensive coordinator Adam Gase will be coming back to Denver next season. But he won't be a coordinator for long. He is a hell of a coach. Everybody you talk to about him inside the organization raves about him. They say he's an offensive wizard. I tend to agree.
• Kaepernick has to learn to be better in the pocket. Running for over 100 yards is fun to watch, but it won't win titles. Turning it over three times in the fourth quarter won't, either. 
• Davone Bess, go get help. You have issues. It's not funny either, to those laughing. He has some demons.
Show Comments
Hide Comments
Floyd claims to have drank four or five bottles of kombucha tea, resulting in a failed alcohol...

Atlanta's new video board wraps around the length of the stadium and looks incredible

Miami wound up turning to Matt Moore, who fared well but couldn't deliver in the playoffs
John Mara says Beckham needs to show more maturity, but he wishes every player worked as hard...

Bennett is transitioning from playing with one all-time great quarterback to another

Carr is the highest-paid player in the NFL, until the next deal for a franchise quarterback...