Monday Musings: Scouts wise to believe Clowney will succeed in NFL
The Russell Westbrook Theory tells us using Jadeveon Clowney's 2013 numbers to project NFL value is ridiculous. What guys like Westbrook and Clowney have makes stars. Period.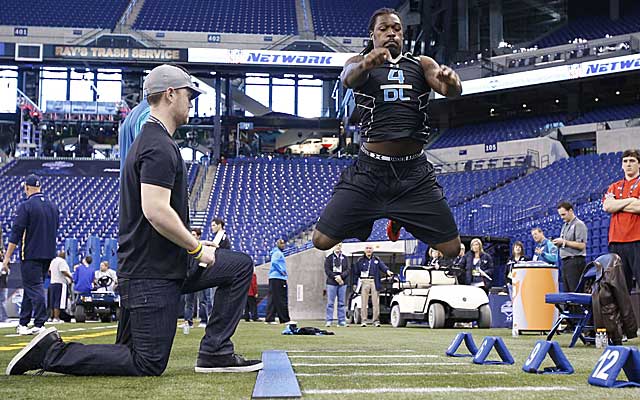 More NFL offseason: Mock Drafts | Prospect Rankings | Pro Days | Top free agents
I have a scouting theory about the NFL I can relate to the NBA.
I call it the Russell Westbrook Theory. The basis: You draft on projecting to the next level, with less emphasis on the collegiate numbers.
When Westbrook came out of UCLA, he did so after 35 starts and a career average of 8.2 points per game, yet he was the fourth pick of the 2008 NBA Draft by Seattle (now Oklahoma City). It was a pick based on projecting his athletic ability to the next level.
In the time since, he has been a three-time All-star, played for the 2012 Olympic team that won gold and is arguably one of the 15 best players in the league.
How does that relate to the NFL Draft?
Don't get caught up in college numbers. We've seen scores of college stars who couldn't translate to the NFL for a variety of reasons. It's like a 6-foot-5 power forward that puts up good numbers in college basketball, but doesn't have the body, speed or athletic ability to take his game to the NBA.
That's why the hysteria over Jadeveon Clowney's three sacks in 2013 at South Carolina is absurd. Yes, he should have had more with that talent -- he left a bunch out there -- but league scouts care little about that.
All they know is that his game translates to the next level. He is big, strong, fast and can rush the passer. Like Westbrook did when he came out, Clowney has all the tools the scouts love.
Central Florida quarterback Blake Bortles is a little like that too. He didn't really become a potential top-five pick until this past season. And while he didn't put up gaudy numbers at UCF, his draft slot is based more on a projection than anything else.
That's what teams need to do, and something fans usually don't understand.
"You're basically betting on what he will be when he's 23 or 24 or 25 years old," St. Louis Rams general manager Les Snead said. "Quarterbacks are a great example. You could be in the spread and not have the tools to translate it to the NFL. But you could put up tons of numbers. You might have a guy who runs a pro-style offense, runs the ball more, play-action passes -- all the things you're probably going to do at this level -- and he is a better fit."
It's true this doesn't work all the time, but it's not where a player is today for most teams. It's where he's going to be in three or four years. Just remember that when you scream about a productive college player who isn't being tabbed as a high pick.
It's what I call the Russell Westbrook Theory.
More Musings
• There are rumblings around the league now that the Houston Texans , with the first pick, are looking to move out of that spot. So who wants to go up? How about the Atlanta Falcons or Buffalo Bills with an eye on Clowney? The Texans could trade with the Falcons, who have the sixth pick, add some draft choices and still perhaps land Buffalo's Khalil Mack, who would seem to fit their scheme better. The Falcons lack that dynamic edge rusher like Clowney. The Bills have Mario Williams , but imagine a front with Williams, Kyle Williams , Marcell Dareus and Clowney. I also still think the Rams would consider a trade down if the offer were right. But that won't be cheap for any team looking to move up.
• One thing I've been told in recent weeks is how impressed teams are with Clowney as a person. He's come across as funny, playful and genuinely likeable. So all that talk about his questionable character isn't playing out in visits with teams.
• The idea that the draft status of Johnny Manziel could be impacted by his decision to attend The Masters, the Final Four and a baseball game last week is just outright ignorance. I actually talked with two league scouts last week about the baseball game and whether he's being seen out too much, and they laughed. Who cares, they said, as long as he's staying in shape, working out, and staying out of trouble? It's officially silly season.
• The more I watch Khalil Mack on tape, the more I think he will be a Pro Bowl regular. He plays with a violent style and he's a power player. One team's linebackers coach compared him to former New Orleans Saints outside linebacker Ricky Jackson. I would agree. That's high praise, considering Jackson is in the Pro Football Hall of Fame. Mack was a force against Ohio State last season, but he was dominant in a lot of games. He didn't play as well against Baylor, which has some concerned, but that game was out of hand early. What I saw on tape was a player who could get around the corner on the pass rush and was also strong enough to get his body into the midsection of a tackle and knock him back. Yes, he played in the MAC, which doesn't produce a lot of top-tier line talent, but he abused the Ohio State line too. He took both tackles and the left guard (he moved inside some) apart in the game. If Clowney goes first to the Texans, it wouldn't be a shock to see the Jacksonville Jaguars take Mack with the third pick. He's that good.
• I am starting to hear more and more talk that Ohio State's Bradley Roby and Virginia Tech's Kyle Fuller could be the first two corners off the board in the first round. Roby has the best athletic ability of all the corners, but he was inconsistent last season. His 2012 tape was much better. Fuller has the look of a good man-cover player who can match up with the No. 1 receiver.
• Some have speculated that the signing of quarterback Josh Freeman by the New York Giants sends a message about Eli Manning being on the downside of his career and concern about his ankle that recently required surgery. I think it's more of an indictment of last year's pick, Ryan Nassib . If he made progress last season, the Giants probably wouldn't need to sign Freeman. But he didn't. As for Freeman, this could be a good situation, playing for Tom Coughlin and behind Manning. He is a year removed from a pretty good season for Tampa Bay. He's also relatively young at 26. So spend a year as a backup, work to get better, and then move on.
• I keep hearing more and more from league personnel men and scouts that Bortles is the clear top choice at quarterback. There is growing concern that Teddy Bridgewater will need a year of seasoning. Those same scouts who say that also think Bridgewater will still be a good starting quarterback.
• I thought I would really like Alabama quarterback AJ McCarron, but after watching him on tape I was a bit underwhelmed. He is a third-round pick in my book. There is talent there, but he just didn't wow me when I watched his tape. One thing I also noticed about his 2013 season: His line wasn't very good, contrary to popular belief. I still think he's a smart kid who will work at the game, but he has a lot of progress to make.
• Like I wrote in this space a few weeks ago, I think Chris Johnson can still be a productive back, just not a home-run hitter. The New York Jets giving him a two-year, $8 million deal isn't that expensive. I don't like signing backs from other teams, but this one is OK because of the money.
Raiders fans are probably going to be jealous of Tiger's pool table

The Juice isn't quite loose yet

Dallas receiver's offseason ends on a rocky note
Someone in America actually thinks the Jaguars will be going to the Super Bowl

The 36-year-old receiver is one of the biggest names left on the free agent market

The Giants defensive end might be a little too optimistic about the 2017 season