New Bears LB Danny Trevathan: 'I wish' Packers would've called me
So, it turns out the new Bears linebacker wanted to have the chance to join the Packers.
• 1 min read
Danny Trevathan's decision to leave the Broncos to join the Bears makes sense on every level. He wanted to get paid and the Bears entered free agency with the third-most cap space in the league. He plays middle linebacker, a position the Bears desperately needed to fill. And, he gets to play with the coach who drafted and developed him, John Fox.
Perfect marriage, right?
It certainly seemed like that was the case. Right up until Trevathan revealed on Thursday that he was hoping to receive a call from the Packers so he could sign with them.
That perfect marriage might need some counseling.
"I wish they would have, but they didn't," Trevathan told NFL Network. "My guy Randall Cobb is over there, but they didn't so I'm here with Chicago."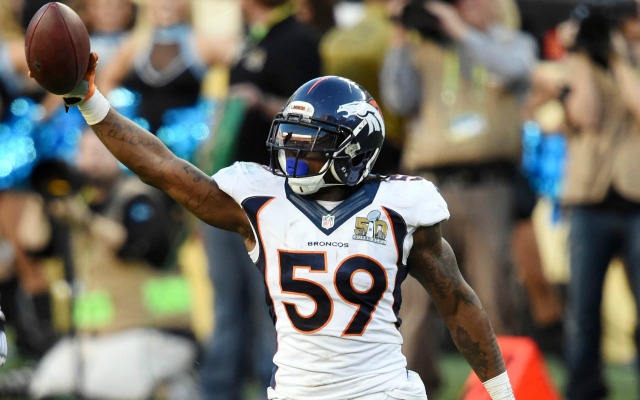 Luckily for the Bears, their rivals to the north don't often spend money in free agency. The Bears, on the other hand, were willing to hand Trevathan a four-year, $24.5-million contract that includes $12 million in guarantees.
Again, that's a deal the Bears should be happy with. Because, next fall, Aaron Rodgers probably won't be playing against a defense that looks this lost:
Linebacker: An area of need for the Bears. https://t.co/R8qJUoqooK

— Sean Wagner-McGough (@seanjwagner) March 9, 2016
Trevathan, still only 25 years old, recorded 109 combined tackled and two interceptions during the 2015 season. Despite vocalizing his interest in the Packers, Trevathan didn't seem to mind his final destination.
LB Danny Trevathan says he see's a lot of attitude, hustle and ambition on #Bears defense. Calls DC Vic Fangio a "mastermind" & a "wizard."

— Chicago Bears (@ChicagoBears) March 10, 2016
Show Comments
Hide Comments
Our Latest Stories
Eric Mangini said he hasn't spoken to Bill Belichick in 10 years

The tight end's absence is reportedly nearing its end, however

Decker aggravated his shoulder injury during the team's loss to the Chiefs on Sunday
With 497 rushing yards on the young season, McGuire ranks in the top 10 in college footbal...

As NFL salaries continue to rise, the high-priced RB is going the way of Blockbuster

Pryor says the Browns can win the rest of their games, but Williams does not agree -- at a...