New Bucs OC Jeff Tedford plans to 'alternate' RBs in Tampa backfield
First-year offensive coordinator Jeff Tedford has a plan for the 2014 season and that plan includes alternating running backs in Tampa's backfield.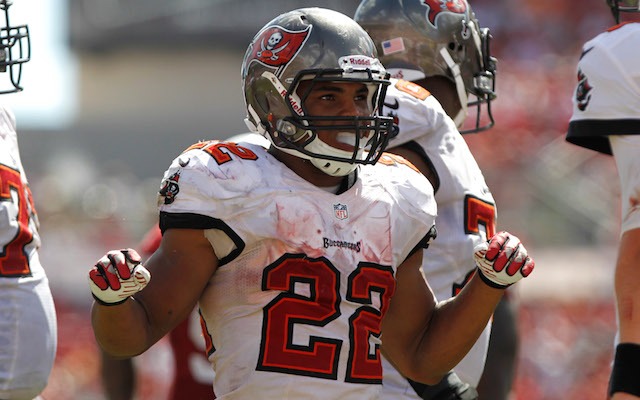 More NFL offseason: League minicamp dates | Latest news, notes
If Doug Martin and his 1,454 rushing yards helped carry you to a fantasy football title in 2012, you better make other plans to win your league championship this season. Based on comments made by new offensive coordinator Jeff Tedford, it doesn't sound like anyone in the Buccaneers backfield will be putting up big numbers in 2014.  
Tedford said on Tuesday that his plan for next season is to rotate runners in the backfield. The former Cal head coach also said he doesn't think one back can carry the load. 
"I think you have to alternate," Tedford said, via the Tampa Bay Times. "Even when we had two, 1,000-yard rushers [at California], J.J. Arrington was a 2,000-yard rusher and and we had a couple times guys had a thousand yards apiece. But I don't believe that one back can carry the load. It's just too physical. I think you probably need to have two to three guys to bring different things to the table."
Fortunately for Tedford, the Buccaneers have two or three guys who bring different things to the table in Martin, Bobby Rainey and Mike James. There's also 2014 third-round pick Charles Sims.
At least two of those guys can expect to get a serious amount of carries next season. 
"I think you at least need to have two to be able to spell them here and there and keep them healthy and that type of thing," Tedford said. "That's the goal to try and create some depth right there where there's not a dropoff when one guy comes in and another guy goes out. There's no dropoff. We just keep going."
Martin carried the ball 319 times in 2012 and he was on pace for 290 carries in 2013 before he went down with a shoulder injury in Week 7. Under Tedford's plan, there's a chance the Bucs won't have anyone reach the 200-carry mark in 2014, so draft your fantasy team accordingly. 
He definitely doesn't skip leg day

Newton still isn't 100 percent, but he's on track to be ready in time for the season

James Harrison is entering his NFL season and remains one of the NFL's hardest working pla...
No, it isn't the one that rains a lot. It's the one with all of the big white buildings.

These seven players aren't household names, but don't be surprised if they make noise in 2...

Bell certainly looks like he'll be ready for the 2017 season