New Eagles safety Malcolm Jenkins trash-talks entire NFC East
New Eagles safety Malcolm Jenkins broke down the NFC East while serving as a studio analyst for the NFL Network on Monday.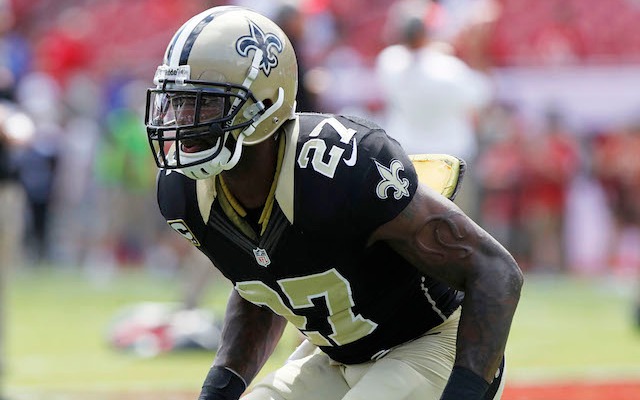 More NFL offseason: Mock Drafts | Prospect Rankings | Pro days | Top free agents
Malcolm Jenkins has only been in the NFC East since signing with Philadelphia in mid-March, but apparently the new Eagles safety already has a scouting report done on the entire division. Let me break it down for you: The Cowboys defense is bad. Eli Manning is Bad. Robert Griffin III will be bad if he doesn't start protecting himself more. 
Jenkins served as an analyst on NFL Network on Monday and those were the conclusions he came to. Jenkins was first asked if he thought the Cowboys could improve their defense after losing DeMarcus Ware. Even with Ware, Dallas had the league's worst defense in 2013.
"A couple years ago, their scapegoat was Rob Ryan, and they got rid of him, and he was the cause of all their problems. He went to New Orleans and took the worst defense in NFL history and turned them into a top-5 defense. So he couldn't have been the problem," Jenkins said, via Philly.com. 
Jenkins played under Rob Ryan in New Orleans last season and both Ryan and Jenkins watched from the sideline in Week 10 when the Saints offense racked up an NFL-record 40 first downs on the Cowboys defense in a 49-17 rout of Dallas. 
"You look at [2013], I had the best seat in the house when I watched the Saints get 40 first downs in one game. Forty. In one game. So it must be the players," Jenkins said. "The off-season comes and you don't do anything in free agency to get any big name players to come help you out, so I really don't see the light at the end of the tunnel for this defense in improving when you got the same guys and the same coaches."
The Cowboys defense isn't the only unit struggling in the division, so is the Giants offense. Jenkins said issue there is the offensive line's inability to protect quarterback Eli Manning.
"I think the problem is he was sacked 39 times, a career-high last year," Jenkins said. "If that continues, Eli's best days are behind him. If they can protect him, then maybe, but it doesn't look like it."
Notice that Jenkins said 'maybe' Manning would be good if he gets protection, which means 'maybe' he won't.
Another NFC East quarterback Jenkins talked about was RG3.
"I think the biggest thing we're going to see is [RG3] take that next step as far as the cerebral approach to the game," Jenkins said. "But the biggest concern I have with RG3 is, will he protect himself? And that's a thing he hasn't done early in his career. He scrambles, he gets those extra yards, he makes those throws out of the pocket, but takes a lot of unnecessary hits. We've seen the toll that has had on him."
Jenkins doesn't think the Eagles will runaway with the division though, he thinks the team's secondary could have trouble with a receiving tandem like Washington's DeSean Jackson and Pierre Garcon.
Maybe London Fletcher was onto something last year when he said the NFC East was terrible.
Pryor worked out with Brown a couple years ago and now he's back at it again

The first-round QB from Clemson impresses Texans coaches with the way he's picking up the...

Dave Gettleman does not understand the DEFCON system
The Cowboys were big stars at Dirk's annual charity event

Floyd claims to have drank four or five bottles of kombucha tea, resulting in a failed alcohol...

Atlanta's new video board wraps around the length of the stadium and looks incredible