NFL a passing league? Expect more teams to run ball more often
The Seahawks ran the ball more than most teams and won the Super Bowl. In a copycat league, expect more teams to follow suit in 2014.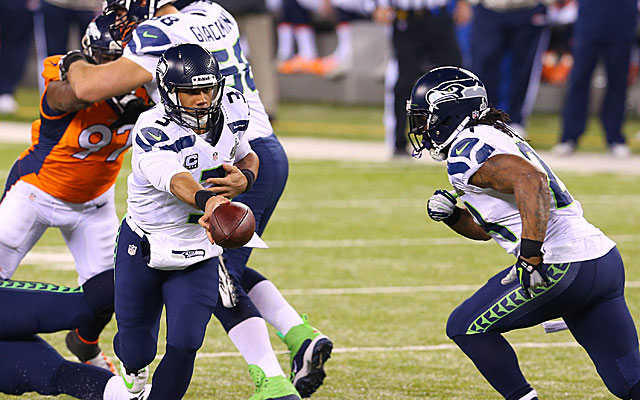 More NFL offseason: Mock Drafts | Prospect Rankings | Pro days | Top free agents
Over the past five NFL seasons no more than four teams have run more than 500 rushing plays a year. That trend is about to change.
It wasn't that long ago that the number of teams with 500-plus running plays a season (at least 31 a game) was more prevalent. In 2005, eight teams ran as much. The more I talk with people around the league the more I'm convinced 2014 is going to bring the running game back into prominence.
Here are the main reasons that keep surfacing when I discuss where offenses are going in 2014.
The Seattle effect
A month ago Pete Carroll said, "We don't react to the glamour of offense." What he meant was the Seattle Seahawks run the ball and build the offense around that principle. The Seahawks were the No. 2 rushing team in the NFL last season and in their three playoff games rushed 95 times (32 per game) to just 75 pass plays (25 per game). It is the perfect formula for success with a young quarterback. Seattle wasn't alone in influencing teams about running the ball -- the San Francisco 49ers also made a strong statement about the run game.
Chip Kelly's offense
Chip Kelly left college football over a year ago and entered the NFL with no professional football experience. In his first year he won the NFC East and ran the ball for more yards than any team in the league (160 per game). Kelly's offense took it to teams with their superior fitness. Said one of the Philadelphia Eagles ' coaches: "Coach Kelly's approach had us fresh at season's end and we still came off the ball like it was September." The Eagles went 7-1 the last half of the season and averaged 170 yards rushing a game. One offensive coach told me at the owners meetings, "We are studying Kelly's run game and the way they do things."
Speedy pass rush defenses
Teams have put such a premium on rushing the passer that front sevens tend to be smaller and faster in order to get to the quarterback. As former NFL offensive line coach Bob Wylie said to me. "There are 245-pound guys playing on the line of scrimmage trying to contain the run and we have to take advantage of that and run the ball right at them." The Eagles averaged 5.58 yards per first down run while a team like Pittsburgh of all teams averaged 3.5 per first down run. Look for the Pittsburgh Steelers to return to the days of the ground attack, especially after adding LeGarrette Blount to the backfield with Le'Veon Bell .
Young quarterbacks
A smart GM at the owners meeting said, "There are so many young quarterbacks under center right now in this league that if we don't do a better job building up a running game around them they will fail." That's exactly what the top five teams in rushing attempts did last year. The Buffalo Bills , Seahawks, 49ers, Eagles and New York Jets were the top five teams in rushing attempts and their starting quarterbacks had a total of nine years of pro football experience among them. Rest assured the other teams with young quarterbacks and the teams drafting quarterbacks this year with the intention to play them early will be beefing up their run games. It's possible that 12 starting quarterbacks in the 2014 season will have three or fewer years of experience and they will not survive if asked to throw 60-65 percent of the time. Look at the Miami Dolphins as they bring in Knowshon Moreno and are still looking for another back to go along with Lamar Miller .
Return of the fullback
Over the past few seasons it appeared that the fullback went the way of the dinosaur. But the New Orleans Saints just signed FB Eric Lorig, the Bucs signed Jorvorski Lane and now 25 of the 32 teams have at least one fullback on the roster. A fullback in front of a running back isn't the only way to run the ball and a number of teams have H-back tight ends that do the job of a fullback, but there seems to be a growing interest in returning to some form of two-back running systems.
Having the ability and desire to run the ball on second down is important and the threat of the fullback in front of the tailback sets up play action or an effective run. The Seahawks ran the ball 178 times on second down last year at 4.4 yards per rush. A team like the Cleveland Browns only ran the ball 105 times on second down at 3.1 per rush as compared to 246 pass attempts. Most likely the Browns will have an inexperienced QB under center this year and they need to be a better running team on second down and a big-time fullback wouldn't be a bad idea in front of Ben Tate . For team interested in a fullback John Kuhn , Vonte Leach and Michael Robinson are available.
Eliminate some of the sacks
Offensive lines don't stand a chance of protecting quarterbacks if teams don't get back to running the ball. The last season with at least seven teams with 500-plus rushing plays was 2008 -- and there were 1,036 sacks that season. Since then the number of sacks has increased every season except one, so if teams want to keep their quarterbacks upright things have to change. Based on this trend expect close to 1,400 sacks this season and that means more QB injuries and less successful offenses. Offensive coordinators are mindful of this issue and it is driving some to rethink the run game.
Finally, teams that have the best chance to crack the 500-carry club in 2014 include the Seahawks, 49ers, Eagles, Bills, Steelers, Oakland Raiders , Jets, Baltimore Ravens , Dolphins, Jacksonville Jaguars and Tampa Bay Buccaneers . The NFL was 58-42 percent pass to run last season, and all indications are that we could be headed toward a 45 percent run league. It may not sound like a big increase but in a league that generates 32,000 plays a year it would mean an increase of close to 1,000 more rushing plays.
Is your favorite team going to be part of this trend and is your favorite defense capable of stopping the increase? Most teams weren't ready for the Seahawks last season and they won it all.
Show Comments
Hide Comments
Spencer Hall grades every seventh-round pick of the 2017 NFL Draft

Follow all of the latest news and rumors as the 2017 NFL Draft wraps up in Philly

Pete Prisco grades every third-round pick of the 2017 NFL Draft
Jerry Jones and everyone else in the war room had a good laugh at the expense of Eagles' f...

It was her 'first official car,' Watson said

Kaaya will battle for the right to back up Matthew Stafford