NFL announces 2014 regular-season opponents
The dates and times of the 2014 NFL schedule won't be released until the spring, but the NFL has announced each team's opponents for the 2014 regular season.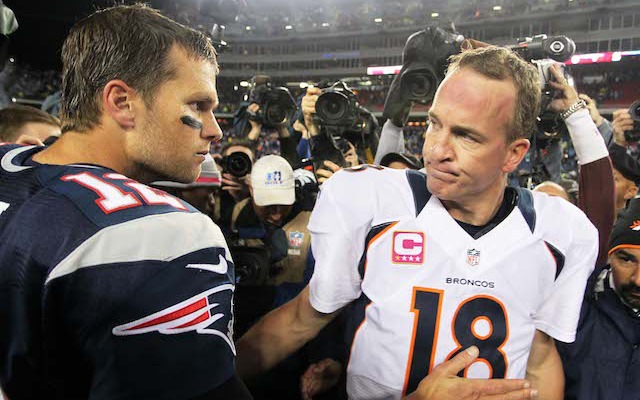 The day after the NFL regular season ends is known as 'Black Monday' because so many head coaches get fired. It's not a completely negative day though because the NFL also releases the home and away opponents for the 2014 season.
If you're a glass half full kind of person, you can go through the schedule of your favorite team and figure out if they have a shot at making next years playoffs. Cleveland Browns fans, I looked at your 2014 schedule, you have a chance. 
Anyway, the chart below tells you where each team will be playing in 2014 and who they'll be playing, but it doesn't tell you when they'll be playing. The dates and times of the 2014 NFL schedule will be released sometime in the spring. 
The scheduling formula implemented in 2002 with realignment guarantees that all teams play each other on a regular, rotating basis.
Under the formula, every team plays 16 games as follows:
Home and away against its three division opponents (6 games).
The four teams from another division within its conference on a rotating three-year cycle (4 games).
The four teams from a division in the other conference on a rotating four-year cycle (4 games).
Two intraconference games based on the prior year's standings (2 games). These games match a first-place team against the first-place teams in the two same-conference divisions that the team is not scheduled to play that season. The second-place, third-place, and fourth-place teams in a conference are matched in the same way each year.
Beginning in 2010, a change was made to how teams are paired in the schedule rotation to ensure that teams playing the AFC and NFC Western Divisions would not be required to make two west coast trips (e.g. at San Francisco and at Seattle), while other teams in their division had none (e.g. at St. Louis and at Arizona).
Thursday, Sept. 4 will be the 2014 NFL Kickoff, and the NFL will announce the full schedule in the spring. Dec. 28 will be the final night of the NFL regular season, and Super Bowl XLIX will be played on Sunday, Feb. 1 at University of Phoenix Stadium in Glendale, Ariz.
 
 
AFC East
Home:

Buffalo Bills

,

Miami Dolphins

,

New York Jets

,

Denver Broncos

,

Oakland Raiders

,

Cincinnati Bengals

,

Chicago Bears

,

Detroit Lions


Away: Bills, Dolphins, Jets,

Kansas City Chiefs

,

San Diego Chargers

,

Indianapolis Colts

,

Green Bay Packers

,

Minnesota Vikings

Home: Bills,

New England Patriots

, Jets, Chiefs, Chargers,

Baltimore Ravens

, Packers, Vikings
Away: Bills, Patriots, Jets, Broncos, Raiders,

Jacksonville Jaguars

, Bears, Lions
Home: Bills, Dolphins, Patriots, Broncos, Raiders,

Pittsburgh Steelers

, Bears, Lions
Away: Bills, Dolphins, Patriots, Chiefs, Chargers,

Tennessee Titans

, Packers, Vikings
Home: Dolphins, Patriots, Jets, Chiefs, Chargers, Browns, Packers, Vikings
Away: Dolphins, Patriots, Jets, Broncos, Raiders,

Houston Texans

, Bears, Lions
AFC North
Home: Bengals, Browns, Steelers, Jaguars, Titans, Chargers,

Atlanta Falcons

,

Carolina Panthers


Away: Bengals, Browns, Steelers, Texans, Colts, Dolphins,

New Orleans Saints

,

Tampa Bay Buccaneers

Home: Ravens, Browns, Steelers, Jaguars, Titans, Broncos, Falcons, Panthers
Away: Ravens, Browns, Steelers, Texans, Colts, Patriots, Saints, Buccaneers
Home: Ravens, Bengals, Browns, Texans, Colts, Chiefs, Saints, Buccaneers
Away: Ravens, Bengals, Browns, Jaguars, Titans, Jets, Falcons, Panthers
Home: Ravens, Bengals, Steelers, Texans, Colts, Raiders, Saints, Buccaneers
Away: Ravens, Bengals, Steelers, Jaguars, Titans, Bills, Falcons, Panthers
AFC South
Home: Colts, Jaguars, Titans, Ravens, Bengals, Bills,

Philadelphia Eagles

,

Washington Redskins


Away: Colts, Jaguars, Titans, Browns, Steelers, Raiders,

Dallas Cowboys

,

New York Giants

Home: Texans, Jaguars, Titans, Ravens, Bengals, Patriots, Eagles, Redskins
Away: Texans, Jaguars, Titans, Browns, Steelers, Broncos, Cowboys, Giants
Home: Texans, Colts, Jaguars, Browns, Steelers, Jets, Cowboys, Giants
Away: Texans, Colts, Jaguars, Ravens, Bengals, Chiefs, Eagles, Redskins
Home: Texans, Colts, Titans, Browns, Steelers, Dolphins, Cowboys, Giants
Away: Texans, Colts, Titans, Ravens, Bengals, Chargers, Eagles, Redskins
AFC West
Home: Chiefs, Raiders, Chargers, Bills, Dolphins,

Arizona Cardinals

, Colts,

San Francisco 49ers


Away: Chiefs, Raiders, Chargers, Patriots, Jets, Bengals,

St. Louis Rams

,

Seattle Seahawks

Home: Broncos, Chiefs, Raiders, Patriots, Jets, Jaguars, Rams, Seahawks
Away: Broncos, Chiefs, Raiders, Bills, Dolphins, Ravens, Cardinals, 49ers
Home: Broncos, Chiefs, Chargers, Dolphins, Bills, Texans, Cardinals, 49ers
Away: Broncos, Chiefs, Chargers, Patriots, Jets, Browns, Rams, Seahawks
Home: Broncos, Chargers, Raiders, Patriots, Jets, Titans, Rams, Seahawks
Away: Broncos, Chargers, Raiders, Bills Dolphins, Steelers, Cardinals, 49ers
NFC East
Home: Cowboys, Giants, Eagles, Rams, Seahawks, Buccaneers, Jaguars, Titans
Away: Cowboys, Giants, Eagles, Cardinals, 49ers, Vikings, Texans, Colts
Home: Redskins, Cowboys, Eagles, Cardinals, 49ers, Falcons, Texans, Colts
Away: Redskins, Cowboys, Eagles, Rams, Seahawks, Lions, Jaguars, Titans
Home: Redskins, Giants, Eagles,Cardinals, 49ers, Saints, Texans, Colts
Away: Redskins, Giants, Eagles, Rams, Seahawks, Bears, Jaguars, Titans
Home: Cowboys, Giants, Redskins, Rams, Seahawks, Panthers, Jaguars, Titans
Away: Cowboys, Giants, Redskins, Cardinals, 49ers, Packers, Texans, Colts
NFC North
Home: Bears, Lions, Vikings, Falcons, Panthers, Eagles, Patriots, Jets
Away: Bears, Lions, Vikings, Saints, Buccaneers, Seahawks, Bills Dolphins

Home: Bears, Lions, Packers, Falcons, Panthers, Patriots, Redskins, Jets
Away: Bears, Lions, Packers, Saints, Buccaneers, Rams, Bills, Dolphins

Home: Lions, Packers, Vikings, Saints, Buccaneers, Cowboys, Bills, Dolphins
Away:Lions, Packers, Vikings, Falcons, Panthers, Patriots, 49ers, Jets

Home: Bears, Packers, Vikings, Saints, Buccaneers, Giants, Bills, Dolphins
Away: Bears, Packers, Vikings, Falcons, Panthers, Cardinals, Patriots, Jets
NFC South
Home: Panthers, Saints, Buccaneers, Bears, Lions, Cardinals, Browns, Steelers
Away: Panthers, Saints, Buccaneers, Packers, Vikings, Giants, Ravens, Bengals
Home: Falcons, Saints, Buccaneers, Bears, Lions, Seahawks, Browns, Steelers
Away: Falcons, Saints, Buccaneers, Packers, Vikings, Eagles, Ravens, Bengals
Home: Falcons, Panthers, Buccaneers, Packers, Vikings, 49ers, Ravens, Bengals
Away: Falcons, Panthers, Buccaneers, Bears, Lions, Cowboys, Browns, Steelers
Home: Falcons, Panthers, Saints, Packers, Vikings, Rams, Ravens, Bengals
Away: Falcons, Panthers, Saints, Bears, Lions, Redskins, Browns, Steelers
NFC West
Home: Seahawks, Rams, Cardinals, Eagles, Redskins, Bears, Chiefs, Chargers
Away: Seahawks, Rams, Cardinals, Cowboys, Giants, Saints, Broncos, Raiders
Home: 49ers, Rams, Cardinals, Cowboys, Giants, Packers, Broncos, Raiders
Away: 49ers, Rams, Cardinals, Eagles, Redskins, Panthers, Chiefs, Chargers
Home: 49ers, Seahawks, Cardinals, Cowboys, Giants, Vikings, Broncos, Raiders
Away: 49ers, Seahawks, Cardinals, Eagles, Redskins, Buccaneers, Chiefs, Chargers
Home: 49ers, Seahawks, Rams, Eagles, Redskins, Lions, Chiefs, Chargers
Away: 49ers, Seahawks, Rams, Cowboys, Giants, Falcons, Broncos, Raiders
Show Comments
Hide Comments
The top three-technique prospect in the draft could see his name not called at all

The former Florida football player was expected to be a second-round pick in the NFL Draft

This much is certain: The Browns desperately need a quarterback
The man who signed Romo is happy to see him move on from playing the game

Roger Goodell typically announces all the first-round picks, but he'll make an exception this...

NFL teams find out their schedule on the same day you do