NFL closely monitoring proper helmet fitting
With helmets seemingly flying off heads frequently these days, the NFL is closely monitoring the use of the equipment, Jason La Canfora reports, with a possible eye on applying pressure to manufacturers.
• 2 min read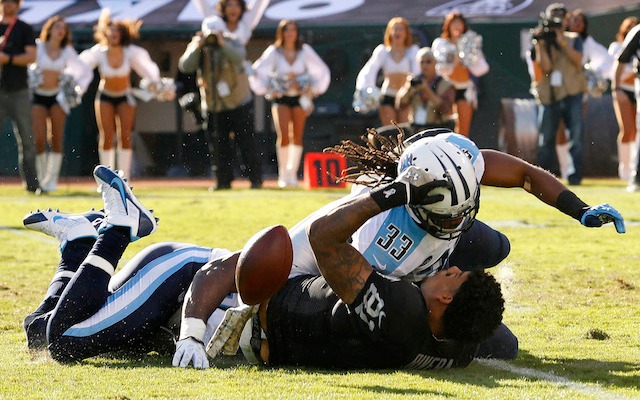 For more news and notes from Jason La Canfora, tune into The NFL Today Sunday at noon ET on CBS.
Prior to the 2012 season the NFL officiating department began an initiative to monitor and assess the prevalence of helmets dislodging and is continuing to chart the issue with two recent events bringing the phenomenon into the mainstream.
In Week 12, Raiders receiver Mychal Rivera was the recipient of a heavy blow to the head by Titans safety Michael Griffin (Griffin is suspended this week because of it), causing Rivera's helmet to tumble, violently, at least 15 yards into the end zone. Thursday night Steelers running back Le'Veon Bell was struck near the goal line -- he too suffering a concussion -- and his helmet shot from his head and flipped forward deep into the end zone.
While those plays involved great force, making the loss of a helmet perhaps more understandable, the NFL is noting the number and circumstances of each instance of a helmet coming off a player's head, sources said, which is mandatory to be included in the reports conducted within the league's officiating department in the command room of each game.
There had been an uptick in the incidents in recent years, with the league and its Competition Committee tracking the numbers and trying to determine, besides the obvious force of the collision, if some players are not adhering the helmets properly, preferring too loose of a fit, or, if equipment staffs might be negligent in some cases of an improper fit.
It is not uncommon for the league office to make calls to equipment staffs to inquire about specific players and the fit of their helmet, sources said, and the league also takes note of some players who seem to have their helmet come off with more regularity than the norm (Green Bay linebacker Clay Mathews, for instance) and are in consultation with the staffs of those teams to determine why that is.
The league can also take some of the data back to helmet manufacturers to assess whether there may be a design flaw or anything that could be improved to curtail the problem. The Competition Committee is able to recommend such changes as well. The league recognizes that a helmet is a very personal piece of equipment and players will have certain idiosyncrasies and superstitions in how they wear and adjust it, but the league also wants to maintain as healthy an environment as possible, too, and cut down on the amount of times players are being left defenseless without them.   
Vick's team won 64-41 over a squad led by Terrell Owens in the American Flag Football League...

The youth coed league will begin this year in Louisiana with the hope of spreading nationw...

The former Chiefs GM likely won't be out of work for too long
That's a really, really nice birthday present and a really, really strong message

The former second-team All-Pro is coming back to football and is immediately a free agent

The former NFL wide receiver is not worried about retiring as a member of the Panthers