NFL coaching search: Whisenhunt, Zimmer hot; position coaches, too
A couple of familiar names -- Ken Whisenhunt and Mike Zimmer -- are under strong consideration for NFL head coaching gigs. But there is a strong group of position coaches to watch, too.
• 2 min read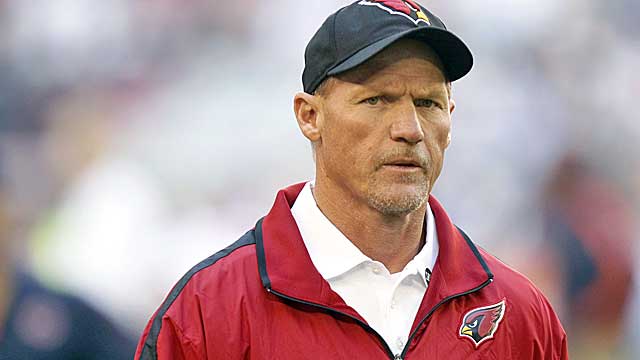 At the moment, NFL teams are focused on lining up interviews with the top candidates for head coaching jobs based on the current pool of candidates. But several assistants who are well positioned for advancement cannot even be approached for interviews until after their wild-card games, and that process will begin in earnest next week.
So keep that in mind. These hirings take time and even in the case where the owner and or front office already have that one special candidate in mind, it always pays to talk to a decent swath of individuals, glean information about your organization from the outside and also learn about the teams these candidates are currently with. It's not about how quickly it gets done, it about getting the right guy, and, most importantly, the right staff around him.
Whisenhunt in Detroit? Zimmer hot again, too: There will be some obvious names who receive numerous interview requests next week. Detroit could well be where Chargers offensive coordinator Ken Whisenhunt lands, and I expect the Vikings and Redskins to approach him as well. Bengals offensive coordinator Jay Gruden will get interview requests from those teams, as well as the Browns. Bengals defensive coordinator Mike Zimmer has been a fixture on the interview circuit, and the Redskins and others intend to talk to him as well.
Position coaches to watch: However, there are a few candidates a little more off the beaten path who merit and likely will receive consideration:
•Several teams needing coaches think highly of 49ers defensive line coach Jim Tomsula, who served as an interim head coach for San Francisco in the past, and is viewed by some as a possible diamond in the rough as a position coach making the jump (as Andy Reid and John Harbaugh did, for instance). His players in San Francisco have continually exceeded expectations and he's helped several of his defensive linemen turn their careers around.
• Chiefs special teams coach Dave Toub has a pristine reputation, he has interviewed in the past and he continually does an excellent job with his unit. Kansas City's special teams were truly dominant this season, his first with the team, and had much to do with KC's 9-0 start and move from No. 1 overall draft pick to the playoffs. Toub was a master in Chicago as well and many believe he has head coaching chops (Harbaugh made the jump from special teams coach, for what that's worth).
• Colts offensive coordinator Pep Hamilton had a rocky time of it for part of his first year there, especially once top receiver Reggie Wayne went down, but he is highly regarded. While he will need more seasoning, some teams may want to get a jump on getting to know him better this offseason. An interview for him wouldn't shock me (his strong ties to Stanford coach David Shaw will work well for him; Shaw could have taken any number of jobs in the NFL if he was willing to listen).
• Saints offensive coordinator Pete Carmichael Jr. has been asked to speak with teams in the past and is expected to land at least one interview, also. Eagles quarterbacks coach Bill Lazor is seen by some as a rising star as well, though perhaps more as a coordinator at this point, while Eagles offensive coordinator Pat Shurmur has head coaching experience and this season spent under Chip Kelly only will help his stock.
Show Comments
Hide Comments
Jones provided Cowboys tickets and travel accommodations to officers and their families

Romo played DJ at a charity event and got Ezekiel Elliott on stage for 'O.P.P.'

Kaepernick has spent much of his offseason helping others and now supporters will return the...
Beast Mode led a bicycle parade through his hometown and apparently didn't even have to pe...

The NFL won't punish Revis, who remains on the market as a free agent

The NFL is playing the long game on L.A., but it's taking a serious hit in the short term