NFL DC: Kaepernick with Chip Kelly makes SF 'straight Freddy Krueger'
NFL defensive coordinators are having nightmares when they think about Colin Kaepernick running Chip Kelly's offense.
When Chip Kelly was introduced as 49ers coach this week, he didn't say anything to clear up the team's quarterback situation.
Every time Kelly was asked about Colin Kaepernick, he did his best to either change the subject or casually mention that he's not allowed to talk about Kaepernick due to a CBA rule that doesn't actually exist.
"I think specifically when it comes to quarterbacks, or any other position here, it's an ongoing process and evaluation," Kelly said Wednesday. "I've had a chance to meet Kap, he stopped by the facility the other day. Part of the CBA rule is you're not allowed to discuss football with anybody until April 4."
Kelly could've talked about Kaepernick at his press conference, but he clearly didn't want to and he successfully ducked pretty much every question he was asked about the 49ers quarterback.
Basically, we don't know if Kaepernick will be the 49ers' starting quarterback next season, but if he is, the thought of a Kelly-Kaepernick combo is already starting to scare some NFL defensive coordinators.
One coordinator, who chose to remain anonymous, told NFL.com this week that a Kelly offense being run by Kaepernick would be "straight Freddy Krueger."
That's his way of saying it would be a nightmare to stop.
"I think [Kaepernick] is a good enough passer, but obviously what'll be a nightmare is his ability to run," the anonymous coordinator said. "That offense is straight Freddy Krueger when you have a quarterback that can pull the ball and run at any given time."
Kelly hasn't had a quarterback that can pull the ball and run during his three years in the NFL, which is likely what will make Kaepernick so enticing.
Over the past three seasons in Philadelphia, Kelly's quarterbacks ran for a total of 721 yards combined. Kaepernick topped that by himself over the past three seasons, rushing for 1,138 yards since 2013.
The idea of a healthy Kaepernick in Kelly's system could mean defensive coordinators have to start preparing differently for Kelly's offense.
"The fact that Kap can make guys miss and get in the open field, they didn't have that last year at all in Philly," another anonymous defensive coordinator said. "We treated [Sam] Bradford like he was under center. There was zero threat of him running the ball. We told our guys, 'Don't treat him like he's in the shotgun, he's never gonna pull the ball.'"
So will Kelly commit to Kaepernick?
The 49ers quarterback just underwent two surgeries, so there's no need for Kelly to rush to a decision. However, if Kaepernick comes back healthy, you have to think he'll be the starter when the 2016 season kicks off in September.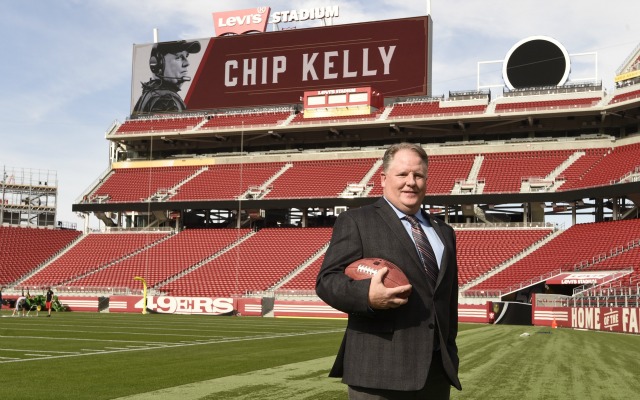 Show Comments
Hide Comments
Our Latest Stories
DeAngelo Williams and Jonathan Stewart pulled off a feat that no other combo has managed s...

The QBs have the star matchup, but plenty of prospects are worth watching closely this wee...

Thomas Rawls is dealing with an injury, so the Seahawks need depth at running back
Eric Mangini said he hasn't spoken to Bill Belichick in 10 years

The tight end's absence is reportedly nearing its end, however

Decker aggravated his shoulder injury during the team's loss to the Chiefs on Sunday