NFL denies knowing about Michael Sam documentary before draft
Did the NFL know about the Michael Sam documentary and not tell the Rams?
• 1 min read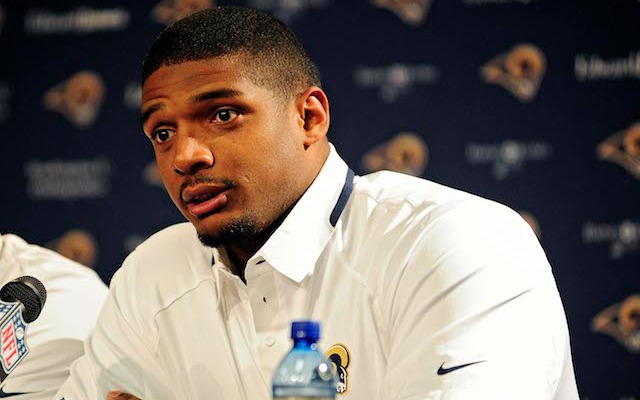 More Draft coverage: 2015 Mock Draft | 2015 Top 100 | 2014 Draft Grades | News
Michael Sam's critics received a new piece of red meat this week with the announcement that the Oprah Winfrey Network was creating a multi-part documentary series on Sam's attempt to get an NFL job.
Making matters more interesting was the report on Thursday that the Rams didn't actually know about the documentary before the draft, even though Sam's people clearly did.
But according to Joe Strauss of the St. Louis Post-Dispatch, the NFL also knew about the idea before the draft and didn't tell any of its teams.
It's a charge the NFL has denied.
.@gregaiello says the NFL "Did not know anything about (Sam's OWN deal) until after the draft and have not agreed to anything about it."

— Albert Breer (@AlbertBreer) May 16, 2014
Either way, here's what Straus wrote: "If the Rams weren't duped, they were at least gently misled by the league's silence. ... Fisher thought enough about Sam's presence that on Monday he imported retired NFL cornerback and current activist Wade Davis to counsel his locker room, coaches and front office about a situation some might see as uncomfortable. No player griped. Several already had supported Sam via social media. However, a number of players apparently voiced displeasure to management Thursday shortly after learning about the Oprah project.
"An uplifting narrative now becomes tinged by collateral controversy."
Sam's camp, meanwhile, has said that none of the filming will take place at Rams headquarters or during practice time. That means the Rams won't have to decide whether they will allow OWN's cameras into their place of business.
But it sounds like Sam's tenure with the Rams has started off on a rocky note. And that's not a great thing for any seventh-round draft pick who has an uphill battle just to make the team. 
Show Comments
Hide Comments
These 11 players could have a Dwight Freeney-type impact for the right team

Last week, Mark Davis revealed that he had refunded and re-sold about 1,000 tickets

Vick's legacy with the franchise that drafted him remains complicated
Navy SEAL Kyle Milliken, who died during a raid in Somalia, met Brady at Gillette Stadium in...

Cowboys fans will probably disagree with Claiborne's statement

'I want to score a lot of touchdowns. I want to see a lot of celebrations,' Harbaugh said