NFL Division Power Rankings: AFC East moves to top spot
After three weeks of football, the AFC East is undefeated against other divisions and thanks to that 6-0 record, it's on top of our Division Power Rankings.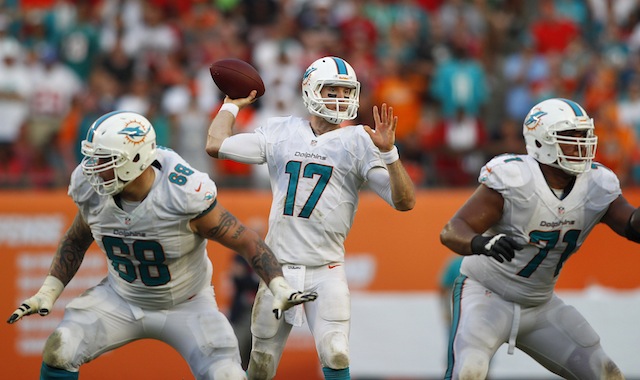 About five minutes into watching Sharknado this summer, I started thinking, 'Wow, this is horrible, why am I still watching it?' And then I watched it three more times.
Why am I telling you this story? Because that's how I feel about the NFC East this year. 
After five minutes of watching any NFC East game, I usually want to turn it off. But I can't. In Week 3, I kept watching because I needed to know if the Philadelphia Eagles would turn the ball over again. They turned it over five times against the Chiefs. I kept watching the New York Giants because I needed to know if Carolina would hit 40 points. I kept watching the Washington Redskins because I was in shock that the Redskins might win a game. And I kept watching the Dallas Cowboys because if the NFC East was actually going to win a game, I wanted to witness it. 
On that note, lets all welcome the NFC East to the bottom of the NFL Division Power Rankings. And I don't think anyone's going to argue with that. 
Also, you'll notice that the AFC divisions made a big move this week. That's what happens when the AFC opens the season 11-3 against the NFC. You can read more about the AFC's domination in Will Brinson's stock watch. Or you can stay here and read this and then when you're done, you can read Brinson's stock watch, that works too. 
Alright, now lets get to the rankings. 
NFL Division Power Rankings after Week 3
1. AFC East: The New England Patriots have spent most of the past decade cake-walking through the AFC East because it's been the easiest division in football. That doesn't appear to be the case this year. And by 'doesn't appear to be the case this year,' I mean this division is undefeated against other divisions. The AFC East is a perfect 6-0 out of division and even more impressive, none of the wins have come against Jacksonville. Last week's ranking: 4. (1-0 vs. AFC North, 4-0 vs. NFC South, 1-0 vs. AFC South) 
2. AFC West: Peyton Manning is on pace to throw more touchdown passes than there are people on earth. Alex Smith is undefeated and the two teams that aren't undefeated are actually playing competitive football. The Oakland Raiders and San Diego Chargers have combined to lose three out-of-division games by a total of 10 points. And lets not forget, the Raiders 16-point loss to Denver was the closest any team has come to beating the Denver Broncos this year. Last week's ranking: 3. (1-0 vs. AFC North, 2-3 vs. AFC South, 4-0 vs. NFC East)
3. NFC West: San Francisco 49ers quarterback Colin Kaepernick has been spending some time on Twitter 'favoriting' hateful tweets. Maybe I should tweet him this article and tell him to stop losing because the 49ers losses are not helping the NFC West in these Division Power Rankings. Seattle Seahawks quarterback Russell Wilson threw four touchdown passes on Sunday, that 28 points was more than San Francisco, St. Louis and Arizona scored combined. Last week's ranking: 1. (2-0 vs. NFC North, 1-2 vs. NFC South, 1-1 vs. AFC South, 0-1 vs. NFC East)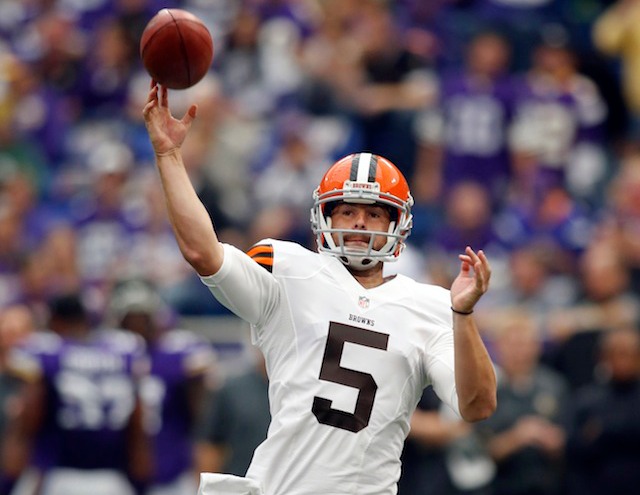 4. AFC North: Last week the AFC North was ranked last in the power rankings, but a few funny things happened in Week 3 to move the division up. Andy Dalton beat Aaron Rodgers . The Browns tank-job went horribly right thanks to a holder who throws touchdown passes. Let me repeat that: A HOLDER WHO THROWS TOUCHDOWN PASSES. Plus, the Baltimore Ravens beat arguably the best team in the AFC South. By three touchdowns. Lets not talk about the Pittsburgh Steelers though, I don't want to make people in Pittsburgh sadder than they already are. Last week's ranking: 8. (0-1 vs. AFC East, 0-1 vs. AFC West, 1-1 vs. AFC South 2-2 vs. NFC North)
5. AFC South: If there's one thing we learned in Week 3, it's that Jim Harbaugh rode Andrew Luck 's coattails at Stanford. The Indianapolis Colts had arguably the most impressive win of Week 3 with a 27-7 win in San Francisco. Unfortunately, the rest of the division got outscored 92-46 on Sunday, so it didn't feel right moving the AFC South up more than one spot. Last week's ranking: 6. (3-2 vs. AFC West, 1-1 vs. AFC North, 0-1 vs. AFC East, 1-1 NFC West)  
6. NFC North: Even if the Cleveland Browns wanted to tank on Sunday, they couldn't do it because the Minnesota Vikings offensive line wouldn't let them. Christian Ponder was sacked six times and pretty much had to be scraped off the Mall of America field at the end of Sunday's loss. The Chicago Bears and Detroit Lions victories might've been more impressive if they didn't come against teams that are a combined 0-6. Last week's ranking: 2. (2-2 vs. AFC North, 0-2 vs. NFC West, 2-0 vs. NFC East)
7. NFC South: If you're a Green Bay Packers fan or a Carolina Panthers fan and you don't know what to do with yourself on Sunday because your team's on a bye, here's some advice: watch a game involving an NFC South team. Of the seven losses the division has suffered, six of them have come by six points or less. Tampa Bay might also be worth watching just to see if the players quit on Greg Schiano in the middle of the game. Last week's ranking: 5. (0-4 vs. AFC East, 2-1 vs. NFC West, 1-0 vs. NFC East)
8. NFC East: If you haven't noticed, the NFC East is real bad this year. Through three weeks of football, the division has exactly three wins and two of those wins came in games where NFC East teams played each other, meaning someone in the NFC East had to win. That might be how this division gets most of its wins this year. Last week's ranking: 7. (0-2 vs. NFC North, 0-1 vs. NFC South, 0-4 vs. AFC West, 1-0 vs. NFC West)
Show Comments
Hide Comments
Bettis and 17 other Hall of Famers joined Kraft in Israel earlier this month

Carr, now the NFL's highest paid player, is a big reason for the Raiders' resurgence in recent...

Carr is now the NFL's highest-paid quarterback
The Panthers went to the Super Bowl two years ago, but they don't even crack the top two h...

In a league dominated by passing, every team's QB is their best bet. But what about everyone...

The 34-year-old Tramon Williams wants to continue his NFL career anywhere but Cleveland