NFL Division Power Rankings: NFC East at bottom, 1-7 vs. AFC West
The NFC East might have to start paying rent in the cellar. For the second straight week, the NFC East is at the bottom of the NFL Division Power Rankings.
Before we get to the division rankings this week, we're going to talk about something almost as important and that thing is: which conference is better? Is it the AFC or the NFC this year?
The obvious answer is the AFC. The AFC's 15-7 against the NFC this season, so on the surface, you want to say AFC's better and lets stop talking about it. However, I don't want to talk about it and here's why: almost half the AFC's wins have come against the NFC East.
Everyone seems to agree that the NFC East is the worst division in football and seven of the AFC's 15 wins have come against the NFC East. If you take out the NFC East, then the AFC only leads the NFC 8-6. 
Here's what I'm trying to say: maybe the NFC's not as bad as we think. Lets let this play out, there's still 42 interconference games to be played. On the other hand, if you want to crown the AFC, then crown their ass. But they are who we thought they were. And the NFC East is letting 'em off the hook.
Thanks to Dennis Green for inspiring that last paragraph, now lets get to the rankings. 
NFL Division Power Rankings after Week 4
1. AFC East: The Buffalo Bills currently have the longest running postseason drought in the NFL. The Bills haven't been to the playoffs since the 1999 season. That's a long time to go without success, just ask Kevin Costner, he's going through something similar. The point here is that thanks to the Bills big win over the Baltimore Ravens on Sunday, the AFC East is the only division without a team under .500. That was an ugly loss by the New York Jets , but the Bills win is a big reason why the AFC East is staying at No. 1 for at least another week. Last week's ranking: 1. (2-0 vs. AFC North, 5-1 vs. NFC South, 1-1 vs. AFC South)
2. AFC West: If Matt Flynn wasn't starting for the Oakland Raiders last Sunday, Oakland might have beaten Washington and the AFC West would've pulled a clean 4-0 sweep on the NFC East. The only problem is that Matt Flynn did start and as you can imagine, things didn't go well for the Raiders, which brings me to a new rule in the division rankings: if a team in your division loses to a previously winless team, your division can't move up in the rankings. We're calling that the 'Raider rule.' Or we can call it the 'Matt Flynn rule.' Honestly, I don't care what we call it, but it's now a rule. Last week's ranking: 2. (1-0 vs. AFC North, 2-3 vs. AFC South, 7-1 vs. NFC East)
3. NFC West: The NFC West started the season No. 1 in these rankings and has done just enough to not fall out of the top 3. That could all change this week though. Two of most intriguing games in Week 5 are NFC West games with Houston playing at San Francisco and Seattle traveling to Indianapolis. One game that's not intriguing at all: Jacksonville at St. Louis. Unless the St. Louis Rams decide to give away free beer, then that game becomes intriguing. Last week's ranking: 3. (2-0 vs. NFC North, 2-2 vs. NFC South, 2-1 vs. AFC South, 0-1 vs. NFC East)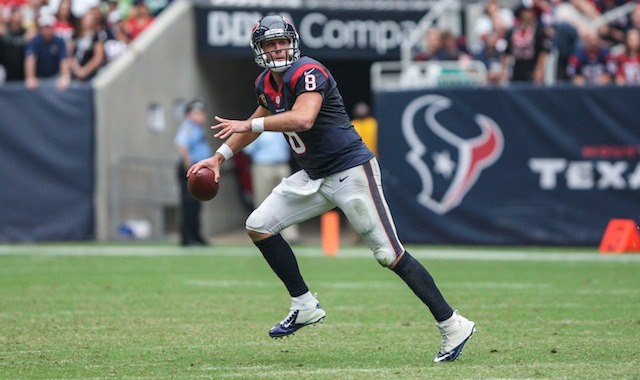 4. AFC South: The AFC South was a Matt Schaub pick-6 away from being No. 3 in the rankings this week. So if someone in the city of Houston needs another reason to burn a Schaub jersey, feel free to use that. As for the rest of the division, 34-point wins are usually impressive, unless they're over the Jacksonville Jaguars , so sorry Indianapolis Colts . Tennessee did have an impressive 38-13 win over the Jets though. You know things are going your way when Ryan Fitzpatrick is throwing 77-yard touchdown passes. Last week's ranking: 5. (3-2 vs. AFC West, 1-1 vs. AFC North, 1-1 vs. AFC East, 1-2 NFC West)
5. NFC North: The NFC North leapfrogged the AFC North this week for one reason: the Minnesota Vikings proved that NFC North's worst team is better than the AFC North's worst team. That has to mean something, right? The best thing about the Viking- Pittsburgh Steelers game is that it was played in London, which means both teams have byes this week, which means we don't have to watch either team play. That's a good thing when you're talking about two teams that are a combined 1-7 on the season. Last week's ranking: 6. (3-2 vs. AFC North, 0-2 vs. NFC West, 2-0 vs. NFC East)
6. AFC North: When Brian Hoyer 's the best quarterback in your division you have a problem. I'm not sure what the problem is, but I don't think it's one you want to have. Hoyer and the Cleveland Browns were the only AFC North team to win last week and Cleveland won largely because Hoyer outplayed Cincinnati Bengals quarterback Andy Dalton . Joe Flacco should give the Ravens at least $60 million back after his five-interception game against Buffalo and Ben Roethlisberger , well, you saw what he did in London. He did nothing. Last week's ranking: 4. (0-2 vs. AFC East, 0-1 vs. AFC West, 1-1 vs. AFC South 2-3 vs. NFC North)
7. NFC South: You have to admit, it's been pretty nice of the Atlanta Falcons , Carolina Panthers and Tampa Bay Buccaneers to welcome Sean Payton back this year by tanking the season so that the New Orleans Saints can win the division. Wait, they're not tanking? I'm pretty sure they are. The NFC South is so out of hand right now, my colleague Ryan Wilson says the Saints already have the division wrapped up. If you think that's crazy, you can tell him that on Twitter. You know what else is crazy? The NFC South's record against the AFC East: It's 1-5. Last week's ranking: 7. (1-5 vs. AFC East, 2-2 vs. NFC West, 1-0 vs. NFC East)
8. NFC East: Peyton Manning and the Denver Broncos probably wish they could play an NFC East team every week. Actually, every team probably wishes they could play an NFC East team every week. The division is 2-10 against other divisions and things aren't going to get any easier this week because the only non-division game is the Dallas Cowboys vs. Peyton Manning. Well, Peyton Manning isn't actually playing the Cowboys by himself, but maybe that's what it should be, so that the game's actually close. Last week's ranking: 8. (0-2 vs. NFC North, 0-1 vs. NFC South, 1-7 vs. AFC West, 1-0 vs. NFC West)
If you think my rankings are off or if you think I have the NFC East too high, feel free to let me know on Twitter or in the comment section. 
Show Comments
Hide Comments
The Cleveland Browns quarterback has plenty of enthusiasm for his job

Rob Gronkowski's dreams are exactly what you imagine them to be

Cleveland brought in Ryan Grigson as a personnel executive
The former Bills GM says that he would make sure he gets a franchise quarterback

Sherman has engaged in some pretty cool jersey swaps over the years

Twerking is still outlawed under the NFL's new policy, which is bad news for Brown