NFL Division Power Rankings: NFC North tumbles after 1-3 week
The NFC North took a giant tumble down the rankings after the division went 1-3 in Week 11.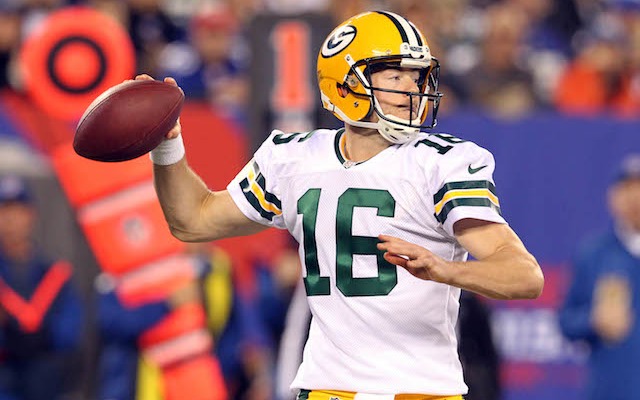 The top of the division power rankings this week look a lot like they did last week. The bottom looks the same too -- hi AFC South, you're still in last place -- it's the middle of the rankings where things get confusing and that's thanks mostly to the NFC North. 
Last week I wrote, "if the NFC North goes 1-3 or worse in Week 11, it's going to fall next week and I'm not going to feel bad about it." Well, the NFC North went 1-3 or worse and it definitely fell and I definitely don't feel bad about it. 
The starting quarterbacks in the NFC North last week were Christian Ponder , Scott Tolzien , Josh McCown and Matthew Stafford . Those will also be the starting quarterbacks this week. So ask yourself this: would you take that group of quarterbacks over any other division's starting quarterbacks? I say no. Unless we're talking about the AFC South of course. 
While you ponder that, lets get to the rankings. 
NFL Division Power Rankings after Week 11
1. AFC West: Oakland Raiders quarterback Matt McGloin did something in Week 11 that I don't think Peyton Manning 's ever done: he won a game with two former presidents watching. That's right, McGloin wasn't fazed by the fact that George W. Bush and George H.W. Bush were at Reliant Stadium last Sunday. McGloin threw three touchdown passes against the Houston Texans and I bet he dedicated one to each president and then he probably dedicated the third one to someone else, like his mom or a cousin. Last week's ranking: 1. (3-0 vs. AFC North, 8-4 vs. AFC South, 9-4 vs. NFC East, 1-1 vs. AFC East) 
2. NFC West: I have bad news for the rest of the NFL: Even if the Seattle Seahawks forfeit the rest of their road games, they can still earn the No. 1 seed and home-field advantage throughout the playoffs. That's right, even if the Seahawks don't win another road game, they can guarantee themselves the No. 1 seed by winning the rest of their home games. The would give Seattle at least a 13-3 record and it would also give the Seahawks the tiebreaker over New Orleans. Last week's ranking: 2. (3-0 vs. NFC North, 6-5 vs. NFC South, 11-3 vs. AFC South, 0-1 vs. NFC East)
3. AFC East: I moved the AFC East up this week, but I only did it out of pity. Rob Gronkowski got bear-hugged in the end zone and the refs decided not to call a penalty. And to be honest, I don't think the refs would have called a penalty even if Gronk was being hugged by an actual bear. In the refs defense though, I'm not sure I would throw a flag on an actual bear either. Also, I felt like I had to move the AFC East up as a minor reward for the Miami Dolphins winning. I feel like the Dolphins have spent their entire practice time lately being interviewed for investigations. Where are they finding time to watch film and study game plans? How do they concentrate on anything? It's perplexing. Last week's ranking: 5. (4-7 vs. AFC North, 8-4 vs. NFC South, 1-1 vs. AFC South, 1-1 vs. AFC West)
4. AFC North: Cincinnati Bengals quarterback Andy Dalton did something really weird on Sunday: he threw three touchdown passes without throwing for 100 yards. How weird is that? It's so weird that it's only been done two other times since 1980. Former Denver Broncos quarterback Jake Plummer did it in a 2003 win over the San Diego Chargers . Plummer threw three touchdown passes, but only threw for 94 yards. Former Raiders quarterback Jay Schroeder also did it. In 1992, Schroeder threw for 93 yards and three touchdowns in a 28-7 win over Kansas City. Dalton's 93-yard, three touchdown performance was so bad it was good, Bengals fans can't even be mad. It was like when Baxter ate the whole wheel of cheese. There was no way Ron Burgundy could be mad at that. Last week's ranking: 4. (7-4 vs. AFC East, 0-3 vs. AFC West, 1-1 vs. AFC South, 4-7 vs. NFC North)
5. NFC North: The NFC North should send Joe Flacco a 'thank you' card this week because if he would have led the Baltimore Ravens to a touchdown against the Chicago Bears on the final drive of regulation on Sunday, Chicago would have lost and the NFC North would have gone 0-4 in Week 11. Instead, Flacco couldn't get the Ravens in the end one and the Bears won in overtime. Actually, instead of a 'thank you' card, the NFC North should send Flacco a McDonald's gift certificate so he can buy some Mighty Wings, that way Flacco can concentrate more on his playbook and less on looking for Mighty Wings with Colin Kaepernick . Last week's ranking: 3. (7-4 vs. AFC North, 0-3 vs. NFC West, 5-5 vs. NFC East, 0-2 vs. NFC South)
6. NFC South: This is the hardest division to rank because two of the teams are really good and two of the teams are the opposite of good. If somehow you're still alive in an NFL Survivor pool, I have some advice for you: pick against Atlanta and Tampa Bay whenever they play on the road. The Tampa Bay Buccaneers and Atlanta Falcons are a combined 0-9 on the road this season and I don't think I can move the NFC South any higher until one of those two teams gets a road win. That being said, the NFC South is actually on an impressive two-week run. Last week's ranking: 6. (4-8 vs. AFC East, 5-6 vs. NFC West, 2-1 vs. NFC East, 2-0 vs. NFC North)
7. NFC East: It took 11 weeks, but someone in the NFC East is finally first at something. Philadelphia Eagles running back LeSean McCoy became the first player to reach the 1,000 yard mark this season when he ran for 77 yards against the Washington Redskins . Another amazing thing happened too: Eli Manning played in a game where he didn't throw the most interceptions. Manning only threw one, compared to Scott Tolzien's three in the New York Giants win over the Green Bay Packers . Last week's ranking: 7. (5-5 vs. NFC North, 1-2 vs. NFC South, 4-9 vs. AFC West, 1-0 vs. NFC West) 
8. AFC South: Things are getting so bad in the AFC South that players on one AFC South team are head-butting players on another AFC South team. I'm all for head-butting in professional wrestling and sometimes I even for it in soccer -- but only when the French are playing -- but I'm not for it when the person doing the head-butting is wearing a helmet and the other person isn't. The NFL doesn't like head-butts in that situation either, which is why Indianapolis Colts linebacker Erik Walden has been suspended for one game. Last week's ranking: 8. (4-8 vs. AFC West, 1-1 vs. AFC North, 1-1 vs. AFC East, 3-11 NFC West)
---
Follow John Breech on Google+
Show Comments
Hide Comments
Dino Babers seems to think the Patriots' backup will do just fine filling in for Tom Brady

Lynch thinks he still has a shot to start at some point during his rookie season

The Seahawks' management team is now locked in long-term
We take a look at the player on each AFC team facing a pivotal season for a variety of rea...

Johnson was spotted at Tennessee's facility on Tuesday

Many of the tools that had scouts buzzing about Carson Wentz are present with Leidner