NFL Division Power Rankings: NFC tops AFC in season-series
The NFC and AFC have wrapped up their season-series and for the third straight year, the NFC has come out on top.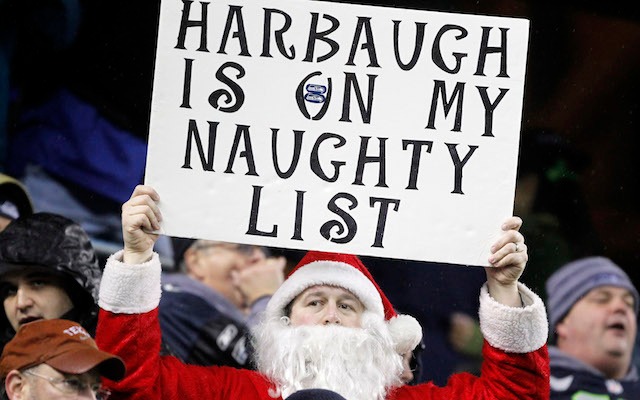 Welcome to the Holiday-version of the only Division Power Rankings that Prancer reads. This week it's Merry Christmas to the NFC. With all games accounted for, the NFC has won the season-series against the AFC this season 34-30, marking the third straight time the NFC has won the inter-conference battle.
The AFC hasn't won the season-series since 2010.  
Now lets talk about the only thing that matters and that is: Does this matter? 
Over the past 10 years, the conference that's ended the season with the better record has gone 6-3 in the Super Bowl. That excludes 2007 when the AFC and NFC tied in their regular season series.
If you're an NFC fan that's good news for you, which is a good thing for NFC North fans, because you guys need any good news you can get right now.
Anyway, grab an egg nog and lets get to the rankings.   
NFL Division Power Rankings after Week 16
1. NFC West: Arizona's win over Seattle was the Cardinals 10th win of the season, giving the NFC West three teams with double-digit wins. Unforutnately, that's not good news if you're an Arizona fan. In the past five years, only two divisions have produced three teams with double-digit wins -- the 2012 NFC North and 2010 NFC South -- and in both cases, the third place team was left out of the playoffs. Last week's ranking: 1. (4-0 vs. NFC North, 11-5 vs. NFC South, 13-3 vs. AFC South, 2-2 vs. NFC East)
2. AFC West: There have been 16 weeks of football and 240 NFL games played so far this season and only team knows where it will be seeded heading into the playoffs: The Kansas City Chiefs . Kansas City's locked into the fifth seed in the AFC -- and that's it. No team is locked into any other seed in either conference, which is kind of amazing considering there's only one week left in the NFL season. This all good news for Andy Reid, who can rest his starters and enjoy his Christmas ham this week. I bet Andy Reid really likes Christmas ham. Last week's ranking: 2. (3-1 vs. AFC North, 10-6 vs. AFC South, 11-5 vs. NFC East, 1-3 vs. AFC East)
3. AFC East: Here's a good rule of thumb when you're playing the New England Patriots : Don't lose the turnover battle. If you have to lose the turnover battle though, don't lose it by more than two. Bill Belichick and Tom Brady are 66-1 together since 2001 in games where the Patriots have a plus-2 turnover margin or better. The Baltimore Ravens found that out the hard way against New England. The Patriots had a plus-4 turnover margin against Baltimore and, well, you saw what happened. Last week's ranking: 6. (8-8 vs. AFC North, 8-8 vs. NFC South, 3-1 vs. AFC South, 2-2 vs. AFC West)
4. NFC South: It's a good thing the Atlanta Falcons played in the final game at Candlestick Park on Monday night because that's about the only thing their season's going to be remembered for. The New Orleans Saints season might not be remembered for anything either if they lose to Tampa Bay on Sunday and lose out on a Wild Card spot to the Arizona Cardinals . Last week's ranking: 4. (8-8 vs. AFC East, 5-11 vs. NFC West, 3-1 vs. NFC East, 3-1 vs. NFC North)
5. AFC North: Even if you're not a Pittsburgh Steelers fan, you should probably watch Pittsburgh play this week, mainly because you're guaranteed to see something really weird happen. In Week 13, Steelers coach Mike Tomlin almost took out Ravens kick returner Jacoby Jones on a kickoff return. In Week 14, the Steelers came within 3-inches of beating the Miami Dolphins on what was almost a 5-lateral, 79-yard game-winning touchdown. In Week 15, Pittsburgh's Terence Garvin broke someone's jaw and that someone was a punter. In Week 16, the Steelers blocked a Green Bay Packers field goal, but for some reason the refs decided to give the ball back to Green Bay. Just trust me, it's in your best interest to watch the Steelers this week. Last week's ranking: 3. (8-8 vs. AFC East, 1-3 vs. AFC West, 2-2 vs. AFC South, 8-8 vs. NFC North)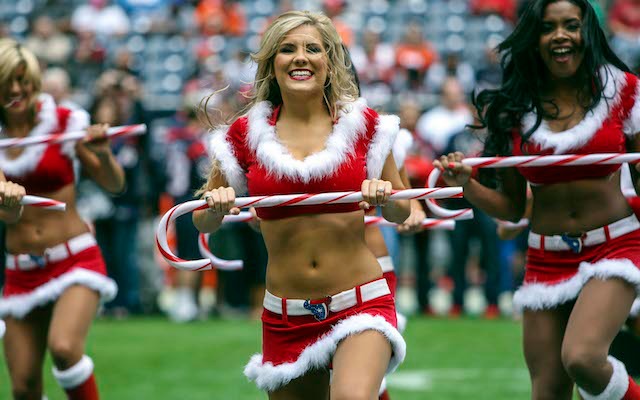 6. NFC North: The NFC North was so bad on Sunday that someone at Forbes was compelled to write this: 
Does the NFL really need an NFC North? http://t.co/7X3vmkCyhq

— Forbes (@Forbes) December 24, 2013
I'm not saying the NFL does or doesn't need the NFC North, but I think this guy at Forbes might be on to something. In case you missed it, the NFC North went 0-4 in Week 16 and really, the most entertaining thing that happened in the division happened off the field and it involved Matthew Stafford 's girlfriend.  
You wouldn't even know we were playing at home the way these fans are booing our home team. #unbelievable

— Kelly Hall (@kellybhall) December 22, 2013
Last week's ranking: 3. (8-8 vs. AFC North, 0-4 vs. NFC West, 8-8 vs. NFC East, 1-3 vs. NFC South)  
7. NFC East: All the Christmas lists in Dallas look the same this year and they go something like this: Dear Santa, I know I always complain about Tony Romo , but I forgot Kyle Orton was our backup quarterback and I know you're not a doctor but please fix Romo. I promise I won't ask for any presents for the next 17 years if you make Romo healthy enough to play and the Dallas Cowboys beat the Philadelphia Eagles . Also, I promise to leave carrots for your reindeer and even some whiskey for Rudolph because I heard he likes whiskey. Is he 21? Last week's ranking: 7. (8-8 vs. NFC North, 1-3 vs. NFC South, 5-11 vs. AFC West, 2-2 vs. NFC West)
8. AFC South: There's about 41 reasons why the AFC South is ranked last every week, but I don't ever list all 41 reasons because I'm a slow-typer and I feel like you'd get bored after 11. So here's what I'm going to do, I'm going to give you one good reason why the AFC South is ranked last. That reason? The Indianapolis Colts win over Kansas City on Sunday was the AFC South's first win over a team with a winning-record since Oct. 20. There are four team's in the division, they've played a total of 13 games against teams with winning records since Week 8 and they've combined to go 0-13. That's not good. Last week's ranking: 8. (6-10 vs. AFC West, 2-2 vs. AFC North, 1-3 vs. AFC East, 3-13 NFC West)
---
Follow John Breech on Google+ or you can even sometimes find him on Twitter
Show Comments
Hide Comments
Plus Nick Saban sends a ton of talent to the NFL, the Browns find a QB and more from Rounds...

The Vikings' Latavius Murray and Bengals' Jeremy Hill also get put on notice with Cook, Mixon...

Here's everything you need to know about the 2017 NFL Draft
Here's a recap of Round 2 and Round 3 in the 2017 NFL Draft

Here are the 25 best prospects still available after three rounds of the 2017 draft have w...

The fans in Philadelphia did their best to make the 2017 NFL Draft more fun