NFL divisional playoff picks: The Saints will keep it closer in Seattle
Will the Colts have an answer for the Patriots Josh Katzowitz examines that and the rest of the playoff games in his divisional playoff game picks.
• 3 min read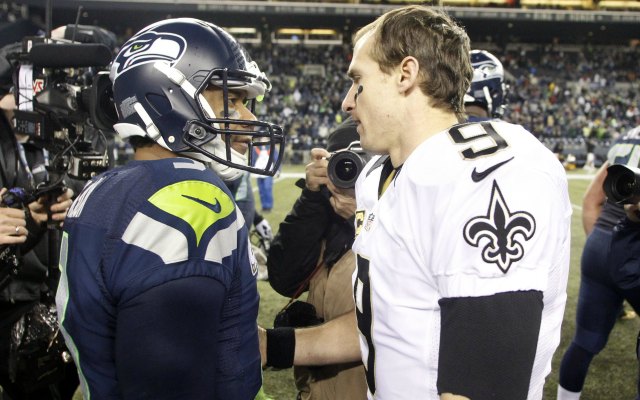 Each week, we'll take the best -- and most clever -- odds collected by Bovada for the upcoming week and give our take. This is important stuff, perhaps the most important post you'll read all week. Because if you can't lose money while watching a game in which you have absolutely no effect, what's the point of watching sports at all?
Note: Home team is listed first in Against the Spread, and all statistics only include the regular season.

Game One: Seahawks -8.5 vs. Saints
Saturday, 4:35 p.m. ET, FOX
2013 Against The Spread


Overall: 11-5
Overall: 8-7-1
Home: 5-3
Home: 7-0-1
Away: 6-2
Away: 1-7
2013 Team Rankings


Pass offense: 24th
Pass defense: 4th
Rush offense: 6th
Rush defense: 1st
Pass defense: 3rd
Pass offense: 12th
Rush defense: 7th
Rush offense: 2nd
Verdict: The last time these two teams met, the Seahawks blasted the Saints 34-7 in Seattle in Week 13. It was a dreadful performance by New Orleans and only added to the storyline that the Saints were, for the most part, terrible on the road. It also continued the theme that the Seahawks are nearly unbeatable at home. Well, the Saints beat the Eagles in Philadelphia last week, and Seattle was toppled by the Cardinals at home in Week 16. That said, the Seahawks will prevail, but it'll be a much closer decision this time around. Go with the Saints to cover.
Game Two: Patriots -7.5 vs. Colts
Saturday, 8:15 p.m. ET, CBS
2013 Against The Spread

Overall: 8-8
Overall: 9-6-1
Home: 6-2
Home: 5-3
Away: 2-6
Away: 4-3-1
2013 Team Rankings


Pass offense: 8th
Pass defense: 31st
Rush offense: 10th
Rush defense: 27th
Pass defense: 18th
Pass offense: 1st
Rush defense: 25th
Rush offense: 22nd
Verdict: It seems obvious to me that the Colts are the weakest team left in the playoffs. Their four-touchdown comeback last week was awesome and historic and every other adjective you can invent, but remember, they also were down 38-10 to a pretty good, but certainly not great Chiefs team. The Colts have been disturbingly mediocre for too much of the season, and if the Patriots can take a two-touchdown lead early, I'll count out Indianapolis by halftime. The Patriots could end this one early and blow it out late. Go with New England.
Game Three: Panthers +1.5 vs. 49ers
Sunday, 1:05 p.m. ET, FOX

2013 Against The Spread

Overall: 9-6-1
Overall: 10-5-1
Home: 6-1-1
Home: 4-4
Away: 3-5
Away: 6-1-1
2013 Team Rankings


Pass offense: 27th
Pass defense: 2nd
Rush offense: 11th
Rush defense: 20th
Pass defense: 8th
Pass offense: 22nd
Rush defense: 3rd
Rush offense: 3rd
Verdict: The 49ers are one of the hottest teams remaining in the playoffs, having won seven-straight games, and at this point of the season, the hottest teams at the conclusion of the season oftentimes ride that momentum straight to the Super Bowl. Yes, San Francisco has to criss-cross the country again, but with the way the 49ers offense has been playing lately, I think it'll be enough to overcome a very powerful Panthers defense. I imagine receiver Steve Smith will play, but if he doesn't (or isn't completely healthy), that'll be a major problem for Carolina. 
Game Four: Broncos -9.5 vs. Chargers
Sunday, 4:40 p.m. ET, CBS
2013 Against The Spread
| | |
| --- | --- |
| | |
| Overall: 10-6 | Overall: 9-6-1 |
| Home: 5-3 | Home: 5-3 |
| Away: 5-3 | Away: 4-3-1 |
2013 Team Rankings


Pass offense: 3rd
Pass defense: 30th
Rush offense: 15th
Rush defense: 17th
Pass defense: 26th
Pass offense: 32nd
Rush defense: 7th
Rush offense: 1st
Verdict: Four weeks ago, the Chargers went into Denver and won 27-20. In Week 10, the Broncos beat San Diego 28-20. Clearly, the Chargers aren't intimidated by Peyton Manning and the Broncos, and I think the spread in this one is too high. If it's a touchdown, I probably take Denver, but with the Chargers on a five-game winning streak and with Philip Rivers playing some of the best football of his career, I like San Diego to keep this one close. 

Last week: 1-3 against the spread. Overall this year: 26-29 against the spread, 16-18 on prop bets. Last two years: 52-64 against the spread; 50-35-1 on prop bets.
See my picks and all the CBSSports.com experts here.

Follow Josh Katzowitz on Google+
Pryor worked out with Brown a couple years ago and now he's back at it again

The first-round QB from Clemson impresses Texans coaches with the way he's picking up the...

Dave Gettleman does not understand the DEFCON system
The Cowboys were big stars at Dirk's annual charity event

Floyd claims to have drank four or five bottles of kombucha tea, resulting in a failed alcohol...

Atlanta's new video board wraps around the length of the stadium and looks incredible