NFL Draft name to know: Adam Replogle, DT from Indiana
Indiana defensive tackle Adam Replogle is just the type of grunt that NFL teams might be on the hunt for come Day 3 or as an undrafted free agent.
• 3 min read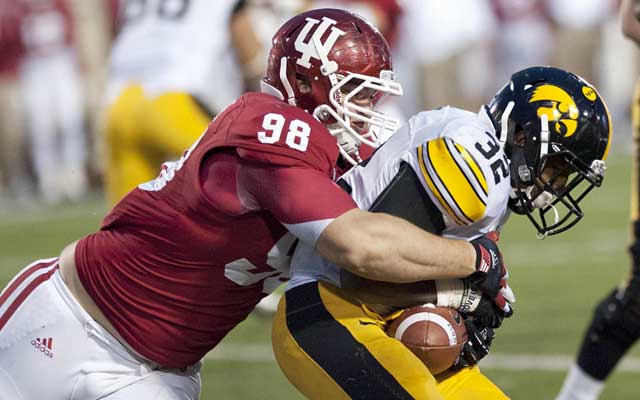 There was a strict rule in the Replogle household: No matter how football-crazed the quartet of boys was, no one would play until sixth grade. Tom Replogle played collegiately at Virginia Military Academy, and all four of his sons would end up on football scholarships (three at Indiana University). But only one of them, Adam, the middle boy, was in a helmet and pads in elementary school.

His desire to play was too intense and his will unrelenting. So Adam Replogle began his football journey in the second grade, and he hasn't stopped playing since. In fact, he has barely missed a snap since, with Replogle among the most consistent and healthy performers in the NCAA the past four years while playing for the Hoosiers.
Now he hopes to hear his name called at some point late in next week's draft.
It could turn out that the productive defensive tackle, a second-team all-Big Ten selection, ends up as a priority free agent after the draft.
If he doesn't? He's not going to stop playing the game that he loves anytime soon.

He is the kind of overachiever who works his way onto a roster, endears himself to coaches, and finds a way to stick around and help a football team.
He started 47 consecutive games at Indiana, the only exception being his first game as a true freshman.
More 2013 NFL Draft coverage
| | |
| --- | --- |
| | 2013 NFL Draft |
He generated strong stats for an interior defensive lineman: five sacks, 13 tackles for loss, two forced fumbles and 71 tackles.
He showed well at his pro day, checking in at 6 feet 2, 300 pounds and running the 40 in five seconds. He benched 38 reps.

It still might not be enough to get him drafted, with Indiana no powerhouse, but that's no discouragement to Replogle.

"I'm really excited for the draft," he said. "I'm a little nervous, I guess, but now it's more of a waiting game than ever. I did all I could do at my pro day and in the season, and now it's just a waiting game.

"I don't really worry about [if or where he gets drafted], just because it's something I can't really control. What I can control is what I did on the field, and my stats show I can go hand-to-hand with some of the guys they're talking about going in the draft."

Replogle is a workout warrior, so much so that his experienced agent, Don Henderson, is actually urging him to let up some as the draft approaches so he is fresh for the start of an offseason program. He enjoys being among the big uglies up front ever since he switched to defensive line in high school and never looked back.
"Since then, I knew my hand was going to be in the dirt," Replogle said.
His motor is always running.
"I play hard, and I play physical," Replogle said. "I never give up, I'm relentless and I'm competitive."

He deflected any credit for his durability in college, pointing to his coaches and trainers for keeping him prepared and ready to play. But there is something in the genes as well. Older brother Tyler played four years at Indiana, graduating in 2010. Younger brother Mike is a defensive end at Indiana. Youngest brother Jake will be an incoming freshman lineman at rival Purdue.

"It kind of runs in the family, I guess," Replogle said.
Soon enough, we'll find out if playing in the NFL does, too.
Show Comments
Hide Comments
Marshawn Lynch will probably appreciate this shout out by his new quarterback

The legal battle in the Aaron Hernandez case is still ongoing, despite the former tight end's...

The Eagles quarterback was recently hanging with Josh Duhamel and Fergie
The Raiders quarterback has one problem: Oakland doesn't have the thing he wants to splurge...

What happens in Mexico City doesn't stay in Mexico City

Cord-cutters are probably going to like what the Patriots owner has to say