NFL executive Troy Vincent: NFL needs a developmental league
Troy Vincent, the NFL's new director of football operations, believes that the league needs to create a platform for developing talent.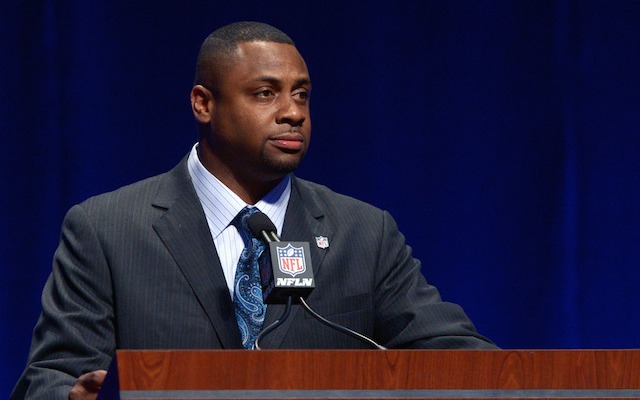 More NFL offseason: Mock Drafts | Prospect Rankings | Pro days | Top free agents
The NFL might be the most popular sport in the country, but it still hasn't been able to do something that the three other major sports have been able to do: Create a developmental league.
Troy Vincent, the NFL's new director of football operations, wants to change that. 
"We need to keep the pipeline of talent flowing, and that means for all areas of our game: players, coaches, scouts, game officials. I am responsible to look at whatever the competition committee looks at, and that includes a developmental league," Vincent said this week, via the Associated Press.
A developmental league would put the NFL on par with the the NBA -- which has the D-League -- and Major League Baseball, which has the minors. The NHL also has a minor league system to develop and pull talent from. 
"For all this football talent around, we have to create another platform for developing it," Vincent said. "Maybe it's an academy -- what would it look like? Maybe it's a spring league; we'll look to see if there is an appetite for it."
There seems to be an appetite for almost anything NFL-related these days and a spring league seems to make the most sense -- as long it's not on the other side of the world.  
The last time the NFL had anything resembling a developmental league was NFL Europe, which folded in 2007. When the league closed up shop that year, NFL Europe consisted of five teams in Germany and one team in the Netherlands. 
NFL Europe didn't produce a lot of NFL talent during its 16-year existence, but it was the launching pad for several players like two-time NFL MVP Kurt Warner, Super Bowl quarterback Jake Delhomme and Colts kicker Adam Vinatieri. 
Show Comments
Hide Comments
Jones provided Cowboys tickets and travel accommodations to officers and their families

Romo played DJ at a charity event and got Ezekiel Elliott on stage for 'O.P.P.'

Kaepernick has spent much of his offseason helping others and now supporters will return the...
Beast Mode led a bicycle parade through his hometown and apparently didn't even have to pe...

The NFL won't punish Revis, who remains on the market as a free agent

The NFL is playing the long game on L.A., but it's taking a serious hit in the short term