NFL games returning to Saturday in 2014 with Week 16 doubleheader
After a one year absence, Saturday night football is back in the NFL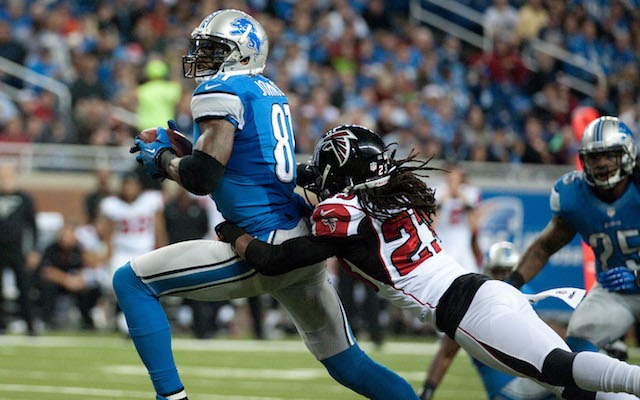 After a one year break, Saturday football is back in the NFL. When the league announced CBS as its new Thursday night broadcast partner for 2014, it also announced that there will be two Saturday games played next season.
Both Saturday games will be played as part of a Week 16 doubleheader on Dec. 20, an NFL Spokesman confirmed.
There hasn't been a Saturday regular season game in the NFL since December 2012 when Calvin Johnson tallied 225-receiving yards against Atlanta to break Jerry Rice's single-season receiving record that had stood since 1995. Despite the huge game from Johnson, the Lions lost to the Falcons 31-18. 
The 2013 season marked the first since the 1970 merger that there was no Saturday game played during the regular season. 
Both Saturday games will air on the NFL Network as part of a package that the league announced on Wednesday. Under terms of the new package, CBS will televise eight early season Thursday night games in 2014 that will feature the network's long-time No. 1 announcing team of Jim Nantz and color analyst Phil Simms. Those eight games will be simulcast on the NFL Network. 
Nantz and Simms will also be on the call for six more late season Thursday night games that will be produced by CBS, but the games will only air on the NFL Network. The announcers for the Saturday games have not yet been named. 
Show Comments
Hide Comments
Our Latest Stories
Long snapper Kameron Canaday is a free agent after his latest mistake

The Patriots have one more game to endure without Tom Brady

Donald Trump told Colin Kaepernick to leave the country a month ago
The Browns also can't wait on DeShone Kizer, taking the Notre Dame QB at No. 1

Bell will play in his first game after serving his three-game suspension

Rookie Jordan Howard, a fifth-round pick, will now get a shot at supplanting Langford for the...