NFL looking at possibility of playoff games on Friday and Monday
If the NFL decides to expand its playoffs from 12 to 14 teams, that could mean we'll see postseason games on Monday and Friday during Wild Card Weekend.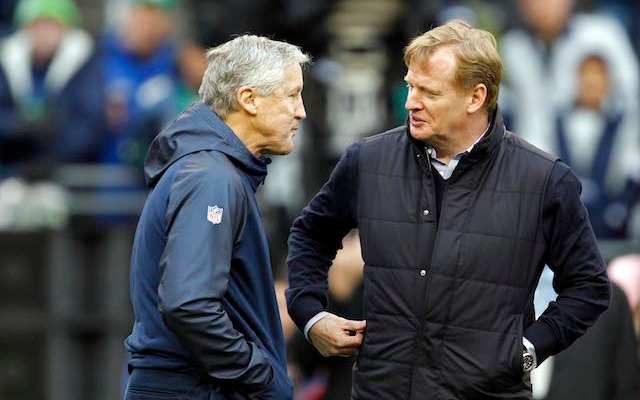 NFL commissioner Roger Goodell said earlier this month that expanding the playoffs from 12 to 14 teams is something that the league has 'under serious consideration.' During an interview on Monday with NFL Network, Goodell elaborated on those thoughts, saying that if expansion does happen, it could mean that playoff games will be held on Friday and Monday during Wild-Card Weekend.
Goodell also said that if expansion happens, it's unlikely that any expansion would happen before the 2015 season. "I'd be surprised if it happened this year," Goodell said of playoff expansion. "If it happened, it probably wouldn't happen before [2015]."
The commissioner did concede that the league could vote on expansion this offseason, even if the rule wouldn't be enacted until 2015. 
When asked by NFL Network host Rich Eisen if the expansion format would mean 14 teams in the playoffs, instead of 12, Goodell said 'That's correct.' 
Under the format Goodell discussed, playoff expansion would mean playing six games on Wild Card Weekend, up from four. The two-seed would play the seven-seed, the three-seed would play the six-seed and the four-seed would play the five-seed in each conference.
Six games on Wild-Card Weekend could mean Friday and Monday playoff games, according to Goodell. 
"The big discussion would be the first weekend," Goodell said. "The Wild-Card Weekend of the playoffs. How would you structure that? We're looking at every alternative. Could you play a game on Friday night? Two on Saturday, two on Sunday and another one on Monday. You want to balance all that with the competitive issues that come with that. Is that a smart thing for us to do. Those are the things that we're going to be studying."
Eisen then mentioned that a team playing on Monday would be at a competitive disadvantage in the next round because they'd have to play on a short week. 
"But a Friday [team is] playing a short week coming off the final regular season game," Goodell said. "If you did play on a Monday night, we likely wouldn't let you play until Sunday. These are the kind of things that have to be balanced."
If the playoffs had been formatted with 14 teams this season, Denver and Seattle would have been the only two teams with byes during the wild-card round. 
Goodell also said on Monday that the NFL is exploring the possibility of eliminating extra points. 
---
Follow John Breech on Google+ or you can even sometimes find him on Twitter
Show Comments
Hide Comments
Here's everything you need to know about the 2017 NFL Draft

Here are the 50 best prospects still on the board as the 2017 NFL Draft heads into Day 2

Ramczyk is the latest in a long line of elite offensive linemen to come out of Wisconsin
San Francisco ended Foster's free-fall by trading into the 31st overall pick

Pete Prisco grades every first-round pick of the 2017 NFL Draft

The former Alabama linebacker will bring beef to the front seven in San Francisco