NFL MVP Projection: Say hello to Saints TE Jimmy Graham
If Peyton Manning falters down the stretch or retires midseason, could Jimmy Graham win the NFL MVP Award?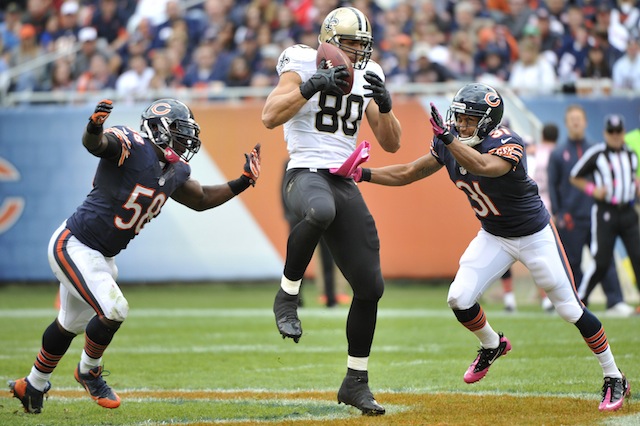 Here's a little NFL MVP history for you: No tight end has ever won the award. A linebacker's won the award. A defensive tackle's won the award. A kicker's won the award too,  but not a tight end. Quarterbacks have owned the award, a running back sometimes will win one, but tight ends are generally laughed at come MVP voting time. And that makes sense because until recently, laughing at tight ends used to be OK. 
But this year could be different. Well, it could have been different if Peyton Manning had decided to retire in 2011, but he didn't. Anyway, the point here is that  New Orleans Saints tight end Jimmy Graham is having one of the most ridiculous seasons ever. Graham was on the MVP Projection list last week, but now he's in the top-3, so we have to take his candidacy seriously. 
Graham is on pace for 1,898 yards, 118 receptions and 19 touchdown catches. That would break every tight end record -- by a lot. Jason Witten holds the reception record with 103. Rob Gronkowski holds the yards and touchdown record with 1,327 yards and 17 touchdowns. 
MVP Projection
1. Denver Broncos quarterback Peyton Manning: If you watched the Dallas Cowboys -Broncos game on Sunday, you probably noticed that Peyton Manning's game was way off, that's the only way to explain that one interception. I don't care if he throws for 414-yards and four touchdowns and still wins the game; interceptions are not OK, Peyton's turning into Eli.   
2. Saints quarterback Drew Brees : Guess who's been the SMVP (Second Most Valuable Player) three times in the past seven years? That's right, Drew Brees has finished second in the MVP voting three times since 2006. Why am I mentioning this? Because I feel sorry for Brees, he always picks the worst year to have his best year. It's probably not any consolation, but it looks like he has another SMVP trophy locked up. Unfortunately, you don't get a trophy for that -- or remembered.  
3. Saints tight end Jimmy Graham: If Drew Brees wins the MVP Award, he should cut the trophy into two pieces and give the bigger half to Graham. No one can stop Graham, so defenses should probably just stop trying. Graham leads the NFL in receiving yards (593) and is second in touchdown receptions (6). Brees and Saints coach Sean Payton better watch over Graham closely this weekend because Tom Brady might try to kidnap him. 
4.  Indianapolis Colts quarterback Andrew Luck : Andrew Luck's last name should be awesome because that's what he's been this year. Luck threw two touchdown passes against a Seattle Seahawks defense that had only given up two touchdown passes all season. Luck also engineered the ninth fourth quarter comeback of his career, that's tied with Jake Plummer for the most fourth quarter comebacks in a player's first two seasons. 
5. New England Patriots quarterback Tom Brady: Tony Romo was going to go here, but I can't put anyone on this list who cost their team a game in Week 5 by throwing a pivotal fourth quarter interception. Wait, WHAT? Brady did that too? How come everyone didn't spend all week talking about it? Brady's horrible pass with under two minutes left against the Cincinnati Bengals has to be punished, so I'm dropping him from No. 2 to No. 5 in the MVP Projection. And I'll be the first person to call the authorities if he tries to kidnap Jimmy Graham. 
6. Kansas City Chiefs linebacker Justin Houston : Houston's become a problem for opposing offenses, his 8.5 sacks rank second in the NFL behind only Indianapolis' Robert Mathis . Houston has been arguably the best player on a Chiefs defense that's only giving up a league-leading 11.6 points per games. 
7. Seahawks running back Marshawn Lynch : Beast Mode should switch his number to 17 because that's how may carries he's gotten in four of the Seahawks five games this season. That's also probably how many skittles he ate for dinner last night. With 410 yards, Lynch is the NFL's third leading rusher and he also has four runs of over 20-yards, tied for second most in the league. 
8. Colts linebacker Robert Mathis: Here's the only thing you need to know about Mathis, he has more sacks this season than the New York Giants (five sacks) and Pittsburgh Steelers (four) combined. That's two entire teams. Mathis' 9.5 sacks lead the NFL, he also has two forced fumbles, which ranks second in the league. At 32, Mathis' body should be falling apart, but it's not and now I think he might play until he's 65.  
Did I leave someone off the list? Did I rank Peyton Manning too low? Let me know in the comment section or on Twitter or hit me up on MySpace. Actually, don't hit me up on MySpace.
Show Comments
Hide Comments
Whaley was on borrowed time, and now Sean McDermott gets his best shot at building a winne...

The Cowboys owner maintains that Gregory has the organization's full support

No teams did bad enough to earn an 'F,' and give credit where it's due to the 49ers(!) and...
The expectation is that Whaley will be replaced with the Panthers' Brandon Beane

Plus Seahawks eschew needs on the line and Rams seek help for Goff as we hand out NFC West...

Plus Saints and Falcons load up on defense as NFC South gets a massive boost in talent