NFL: Officials wrongly awarded Bengals a TD vs. Colts
NFL VP of officiating Dean Blandino acknowledged on Tuesday that referee Jeff Triplette wrongly awarded the Bengals a touchdown against the Colts on Sunday.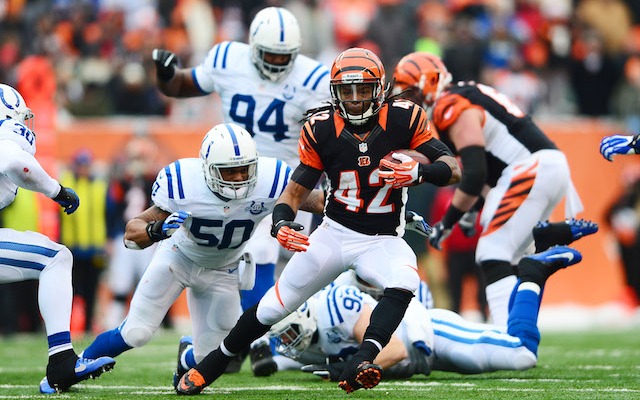 For the second week in a row, referee Jeff Triplette finds himself on the wrong side of a controversial call. In the Bengals 42-28 win over Indianapolis on Sunday, the NFL confirmed that Triplette reversed a call on the field that he shouldn't have reversed.
On a fourth-and-goal play from the one-yard line, Bengals running back BenJarvus Green-Ellis looked to have been tripped up by Indy's Josh Chapman before he reached the goal line. Green-Ellis was ruled down at the 1-yard line. You can see the play below.
Since the tackle came on fourth down, possession should have gone to the Colts. However, Green-Ellis' run was reviewed, and Triplette reversed the call, giving the Bengals a touchdown and a 14-0 lead. Triplette's explanation was that Green-Ellis was never touched, so it didn't matter that he tripped and fell into the end zone because he was never down. 
After the game, Triplette was asked if he thought Chapman might have caused Green-Ellis to trip in the backfield, "I don't know about that," he said. "There was nobody that touched him at the goal line."
Based on his postgame answers, it seems Triplette only watched the goal line and didn't look in the backfield to see whether or not Chapman might have caused Green-Ellis to fall. 
NFL VP of officiating Dean Blandino said on Tuesday that Triplette made the wrong call. Blandino says that there wasn't enough evidence to rule either way, so the call on the field should have stood. Officials originally ruled that Green-Ellis was down by contact before reaching the goal line."
"No, it wasn't the correct call," Blandino told NFL Network, via NFL.com. "There was not enough evidence to overturn the ruling on the field."
Blandino made it clear that an official needs "indisputable visual evidence" to overturn a call and Triplette didn't have that on Green-Ellis' run. 
"That's the standard. When we look at these angles, it's close," Blandino said. "Don't think it's definitive either way. And when it's not definitive either way, that means the call on the field should stand. So we made a mistake here. This should not have been overturned."
Triplette also blew a call in Week 13 when his officiating crew botched a sequence near the end of the Giants 24-17 win over the Redskins. After a 4-yard gain should have given the Redskins a third-and-1, an official told coach Mike Shanahan that it was first down and the chain gang moved into first-down position. The only problem is that it wasn't first down, it was third down. 
The NFL acknowledged last week that the officiating crew made a mistake in that game. 
Show Comments
Hide Comments
Rob Gronkowski's dreams are exactly what you imagine them to be

Cleveland brought in Ryan Grigson as a personnel executive

The former Bills GM says that he would make sure he gets a franchise quarterback
Sherman has engaged in some pretty cool jersey swaps over the years

Twerking is still outlawed under the NFL's new policy, which is bad news for Brown

Hawkins is just the kind of versatile, shifty receiver that thrives in New England's offen...