NFL offseason pop quiz: What do you know before summer vacation?
Are you a Hall of Famer, or have you just been cut? With school out for summer and the NFL going on vacation, take our pop quiz to see what you remember from the 2013 NFL season.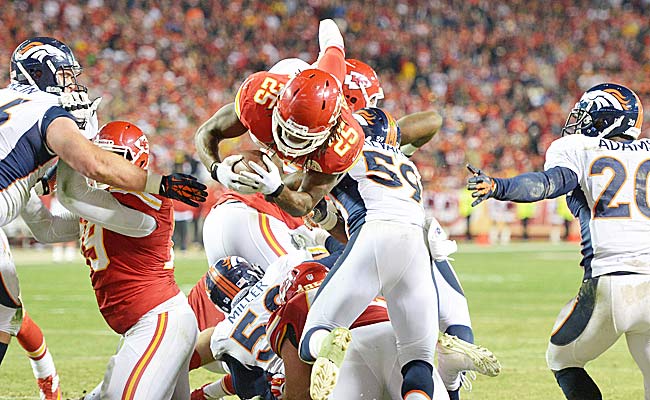 More NFL offseason: League minicamp dates | Latest news, notes
School is out most everywhere the country and NFL players and coaches are headed out on vacation. Before we put the entire 2013 season to rest and get ready for the Hall of Fame game in six weeks, so it's time for a pop quiz about last season.
There are 20 questions, from which you will earn one of six designations:
Hall of Fame: 19-20 correct answers
All-Pro: 17-18 correct
Starter: 15-16 correct
Backup: 13-14 correct
Practice squad: 11-12 correct
Hand in your playbook: 10 or fewer correct
Good luck, and your pop quiz begins now:
1: Who joined Jamaal Charles with the most rushing touchdowns?
A: Adrian Peterson
B: LeSean McCoy
C: Marshawn Lynch
D: Eddie Lacy
2: Which running back had the most runs of more than 20 yards?
A: Alfred Morris
B: Adrian Peterson
C: Marshawn Lynch
D: LeSean McCoy
3: Who is the only running back to average more than 100 yards rushing per game?
A: Jamaal Charles
B: LeSean McCoy
C: Adrian Peterson
D: Alfred Morris
4: Which QB threw the most interceptions?
A: Matthew Stafford
B: Carson Palmer
C: Eli Manning
D: Andy Dalton
5: After Peyton Manning , (55) and Drew Brees (39) who was third in touchdown passes with 33 last season?
A: Philip Rivers
B: Andy Dalton
C: Matt Stafford
D: Tom Brady
6: Six quarterbacks had more than 600 pass attempts last year. Five of them were Manning, Brees, Brady, Stafford at Matt Ryan . Who was the sixth?
A: Jay Cutler
B: Carson Palmer
C: Ben Roethlisberger
D: Joe Flacco
7: Which wide receiver led the league in touchdown receptions?
A: Demaryius Thomas
B: Calvin Johnson
C: A.J. Green
D: Dez Bryant
8: Which WR led the league in receptions of more than 20 yards?
A: Antonio Brown
B: DeSean Jackson
C: Josh Gordon
D: Demaryius Thomas
9: Which wide receiver had the most receptions in 2013?
A: Julian Edelman
B: Pierre Garcon
C: Brandon Marshall
D: Andre Johnson
10: How many pass rushers in the NFL had at least 10 sacks?
A: 13
B: 17
C: 20
D: 23
11: Who was the one non-linebacker credited with 100-plus tackles?
A: Eric Weddle
B: Troy Polamalu
C: Barry Church
D: Earl Thomas
12: Which NFL defensive player forced the most fumbles?
A: Robert Mathis
B: Luke Kuechly
C: J.J. Watt
D: Robert Quinn
13: Which pass-rush duo registered the most combined sacks?
A: Cameron Jordan , Junior Galette
B: Robert Quinn, Chris Long
C: Mario Williams , Kyle Williams
D: Greg Hardy , Charles Johnson
14: Which returner had the most combined punt and kickoff return yards?
A: Devin Hester
B: Brandon Tate
C: Keshawn Martin
D: Marcus Thigpen
15: Which team gave up the most points per game?
A: Washington Redskins
B: Chicago Bears
C: Minnesota Vikings
D: Oakland Raiders
16: Which offense averaged the most rushing yards average per game?
A: Seattle Seahawks
B: San Francisco 49ers
C: Philadelphia Eagles
D: Carolina Panthers
17: Which offense had the fewest passing yards per game?
A: 49ers
B: Tampa Bay Buccaneers
C: New York Jets
D: Buffalo Bills
18: Which rookie QB threw for the most yards?
A: Matt McGloin
B: Mike Glennon
C: EJ Manuel
D: Geno Smith
19: Which team had the worst road record?
A: Cleveland Browns
B: Houston Texans
C: Vikings
D: Redskins
20: Which was the only team to go undefeated in its division?
A: Indianapolis Colts
B: Denver Broncos
C: Panthers
D: Seahawks
Answers: 1-C, 2-A, 3-B, 4-C, 5-B, 6-D, 7-A, 8-C, 9-B, 10-D, 11-C, 12-A, 13-B, 14-A, 15-C, 16-C, 17-B, 18-D, 19-C, 20-A
The Cousins lovefest is out of control, which is why he's Pete Prisco's most overrated player...

RG3 is finally getting an NFL tryout

It's been an unlucky day for Lucky Whitehead
We're about to find out if a rugby player can actually work in the NFL

Unfortunately for Broncos fans, this deal doesn't mean Elway will be playing quarterback

Derek Carr would like to see the refs actually throw some flags in Khalil Mack's favor