NFL Over/Under Expert Picks: Mark Sanchez's days are numbered
Will Brinson and other experts don't see how Mark Sanchez will start more than eight games for the Jets in 2013.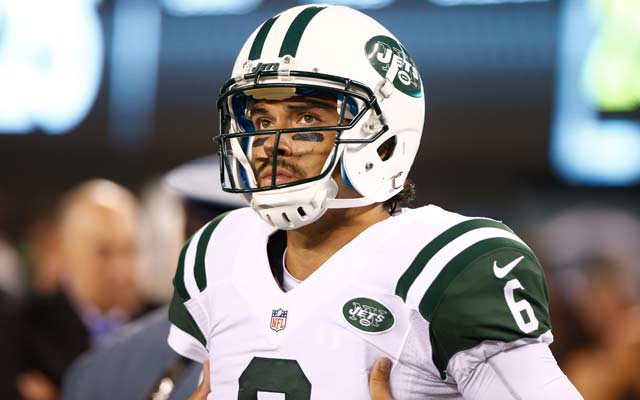 Eight games. That's the over-under (for us CBSSports.com folks at least) on number of games Mark Sanchez will start for the Jets in 2013, and I can't possibly fathom how anyone could select over after seeing Rex Ryan's debacle of a press conference on Tuesday.

I mean, it's POSSIBLE that Sanchez starts eight games under center. Geno Smith could break his leg, Greg McElroy could be kidnapped by aliens, Chris Christie could sign a Sanchez-friendly executive order, or Rex Ryan could kidnap John Idzik's wife and hold her hostage so the Sanchize gets one more full season's chance at sinking his battleship for good. 

But the reality is it ain't happening unless something goes drastically wrong with an already drastically wrong Jets season.
From a strict prognostication perspective, let's examine two scenarios. In the first, let's say that Sanchez wins the starting job. Obviously that greatly increases his chances of starting eight games. I'd say the Jets need to be 3-4 at the absolute worst seven games in for him to get that eighth start. Their first seven games are against the Buccaneers, Patriots (away), Bills, Titans (away), Falcons (away), Steelers, and Patriots (a second time). Finding three wins in that stretch is going to be tough. There's no way Sanchez makes it that far. Six starts MAX in that stretch. If Sanchez fails out of the gate, the Jets will turn to Geno and I'm fairly certain that once you're so terrible you plug in your rookie starter, well, you stick with the rookie starter to let him learn and see what you've got.
If Sanchez doesn't win the starting job, getting eight looks might be even harder unless Geno suffers an injury. (That may very well end up being the case, too, with Smith going down and Sanchez starting something in the neighborhood of 10 games. But we're not injury predictors.) You throw a rookie quarterback out there and there's some expectation of him struggling. No coach or organization in their right mind yanks a rook after just seven games even if the record isn't great. The Jets might not be sane, but if they're giving Geno run to start they should at least let him finish it off. If he makes it to the Week 10 bye relatively unscathed, the under is locked, with just seven starts for Sanchez available afterwards. 

It's possible Sanchez could begin the season as the Jets starter, get five starts in before the bye and then pick up a smattering of starts down the stretch. After all, Sanchez is Rex's guy and he's only missed two starts in four years with Rex. But follow the power and follow the draft pick and it all leads to Geno. Plus, with the way Ryan's using Sanchez these days he might be done for the year before the preseason even ends.
2013 NFL Season Over/Under














Over/Under: Mark Sanchez starting eight games
Over/Under: Peyton Manning throwing for more than 4,500 yards
Over/Under: Tom Brady throwing for more than 4,500 yards
Over/Under: Adrian Peterson rushing for more than 1,750 yards
Over/Under: Tim Tebow taking more than five snaps at quarterback
Over/Under: Calvin Johnson more than 1,750 receiving yards
Over/Under: Eagles winning more than 7.5 games
Over/Under: JJ Watt finishes with more than 20 sacks
Over/Under: NFL teams will fire seven coaches
Over/Under: Cowboys winning more than 8.5 games
 
Show Comments
Hide Comments
Our Latest Stories
The Vikings said they knew Murray would have the procedure before they signed him

Plus, two USC prospects tackle agility drills and two small-schoolers look to make their m...

The Steelers signed Brown to a record contract this offseason
Let the annual Brett Favre comeback rumors begin!

Jones' attorney says he plans to plead not guilty to three misdemeanor charges

It might involve a more centralized replay system and a play clock after extra points