NFL owners to vote on potentially new extra point, replay, roster rules
When the NFL owners meet next week, they'll have plenty of potential new rules on which they can vote.
• 1 min read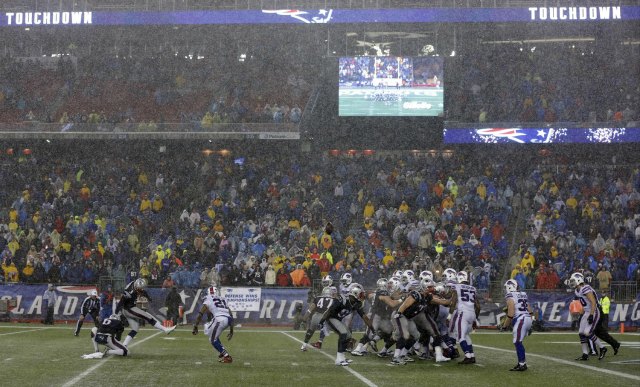 When the owners meetings commence next week, the NFL owners will vote on a number of potential rules changes that could come into effect next season. During a conference call on Wednesday, the league's competition committee revealed the proposals.
Here are ones you should know about:
The Redskins proposed to move the kickoffs to the 40-yard line, to allow instant replay to extend to personal foul penalties, and to get rid of preseason overtime.
The Patriots proposed to move the goalpost 5 feet higher, to move extra points to the 25-yard line, to place fixed cameras on all boundary lines and to expand replays to make sure a coach can challenge any play but a scoring play (which are all reviewed anyway). If the potential rule that would move extra points to the 25-yard line doesn't pass, the competition committee supported the idea that all of the games in one preseason weekend would feature extra points kicked from the 20-yard line.
The competition committee proposed more protection for the back of a player's legs when he is rolled up by a defender. It also proposed an expansion of replay that would cover a loose ball in the middle of a play (like the Navarro Bowman fumble in the playoffs) and that the clock wouldn't stop after a sack.
As for roster gymnastics, the Redskins proposed raising the active gameday roster from 46 to 49 when a game is played on Thursday. They also proposed increasing the practice squad to 10 players, expanding the short-term IR list to beyond just one player, and having only one cutdown day during training camp.
The Colts proposed allowing a team that houses a retractable roof to have the ability to open or close it at halftime.
As for the potential 15-yard penalty that would occur if an official heard a player use a racial slur ...
NFL will not have new rule re: abusive language. Just emphasis current rule. "We empower a foul to be called for that type of language.''

— Don Banks (@DonBanks) March 19, 2014
As far as potentially expanding the playoffs by two teams in time for the 2015 season, that might or might not come to a vote at the owners meetings.
And in other news, the finalists for Super Bowl LII (in 2018) are Indianapolis, Minneapolis and New Orleans.  That vote will be taken in May. Miami reportedly was not asked to bid.
Show Comments
Hide Comments
Our Latest Stories
This is the best thing Affleck and Damon have done together since 'Good Will Hunting.'

If you see a guy who looks like Dak Prescott, it's probably Dak Prescott, even if he says he's...

The Seahawks cornerback has been outspoken on many issues, both social and professional
J.J. Watt's dad reveals that his son's injury might've been worse than we thought

President Obama encourages both sides to listen to the opponents' viewpoint

The stats are lying -- the Vikings don't have Eli Manning's number