NFL players will pay and do anything to get their favorite number
Eric Decker paid $25,000 for No. 87. Deion Sanders bought someone a BMW for No. 21 and Clinton Portis almost went to court over No. 26. NFL players will do anything to get their number.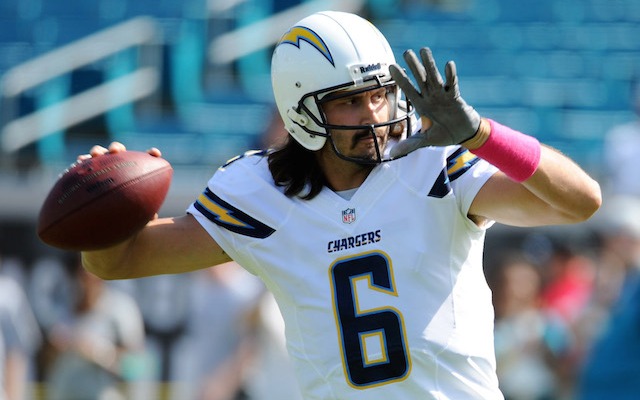 More NFL offseason: League minicamp dates | Latest news, notes
Have you ever arm-wrestled a punter?
Tennessee Titans backup quarterback Charlie Whitehurst has -- and he lost. Whitehurst didn't just lose his dignity either, he also lost his number. Whitehurst had worn No. 6 since his rookie year in 2006, but when he got to Tennessee, someone already had the number and that someone was punter Brett Kern .
That led to an arm-wrestling match where Kern went over the top on Clipboard Jesus, meaning Kern keeps the number. (By the way, "Over the top" is arm-wrestling lingo I learned from 'Over the Top,' a movie that still stands as one of my favorite arm-wrestling movies of all-time). 
Anyway, there's a possibility that Kern and Whitehurst made up the arm-wrestling story -- and if that's true, they should be embarrassed at their lack of creativity.  
Why should they be embarrassed? Because players have done weirder things for numbers -- things that aren't made up.
For instance, a punter once got an ice cream cone from a quarterback for No. 5. A corner once bought a teammate a BMW for No. 21. Then there's the time where a tight end once gave away No. 85 for free and we thought that he was a nice guy until he got indicted on murder charges, then we didn't think he was a nice guy. 
With all of that in mind, here's a top-10 list of the weirdest and most expensive deals involving an NFL player buying a number from another player. The list is based on an impossibly complicated criteria that I could never explain, so you're just going to have to roll with it.  
What's a number worth? The top-10 deals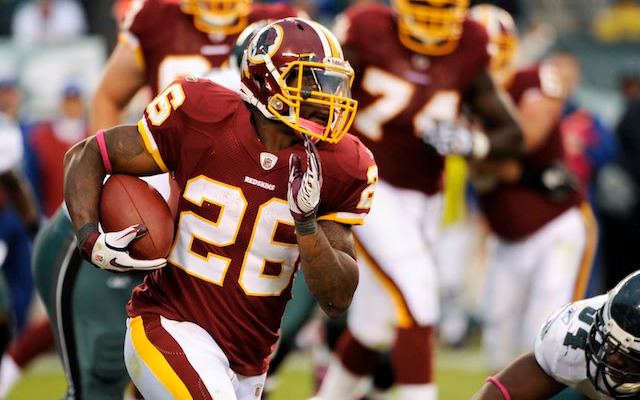 1. The number: 26 ( Washington Redskins ).
Who's involved: Clinton Portis and Ifeanyi Ohalete.
The story: What happens if you offer someone $40,000 for their number and then don't pay up? They take you to court. That almost happened in 2004 with Portis and Ohalete. After signing with the Redskins, Portis wanted No. 26, so he offered Ohalete $40,000 for the number. Ohalete accepted the deal -- mainly because no one in the world would turn it down -- and Portis promptly paid Ohalete $20,000 up front. The two players agreed the rest of the money would be paid by Christmas. A funny thing happened though: Ohalete got cut.
Because Ohalete was no longer on the team, Portis didn't believe he was under any obligation to pay him because WHY PAY SOMEONE WHEN IT'S NOT EVEN THEIR NUMBER ANYMORE. Ohalete had one thing going in his favor though: A written contract with the terms of the deal. The two sides were about to go to court, but the day before the case was set to start, Portis decided to settle and paid Ohalete $18,000. So Ohalete got the $18,000 from the settlement and the $20,000 that Portis originally paid.
Moral of the story: If you make a deal with Clinton Portis, make sure to get it in writing. You'll probably want to have a witness sign it, too. And then maybe even get it notarized.
2. The number: 24 ( Tampa Bay Buccaneers ).
Who's involved:  Darrelle Revis and Mark Barron .
The story: The biggest winner in the trade that sent Darrelle Revis from New York to Tampa Bay last year wasn't the New York Jets or the Bucs, it was Mark Barron. Sure, the Jets got a first-round pick out of the deal, but Barron got $50,000. And personally, I'd rather have 50 grand over a first-round pick. But that's only because I work at CBSSports.com and I'm not exactly sure what I'd do with a first-round pick here. Anyway, the $50,000 Revis paid to Barron is the highest-dollar amount anyone in the NFL has paid for a number.
Moral of the story: If you play in the NFL, switch to Darrelle Revis' jersey number and cross your fingers that he signs with your team next season.
3. The number: 21 ( Dallas Cowboys ).
Who's involved: Deion Sanders and Alundis Brice.
The story: Alundis Brice only lasted two seasons in the NFL, but that was long enough to get a free BMW from Deion Sanders. In 1995, Brice was wearing No. 21 when Sanders signed with the Cowboys. Sanders wanted No. 21 and he also had a lot of money, so he did what anyone in his situation would do: He bought Brice a car. According to the book Boys will be Boys by Jeff Pearlman, Sanders randomly ran into Brice at a car dealership and saw him shopping for a sports car.
Sanders then decided to surprise the rookie with a BMW and as most people know, it's kind of hard to turn down a favor after someone surprises you with a BMW -- so Brice gave Sanders No. 21.
Moral of the story: Whenever possible, try to 'randomly' run into Deion Sanders while car shopping.
4. The number: 5 ( Minnesota Vikings ).
Who's involved: Chris Kluwe and Donovan McNabb.
The story: This is the only deal on this list that involves an ice cream cone. Instead of me explaining this deal to you though, lets all watch the video below together.
If you decided not to watch, here's the CliffNotes version, Kluwe promises to give McNabb No. 5, but only if McNabb does three things: 1. make five mentions of Kluwe's band Tripping Icarus in non-consecutive press conferences. 2. A $5,000 donation to 'Kick For A Cure' to benefit Duchenne Muscular Dystrophy and 3. An ice cream cone.
Although Urban Legend suggests that McNabb hasn't paid up on this bet, we can put that to rest. Kluwe confirmed to CBSSports.com that McNabb is off the hook and 'covered it all.'
Moral of the story: If possible, let Chris Kluwe handle all of your negotiations, especially if you like ice cream cones.
5 and 6. The numbers: 10 and 17 ( New York Giants ).
Who's involved: Jeff Feagles- Eli Manning , Jeff Feagles- Plaxico Burress
The story: Former NFL punter Jeff Feagles pretty much made a living off of selling his jersey number. Feagles was wearing No. 10 when the Giants drafted Eli Manning in 2004 and Manning wanted No. 10. So what happened? Manning paid for a week-long trip to Florida for Feagles and his family, in exchange, Feagles gave up No. 10.
After Feagles gave up 10, he switched to No. 17, which just happened to be the number Plaxico Burress wanted after signing with the Giants in 2005.
Feagles had a plan, "I said, 'you know what, why don't we do the same deal that I did with Eli,' " Feagles told SI.com. "Except I'm kind of re-doing my outdoor kitchen, so I basically told him if he could pay for it we'd be good."
Feagles gave Burress the number and Burress paid for the new kitchen. End of story, right? Wrong, because Burress never paid for the kitchen. "I never got paid for it," Feagles said. "I asked [Burress] for it. Every time I went to [Burress' agent] Drew [Rosenhaus] he said, 'That's between you and Plax.' Bottom line, I never got paid. He basically stole my number."
Moral of the story: Don't make deals with Plaxico Burress -- while we're talking about things not to do with Burress, you probably shouldn't go to clubs with him either. 
7. The number: 87 (Jets).
Who's involved:  Eric Decker  and Jeff Cumberland
The story: What's better than getting a free steak dinner for your jersey number? Getting a free steak dinner and $25,000. That's what Jets tight end Jeff Cumberland got for selling No. 87 to Eric Decker this year. 
I can only imagine how those negotiations went.
Decker: Hey Jeff, I'll give you $25,000 for your number.
Cumberland: Um, I'm going to need more than that, this is No. 87 we're talking about here. How about $25,000, a boat and a gift certificate to a cat-friendly restaurant?
Decker: How about $25,000 and a steak dinner?
Cumberland: OK, deal.
Moral of the story: In all negotiations, always ask for a boat.
8. The number: 1 (Jets).
Who's involved:  Michael Vick  and Ryan Quigley
The story: Back in April, Vick asked his Twitter followers if he should wear No. 3 or No. 8 -- two numbers that he could have worn for free. Instead, Vick decided to pay $10,000 to wear No. 1. That money went to Jets punter Ryan Quigley, who donated it to charity. All of it. He didn't even buy a steak dinner.
"Most of the time in the NFL if a veteran requests your number, you work out a financial agreement between the two players," Quigley said. "I was not interested in the money for myself. I wanted to find a way to help some others."
Moral of the story: If everyone was like Ryan Quigley, charities would be pulling in roughly $17 trillion per year.
9. The number: 80 ( Cleveland Browns ).
Who's involved:  Kellen Winslow  and Aaron Shea
The story: Jeff Feagles isn't the only person on the list who got a free vacation, former Browns tight end Aaron Shea got one too. In 2004, Winslow wanted No. 80, but Shea had several demands before he was willing to give the number up. According to the New York Times, those demands included a few suits, several meals and a free vacation. Winslow paid up and Shea gave him the number. Shea was actually back in the news in March when the Browns fired him as the team's director of player engagement.
Moral of the story: Don't go to Las Vegas over Memorial Day weekend. Wow, sorry for that. We're talking about the Browns here, so I just assumed we were talking about Johnny Manziel. That was weird.
10. The number: 85 ( New England Patriots ).
Who's involved: Aaron Hernandez and Chad Johnson
The story: When Chad Johnson signed with the Patriots in 2011, his last name was still Ochocinco, so getting No. 85 was kind of important to him. Hernandez gave Ocho the number -- FOR NOTHING. At the time, Hernandez had this to say, "I obviously could have [said], 'No, I don't want to give it up.' But I'm not that type of person."
He's not that type of person.
Moral of the story: Never take anything for free from Aaron Hernandez. Also, don't ever spill your drink on him.
Show Comments
Hide Comments
Don't blame Norman -- he's 10 inches shorter than the Knicks' Kyle O'Quinn

The Cowboys owner offers an interesting take on what's bringing future fans to the game

The Seahawks cornerback told a student last year that he'd pay for a scholarship if she raised...
Romo is set to call games for CBS Sports this fall, but the Cowboys are keeping the door o...

Can Roberto Aguayo, the Bucs' maligned second-round pick, beat out Nick Folk?

John Mara says Colin Kaepernick's protest led to a ton of letters from emotional fans