NFL Playoffs: AFC and NFC Championship game picks
Will Tom Brady top Peyton Manning for the 11th time in his career? Will Jim Harbaugh finally beat Pete Carroll in Seattle? Here are your AFC and NFC Championship game picks.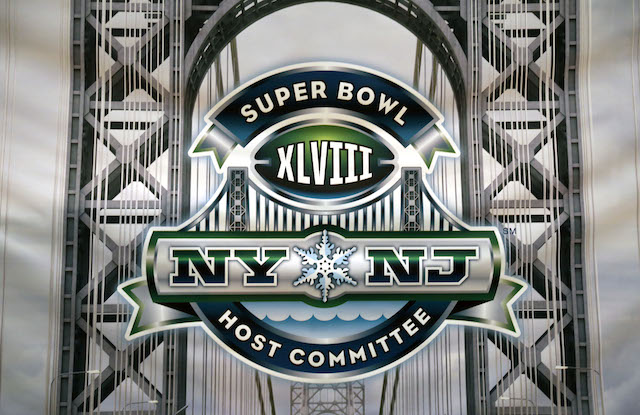 Who's going to the Super Bowl?
Before I answer that question, I need to give out a few awards. Actually I just need to give out one award and it's the award for worst football decision ever and it goes to New Orleans Saints receiver Marques Colston .  
Actually, lets call it the worst on-field decision ever because Plaxico Burress did decide to take a gun into a nightclub once and any text message that Brett Favre has ever sent has pretty much gone down as a bad decision. 
If you missed what Colston did, here's what happened: With eight seconds left against the  Seattle Seahawks , Colston caught a 13-yard pass from quarterback  Drew Brees  near the sideline at the Seattle 37. Then Colston did this.
Saints coach Sean Payton said on Monday that the lateral was a called play, so now we can blame Payton for the bad call, but we still can't excuse Colston for that lateral. Laterals are supposed to go backward, not forward and since Colston threw it forward, the Saints were flagged for an illegal forward lateral, which led to a 10-second runoff, which led to the end of the game.
If you thought Colston made a good lateral or you just disagree with my picks below, you can let me know on Twitter. If Twitter's not your thing, you can let me know in the comment section. If comment sections aren't your thing either, you can mail me a letter, but I'm not sure I'd recommend that because the postal service is a mess and I don't think I'd get the letter before February.
Lets not pile on Colston or the postal service though and lets get to the picks. Don't forget, you can check out the weekly picks from every CBSSports.com expert by clicking here. 
AFC Championship
New England (12-4) at Denver (13-3), 3 p.m. ET (CBS): Is Tom Brady better than Peyton Manning ? Is Peyton Manning better than Tom Brady? I don't know. I could probably write an entire book on the subject and not come to a definitive conclusion. And then I could write a sequel to the first book and come to the same conclusion, which is no conclusion.
What I do know is that 100 out of 100 times, I would take the Denver Broncos top-four receivers this season ( Demaryius Thomas , Eric Decker , Julius Thomas , Wes Welker ) over the New England Patriots top-four ( Julian Edelman , Danny Amendola , Rob Gronkowski , Aaron Dobson , Kenbrell Thompkins ).
I actually listed five receivers for the Patriots since obviously Gronkowski won't be playing this week, but think about that for a second, Gronk was one of the Patriots top receivers even though he missed over half the season. One of the other guys listed (Dobson) didn't even play against Indianapolis and another one (Thompkins) left the Indianapolis Colts game with a head injury. I've seen less injuries on an episode of Grey's Anatomy.
The Patriots best chance to win this game is to give their new secret weapon LeGarrette Blount the ball 30 times and then hope he averages 6.9 yards per carry like he did against the Colts. If Blount does that, then Peyton Manning won't be on the field, which means he won't be throwing passes to Thomas, Decker, Thomas and Welker. 
Blount's success would also open the door for Brady, who doesn't really need a door open for him because he's Tom Brady. Brady can open his own doors, just like he did in the first game against the Broncos when he threw for 344 yards and three touchdowns. Brady picked apart the Broncos secondary  and he'll most likely do it again, especially since the Broncos have lost cornerback Chris Harris to an ACL tear. 
Conventional wisdom in this game says pick the guy who has a 10-4 career record against Manning. However, I'm not a fan of conventional wisdom. Also, I should probably point out that since 2005, Manning and Brady are tied 4-4 in head-to-head games and overall the two quarterbacks are tied 1-1 in AFC title games with each player winning at home. So I'll take the quarterback playing at home. Broncos 34-31 over the Patriots.
Record picking New England games this season: 11-6 (Includes 0-1 in playoffs)
Record picking Denver games this season: 14-3 (Includes 1-0 in playoffs)
NFC Championship
San Francisco (12-4) at Seattle (13-3), 6:30 p.m. ET (Fox): Tom Brady vs. Peyton Manning is only my second favorite game this week and that's because of this game. This thing could get bloodier than the news team fight in the first Anchorman movie. The hate runs deep here. The fans don't like each other. Pete Carroll and Jim Harbaugh don't like each other. The Seahawks wouldn't even sell tickets to people in California. And lets not forget that Harbaugh basically called the Seahawks cheaters back in June. 
Carroll and Harbaugh have come a long way since the first time they stood on opposite sidelines back in 1987 when Harbaugh was a backup quarterback for the Chicago Bears and Carroll was a defensive backs coach for the Minnesota Vikings . They've crossed paths several times since then, including in November 2009 when Carroll asked Harbaugh 'What's your deal' because Harbaugh and Stanford went for two late in a game where Stanford beat USC 55-21. Now they meet again 27 years later after their first meeting with a trip to the Super Bowl on the line. 
Harbaugh and Carroll have built almost identical teams: both offenses thrive on a power-run game that's even more difficult to stop because of the threat of Russell Wilson or Colin Kaepernick taking off to run at any time -- whether that's part of the play design or not. The 49ers and Seahawks ranked No. 3 and 4 in the NFL in rushing this season.
Playing against the 49ers or Seahawks defense is basically liked getting punched in the face by Mike Tyson in his prime. Seattle had the top ranked defense in the NFL this season and the 49ers weren't far behind at No. 5.
I think this game comes down to quarterback play and I don't like what I've seen from Russell Wilson lately. As my podcast partner Ryan Wilson pointed out on Saturday, through the first 12 games of the season, Wilson completed 64.9 percent of his passes for 223 yards per game, with 22 touchdowns and a passer rating of 108.5
In games 13-16, his completion percentage dropped to 57.8, yards per game fell to 171, with four touchdowns and a passer rating of 79.1. It's not like the Seahawks asked him to do less later in the season either. Through the first 12 games, Wilson averaged 25.4 pass attempts per game and in the final four games, he averaged 25.5. 
Carroll and Harbaugh will most likely have a similar game-plan this week: go all-in to stop the run and make the other quarterback beat you. The Seahawks and 49ers averaged the fewest pass attempts per game in the NFL this season, so basically, each coach will try and make the other team do something they're not used to: passing.
The argument against picking the 49ers is simple: they've been outscored 71-16 in their last two trips to Seattle. My argument for the 49ers is that they're the hottest team in football and in recent years, the hottest team has been winning the biggest playoff games. 
Back in August, I predicted the Seahawks would win the NFC West and that the 49ers would win the Super Bowl because I thought San Francisco could get hot and go into Seattle and steal a win. Well, the 49ers are the hottest team in football with eight wins in a row and I see no reason to go against my Super Bowl pick now. 49ers 20-16 over the Seahawks.
Record picking Seattle games this season: 13-4 (Includes 0-1 in playoffs)
Record picking San Francisco games this season: 14-4 (Includes 2-0 in playoffs)

Last Week
Best Pick: Last week I predicted the Broncos would beat the San Diego Chargers by six and the Broncos beat the Chargers by seven. I wasn't exactly right because no one's exactly right in the playoffs. Especially Marques Colston. By the way, when you were watching the game with your friends, did anyone predict that Colston would turn into a quarterback on the final play of the game even though there are explicit rules written in the NFL rule book that say a receiver can't turn into a quarterback after catching a pass downfield? None of my friends predicted it. 
Worst Pick: Last week I learned an important lesson: never pick a quarterback named Andrew to win a playoff game. Andy Dalton 's name is Andrew. Andrew Luck 's name is Andrew and they're now 1-5 in career playoff games following Luck's 43-22 loss to New England on Saturday. I should've learned this lesson in 2011, but I'm stubborn and I don't like change. 
Last week's playoff record:
Straight up: 2-2
SU overall: 5-3
Against the Spread: 3-1
ATS Overall: 4-4
Final Regular Season Record
Straight up: 165-90-1
Against the spread: 124-132
For making it to the bottom of this picks page, here's your reward: It's Tom Brady being kind of funny. 
---
Follow John Breech on Google+ or you can even sometimes find him on Twitter
Show Comments
Hide Comments
Tennessee could be on the move again, and here are four possible suitors

The Browns take a QB, but it isn't who you think, while RBs are left out of the first roun...

With the draft starting Thursday, here's some trade fodder to gnaw on in the interim
The two sides appear to be making a deal happen to bring the retired running back to Oakla...

The Cowboys' draft picks since 2002 have been to 17 more Pro Bowls than the next closest t...

The Cardinals, however, don't sound enthused about his return