NFL playoffs: Divisional round X's and O's to watch
The elite eight of the NFL kick off Saturday in the divisional round of the playoffs. Here's what 16 coordinators are working to perfect and prevent.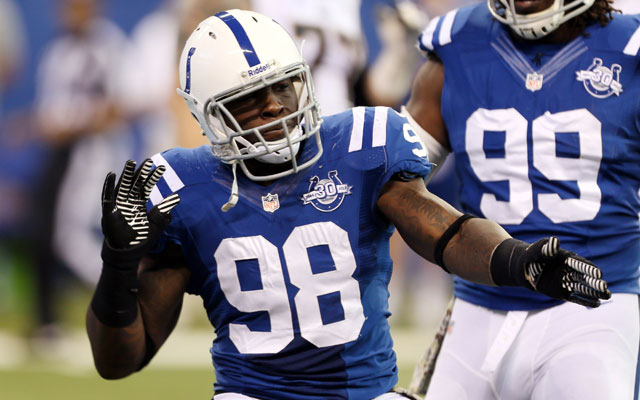 More Playoffs: Divisional previews | Playoff Bracket | Prisco's Picks | Expert Picks
This is the NFL fans' best weekend -- the divisional round. Four games featuring the league's eight best teams, so there are plenty of X's and O's to go around. Right now, 16 coordinators are burning the midnight oil, trying to refine successful game plans. Let's take a look at some of the football issues in the divisional round.
Saturday's games
New Orleans Saints

' 2-back attack

NFC: Saints at Seattle Seahawks , 4:35 ET Saturday (Fox): The Saints are the league's best when it comes to rushing for at least 4 yards on first down. Forty-nine percent of their first-down runs are for 4-plus yards, setting up their quick-strike passing game. The problem is they really like their 21 personnel (RB, FB, TE 2 WRs) package on first down, and the Seahawks love seeing it. The last time these two met, a 34-7 Seattle rout, the Saints' two-back running attack was minimized. In the first half, New Orleans ran seven times for 13 yards -- and finished the game averaging only 2.6 yards per carry. The Seahawks are the No. 2 rush defense on first down, yielding only 3.4 ypc, and it's a big reason the Saints had only seven series of three plays or less the first time around. Look for more shotgun spread sets and throwing from the Saints. Drew Brees already has nine games this season with 40 or more pass attempts, and this game will make 10.
Seahawks' 4-man pressure schemes, swarming secondary
NFC: Saints at Seahawks, 4:35 ET Saturday (Fox): The Seahawks can get to a QB from all angles -- 13 players have recorded sacks -- and create pressure with a 4-man rush, meaning they don't blitz a lot. When first facing Brees, they lived off the 4-man rush, but mixed up combinations -- leaving the Saints' offensive line guessing which four were rushing. That adds up to a potential recognition issue for rookie left tackle Terron Armstead because of the noise levels at notoriously loud CenturyLink Field. In the first meeting, Brees was sacked only once, but I counted eight hits that disrupted timing on his throws. Add in strong coverage from the aggressive Seattle secondary, and it's difficult to locate open receivers who need extra time to shake free. Seattle has only yielded 22 first-quarter points all season, so New Orleans must weather the early storm or risk the turnovers incurred last time. And no team has created more turnovers than Seattle: 39, with 21 of those forced at home.
Containing
Russell Wilson
NFC: Saints at Seahawks, 4:35 ET Saturday (Fox): The Saints have their hands full with Russell Wilson, a skilled runner who throws well on the move. The last time these teams met Wilson threw for 310 yards with three TD passes. He added eight rushes for 47 yards. In re-watching the game tape, the Saints face some issues in dealing with Wilson. The Seahawks are a run-left offense and they will pound Marshawn Lynch on that side repeeatedly, forcing the defense to overplay the left side or Lynch tears it apart. The Saints did a good job against Lynch but it opened up Wilson three ways: 1) The "ride keeper," out of the shotgun, when Wilson rides Lynch into the left side, then pulls the ball and takes off around the right side; 2) From under center, Wilson presents the power lead to the left with a fullback leading Lynch and keeps the ball on a bootleg to the right off of it; 3) The bubble screen to the right play-action left -- giving Wilson an easy throw, and the yardage can add up quickly ( Percy Harvin is scheduled to return, which could make this an even more pronounced conflict for the Saints' D).
Taking away
T.Y. Hilton
AFC: Indianapolis Colts at New England Patriots , 8:15 ET Saturday (CBS & CBSSports.com): Patriots coach Bill Belichick is famous for taking away the opposition's No. 1 threat. Since Reggie Wayne went down with a season-ending ACL tear, Hilton has become the Colts' No. 1 threat. Last week, Hilton was targeted 18 times, coming up with 13 receptions for 224 yards and two touchdowns. Since Wayne got hurt 10 games ago, Hilton has been targeted 96 times, complining 68 receptions and five TDs. Look for the Patriots to put Aqib Talib on Hilton, just as they did when Saints star tight end Jimmy Graham visited Foxborough. When I broke down the Colts' win over the Chiefs last week, it was impressive how many first-and-10 targets Hilton had (he caught eight of the 10 balls thrown to him on first down for 153 yards). If Andrew Luck sees single coverage by Talib, he will go to his favorite receiver. Look for Belichick to have some interesting double-coverage schemes to bait Luck into those first-down throws, looking for the interception.
Contending with Colts DE
Robert Mathis
AFC: Colts at Patriots, 8:15 ET Saturday (CBS & CBSSports.com): Mathis comes into this playoff game with 20½ sacks in 17 games -- none bigger than the strip sack on Alex Smith last week that ignited the Colts' come-from-behind win over the Chiefs. Now Tom Brady has to deal with Mathis. First to remember: Mathis only has 6½ sacks on the road, and Brady has dealt with Mathis before -- he has one sack on Brady in 231 pass attempts over seven games. Look for Brady to use his screen game toward Mathis, execute a lot of quick passes from the shotgun and run the ball at Mathis to slow down the rush. I would be very surprised if Mathis has more than one sack. Brady is only sacked once every 24 attempts over 14 postseason home games. And over his past four home playoff games, he's only been sacked once in every 83 pass plays.
When to spy Andrew Luck
AFC: Colts at Patriots, 8:15 ET Saturday (CBS & CBSSports.com): Andrew Luck is on the verge of becoming an elite quarterback, as his 11 winning drives in only two seasons attest. His ability to run must be addressed by New England. The scouting report shows that he has 24 attempts for 140 yards and no touchdowns in the first half of games this season, but 46 attempts for 282 yards and four TDs in the second half of games. Look for Belichick to put a spy on him as a halftime adjustment.
Sunday's games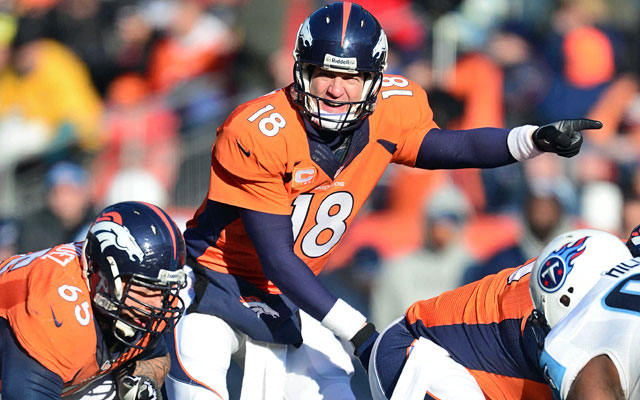 Scoring on the
Carolina Panthers
NFC: San Francisco 49ers at Panthers, 1:05 ET Sunday (Fox): Carolina yields only 12 points per game, and has surrendered only two rushing TDs at home all season. The Jets had the most success running the ball on the Panthers (157 yards), and the 49ers will study that game very closely. Jets QB Geno Smith broke out for 44 yards in that game, and while 49ers QB Colin Kaepernick will like what he sees on that film, he can't like what he remembers about his first game against the Panthers, a 10-9 loss on Nov. 10. Kaepernick managed only 16 rushing yards and suffered six sacks. There were five Panthers -- none of them Greg Hardy , the league's hottest pass rusher (eight sacks over his past three games). Ron Rivera says he is very much aware of Kaepernick keeping drives alive with his feet, so the emphasis in Panthers practice is discipline in the rush lanes. I watched tape of Rivera's defense against Russell Wilson, EJ Manuel and Kaepernick and they were very disciplined in every case -- limiting the three mobile QBs to 36 yards on 13 carries.
Dealing with the
Denver Broncos

' no-huddle

AFC: San Diego Chargers at Broncos, 4:40 ET Sunday (CBS & CBSSports.com): No team employs the no-huddle offense like Peyton Manning and the Broncos, especially at home. In 767 no-huddle snaps, Denver has amassed 4,900 yards and 52 touchdowns. With WR Wes Welker (concussion) returning and TE Julius Thomas able to line up tight or wide, this no-huddle is tough to stop. The Chargers need a few "joker" types on defense who can match wits with Manning or he will have a field day. The two San Diego players to keep an eye on during the no huddle attack are safety Eric Weddle and linebacker Melvin Ingram . Weddle will come to the line of scrimmage and blitz or fake a blitz before dropping into coverage. After watching the past two Broncos-Chargers games, it is clear Manning is always looking for Weddle and making no-huddle run/pass decisions based on the safety. But Manning has a new problem because Ingram is back from injured reserve. The Chargers have won seven straight games when Ingram is in the lineup over the past two seasons -- mainly because he can rush or cover. And combined with Weddle, they make it tough on quarterbacks to decipher the defense.
Slowing down the Chargers' run game
AFC: Chargers at Broncos, 4:40 ET Sunday (CBS & CBSSports.com): That's right, the San Diego rushing attack, and the Philip Rivers passing game. Sooner or later Rivers will make big plays in the air, but long before that the Chargers ground game will be a problem. Winners of five straight, the Chargers have done it on the ground, compiling 851 yards and five TDs in 197 attempts (averages of 39 attempts, 170 yards and a TD during the streak). San Diego boasts a 59 percent run ratio. Denver coach John Fox says well aware of these numbers for San Diego in this season's two meetings: 79 carries for 308 yards and two touchdowns. Scouting tip: Rivers has called 30 running plays from the shotgun in the two previous meetings, and he really likes to check to that run in second-down situations.
Show Comments
Hide Comments
The top three-technique prospect in the draft could see his name not called at all

The former Florida football player was expected to be a second-round pick in the NFL Draft

This much is certain: The Browns desperately need a quarterback
The man who signed Romo is happy to see him move on from playing the game

Roger Goodell typically announces all the first-round picks, but he'll make an exception this...

NFL teams find out their schedule on the same day you do