NFL Rumors: Cowboys, Steelers finally get under salary cap
The Cowboys and Steelers started the offseason in salary cap trouble, but both teams were officially able to put those woes behind them on Friday.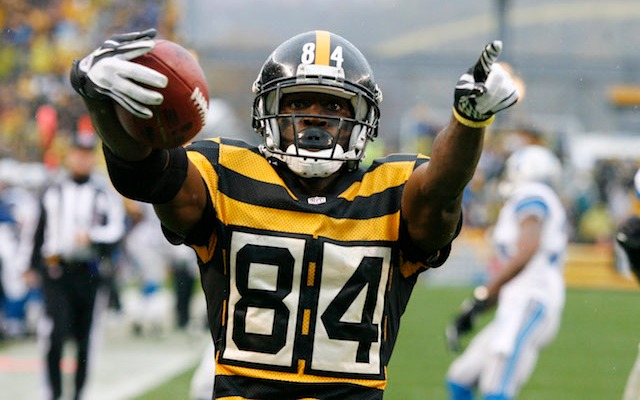 More NFL offseason: Mock Drafts | Prospect Rankings | Pro Days | Top free agents
A lot happened in the NFL on Friday. We learned that Jimmy Graham hates what the New Orleans Saints are doing with their offseason. We learned that Hulk Hogan's daughter's ex-fiancee -- stay with me here -- was released. And most importantly, the Dallas Cowboys and Pittsburgh Steelers are finally under the salary cap. 
Trying to keep tabs on everything that happens in the NFL on any given offseason day can be overwhelming sometimes, so we've decided to put it all in once place for you.
That place is here.
Here's the news, notes and rumors that you may have missed from March 7.
The Steelers and Cowboys are officially under the cap
Every team in the NFL has until 4 p.m. ET on March 11 to be in compliance with the league's salary cap. This year, that means getting your cap to under $133 million and both the Steelers and Cowboys did that on Friday. 
In Pittsburgh, the Steelers restructured the contract of wide receiver Antonio Brown . The restructuring will free up $4 million in cap space and put the Steelers under the $133 million threshold, according to the Pittsburgh Tribune-Review. 
It's been a busy week for the Steelers, who gave contract extensions to tight end  Heath Miller  and safety  Troy Polamalu  on Wednesday, then followed that up by cutting linebacker  Larry Foote , cornerback  Curtis Brown  and tackle  Levi Brown  on Thursday. 
In Dallas, the Cowboys got under the cap by releasing center Phil Costa , a move that will save the team $1.5 million. It's been a rough four months for Costa. In November, fiancee Brooke Hogan called off their engagement. Now he's out of a job and doesn't get to be Hulk Hogan's son-in-law. That's bad news no matter how you spin it.
Hit the road jack
The Saints offense is going to have  slightly different look to it next season and that's because New Orleans released two consistent contributors on Friday. Wide receiver Lance Moore was officially released while running back Darren Sproles is going to be released. Sproles tweeted his good-byes on Friday night. The moves didn't sit well with tight end Jimmy Graham, who had this reaction. 
Wow unbelievable. Shocked and disappointed on everything that's gone on this offseason.

— Jimmy Graham (@TheJimmyGraham) March 8, 2014
Rumors
If your favorite team is in the market for an offensive linemen -- and I think every team's in the market for an offensive linemen -- here's some good news: St. Louis Rams offensive lineman Rodger Saffold will 'definitely' be hitting the free agent market, according to ProFootballTalk. Saffold can play guard or tackle, which should make the versatile lineman a smart signing for any team. 
Signings
The

New York Jets

front office was busy on Friday. The team re-signed tight end

Jeff Cumberland

to a three-year deal, according to the New York Daily News. The Jets also plan to pick up the fifth-year option on

Muhammad Wilkerson

's rookie deal, according to NFL.com. That will keep the 30th overall pick in the 2011 NFL Draft with the Jets until at least after the 2015 season. 

 
The Jets weren't the only team in New York re-signing players on Friday, the

New York Giants

were also doing it. The team announced that they've re-signed linebacker

Mark Herzlich

. The undrafted free agent out of Boston College who originally signed with the Giants in 2011, has appeared in all 32 of New York's regular season games over the past two seasons. 

 
The

Minnesota Vikings

re-signed cornerback

Marcus Sherels

on Friday. Sherels also returns punts and he happens to be really good at that. In a Week 7 loss to the Giants, Sherels scored the Vikings only points on an 86-yard punt return for a touchdown. Sherels ended the game with a franchise-record 119 return yards. 

 
Minnesota also re-signed quarterback

Matt Cassel

, who agreed to terms on a two-year, $10 million deal. Running back

Adrian Peterson

had hoped his team would sign

Michael Vick

, but it looks like Cassel will have to do. 
Photo of the Day
Two things you may not know about Washington Redskins quarterback Robert Griffin III: 1. Apparently he doesn't do the hair cut thing in the offseason 2. He likes to model Baylor basketball jerseys. 
Is this forreal? Robert. Griffin. the third. pic.twitter.com/GoQuBY4c07

— A.M. (@SuchALady16) March 7, 2014
Show Comments
Hide Comments
The Cowboys owner maintains that Gregory has the organization's full support

No teams did bad enough to earn an 'F,' and give credit where it's due to the 49ers(!) and...

The expectation is that Whaley will be replaced with the Panthers' Brandon Beane
Plus Seahawks eschew needs on the line and Rams seek help for Goff as we hand out NFC West...

Plus Saints and Falcons load up on defense as NFC South gets a massive boost in talent

Lions draft for now, Packers run down their checklist and Vikings find a runner in our NFC...