NFL Rumors: The Steelers do major work on their salary cap
As we make our way toward free agency on May 11, here were the news, reports and rumors that happened on Wednesday.
• 4 min read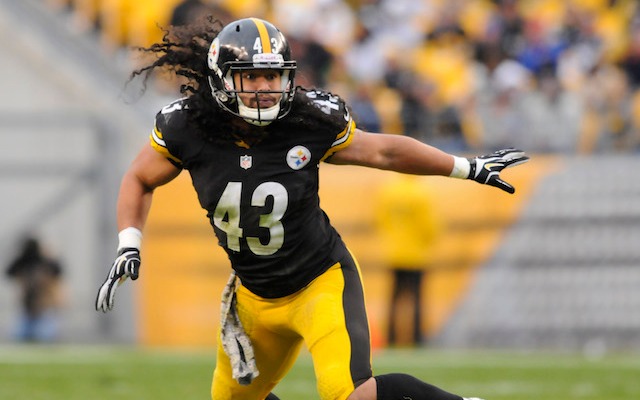 More NFL offseason: Mock Drafts | Prospect Rankings | Pro Days | Top free agents
As we make our way toward free agency on May 11, here were the news, reports and rumors that happened on Wednesday.
As CBSSports.com's Joel Corry pointed out a few months ago, the Pittsburgh Steelers entered the offseason with one of the worst salary cap situations in all the NFL. As he wrote, "they have five cap numbers over $10 million ($67.13 million total) which account for a little more than half (52.5 percent) of their adjusted salary cap."
Wednesday, then, was a day for the Steelers to start making adjustments to their roster in order to tighten up the cap. They gave Troy Polamalu a contract extension to lower his 2014 cap number and lock him up through the 2016 season, and they did the same with tight end Heath Miller .
In other Steelers news, they also released linebacker Larry Foote , cornerback Curtis Brown and offensive tackle Levi Brown . As Brian McIntyre writes, those transactions will save the team $6.8 million on the cap, and according to the Pittsburgh Post Gazette, these moves should put the Steelers just under the cap.
Hit the road, Jack
Here's hoping receiver

Davone Bess

can get some off-field help. On Wednesday, he was released by the

Cleveland Browns

, just one year into the three-year deal he signed after leaving Miami. If Bess can prove he's healthy, he likely would have some suitors. Though he continues to have a tough time not dropping passes, he still managed to catch 42 of them for 362 yards and two touchdowns.
The

Chicago Bears

officially released punter

Adam Podlesh

. As Brian McIntyre notes, the move saves $1.025 million in cap space and $1.425 million in salary.
St. Louis Rams

cornerback

Cortland Finnegan

tweeted his goodbyes on Twitter on Wednesday. Though he won't be released until the start of the new NFL year, Finnegan will not be playing in St. Louis in 2014. The move means the team won't have to pay Finnegan's $6 million salary, and he won't count $10 million against the salary cap.
Got to get paid
We already told you how

Miami Dolphins

cornerback

Brent Grimes

avoided free agency (and the franchise tag) by signing a four-year deal earlier this week. Now, according to the Baltimore Sun, here are the numbers. The entire contract is worth $32 million with $16 million of that guaranteed.
Atlanta Falcons

defensive tackle

Corey Peters

signed a one-year deal worth as much as $1.6 million on Wednesday. According to ESPN, none of that money is guaranteed for Peters, who's coming off a torn Achilles.
Rumors
Don't expect the

Indianapolis Colts

to re-sign linebacker

Pat Angerer

. According to the Indianapolis Star, the team is content to let Angerer walk into free agency. When he's healthy, Angerer is a tackling machine.
Linebacker

Jameel McClain

, who was recently released by the Ravens after making 52 tackles in 10 games last season, has made a free-agent visit to Buffalo. He also told reporters that he plans to meet with the

New York Giants

, as well.
This might not be a huge surprise, but New England's

Aqib Talib

wants to be paid like a top-notch cornerback. With the Dolphins re-signing Grimes to a four-year, $32 million deal, that's probably what Talib would enjoy receiving as well. And if that's the case, it seems unlikely he'll get the chance to stay with the

New England Patriots

.
Tennessee Titans

running back

Chris Johnson

is keeping us up to date on his chances of signing a new deal with the Titans. Here's what he wrote on Twitter: "My agent and titans front office had a talk yesterday and everything is still at a stand still so it's a waiting game while I continue to grind."
It sounds like a solution about the situation of Bucs kicker Lawrence Tynes is coming soon, according to PFT. As Mike Florio writes, "A disagreement over Tynes' classification is expected to soon result in a ruling that either will make him a free agent or will conclude that the

Tampa Bay Buccaneers

hold his rights for one more year. The controversy turns on whether Tynes should have been placed on the non-football injury/illness list or the injured reserve list when Tynes developed a MRSA infection last year. Though the Bucs paid his $840,000 salary last year, the NFI designation tolls the contract for another year. If he'd been placed on IR, he'd be a free agent. The team and the league definitely contend he's still under contract. The player and the NFLPA definitely disagree.
Tweet of the day
Well, this will make anyone who grew up watching the glory years of Joe Montana a sad panda today.
Saw Joe Montana the other day. Asked him if kids know who he is. "Kind of. Some of them go, 'Hey, you're Hannah Montana's dad!"

— Rick Reilly (@ReillyRick) March 5, 2014
Sheesh. Kids today, amIright?
Tweet of the day, part II
Just because the Bills won't give Jairus Byrd a long-term deal, that doesn't mean he can't be happy for Aaron Williams , who ended up getting a long-term deal with Buffalo.
Big congrats to @ajwilliams23 on his new contract!.. I need a loan???.. But for real couldn't be happier for you bro #Blessed

— jairus byrd (@jairusbyrd) March 5, 2014
Cowboys fans could be on the verge of hearing what will happen to the star running back

Even a Giants player has to admit the Cowboys look pretty good

The oft-troubled cornerback is once again suspended by the NFL
McDermott is replacing notorious defensive specialist Rex Ryan in Buffalo for the head gig

According to a report there is pressure from other NFL owners to suspend Ezekiel Elliott

Want to know what Mack stands to make in extension talks? Just look at recent top deals and...