NFL Rumors: Tony Romo gives Cowboys $10M in 2014 cap space
Tony Romo restructured his contract with the Cowboys. The Redskins cut their punter and a Falcons running back retired. A lot happened in the NFL on Tuesday.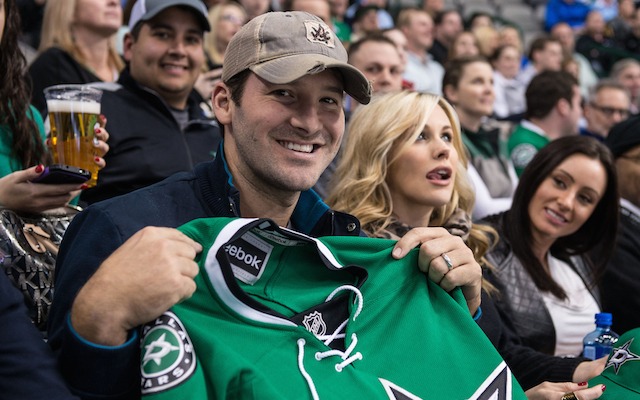 More NFL offseason: Mock Drafts | Prospect Rankings | Pro Days | Top free agents
A lot happened in the NFL on Tuesday. Tony Romo restructured his contact. A few players got cut and someone even retired. Trying to keep tabs on everything that happens in the NFL on any given offseason day can be overwhelming sometimes, so we've decided to put it all in once place for you. 
That place is here.
Here's the news, notes and rumors that you may have missed from March 4.
Romo restructures
For most teams, getting under the $133 million salary cap by March 11 is easy, but most teams aren't Dallas. Before Tuesday, the Dallas Cowboys were almost $20 million over the cap, but thanks to Tony Romo, they're not anymore. Romo restructured his contract, meaning $12.5 million of his $13.5 million base salary is now signing bonus. The means the Cowboys can spread that $12.5 million over the remaining years of Romo's contract for salary cap purposes.
Romo's 2014 cap figure will drop from $21.773 million to $11.773 million. The Cowboys also restructured the contracts of linebacker  Sean Lee  and cornerback  Orlando Scandrick . Once all three moves are in the books, the Cowboys will be less than $1 million over the cap.
There's several ways Dallas can get under cap and one of them might involve defensive end DeMarcus Ware . Ware is set to count $16 million against the 2014 cap, something the Cowboys want to fix. According to ProFootballTalk, the Cowboys have let Ware know they want to keep him, but not at that price.  
Hit the road Jack 
#Jaguars right now have no starting C, no starting RG, no starting LG.

— Ryan O'Halloran (@ryanohalloran) March 4, 2014
Retirement party
Tony Gonzalez isn't the only Falcon who decided to call it quits this year, running back Jason Snelling announced on Tuesday that he's also retiring. The 30-year-old seventh-round draft pick spent seven seasons in the NFL, all with Atlanta. 
Not every player in Atlanta is retiring though. the Atlanta Falcons re-signed defensive tackle Corey Peters to a one-year deal. 
Other signings
The Houston Texans re-signed linebacker Ricky Sapp . Sapp played in four games for Houston last season after originally signing with the team in November. 
The Tennessee Titans re-signed safety Bernard Pollard on Monday, but the terms weren't announced until Tuesday. Pollard's signed a two-year deal that's worth up to $6.4 million, according to NFL.com.
Rumors
The Cleveland Browns decided last week that they no longer wanted linebacker D'Qwell Jackson , so they cut him. Since then, Jackson has been on a tour looking for a new team to play for. According to the Miami Herald, the former Browns linebacker has narrowed his choices down to Miami, Indianapolis, Denver and Tennessee.   
Welcome back
The NFL hasn't officially announced it, but Brandon Browner seems pretty sure that he's been reinstated. The Seahawks cornerback announced on Twitter that his suspension is over. Since Browner's contract with Seattle is up, the reinstatement means any team can sign Browner when free agency begins on March 11. 
Photo of the Day 
Apparently the rumors are true, Bill Belichick never takes his hoodie off. 
Show Comments
Hide Comments
Lockette retired from the game after suffering an injury that nearly ended his life

Mangini said he'd take Kaepernick over RG3 '10 times out of 10'

Cook spoke with CBS Sports about following in a future Hall of Famer's footsteps
The former running back blasted his old coach

The Steelers quarterback is focused on 2017 now

The former 49ers coach admits it was his fault